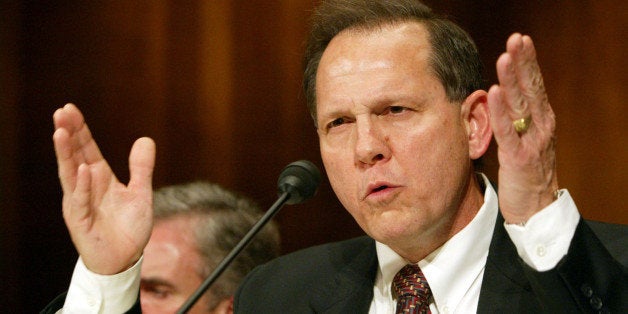 WASHINGTON -- Roy Moore, the chief justice of the Alabama Supreme Court, called Tuesday for his state's governor to oppose the "tyranny" of federal courts that have repeatedly ruled in recent years that state bans on same-sex marriage are unconstitutional.
Moore's letter to Alabama Gov. Robert Bentley (R) came a few days after a federal judge in the state ruled that Alabama's same-sex marriage ban violates the constitutional rights of gay citizens. The ruling in Alabama is currently stayed for two weeks to allow the 11th U.S. Circuit Court of Appeals to decide whether the marriages should continue to be delayed until the U.S. Supreme Court hears arguments on the constitutionality of state same-sex marriage bans later this year.
Moore, a Republican politician, was removed from the state supreme court in 2003 after he had a monument of the Ten Commandments installed in the state judicial building and then disobeyed a federal judge's order to remove it. Alabama voters elected him as chief justice again in 2012.
While he didn't spell out exactly how he planned to defy the ruling of a federal court, Moore said he would "continue to recognize the Alabama Constitution," which has an amendment that bans same-sex marriage. Moore also pointed out rulings from the Supreme Court of Alabama -- from 1870 and 1904 -- that called marriage a "divine institution" and a "sacred relation."
Moore even quoted a U.S. Supreme Court ruling from 1885 (which was later quoted in a 1908 Supreme Court case) that he said indicated the court recognized the importance of marriage and family. He said the "destruction of that institution is upon us by federal courts using specious pretexts based on the Equal Protection, Due Process, and Full Faith and Credit Clauses" of the Constitution. He said that 44 federal courts have "imposed by judicial fiat same-sex marriages in 21 states of the union."
The chief justice said Alabama's state constitution and morality "are under attack by a federal court decision that has no basis in the Constitution of the United States." He said any Alabama judges who obey the federal court order and allow licenses to be issued would be in "defiance of the laws and Constitution of Alabama."
"Be advised that I stand with you to stop judicial tyranny and any unlawful opinions issued without constitutional authority," Moore wrote.
Ashley Jackson, Alabama director of the Human Rights Campaign, said in a statement that it is "deeply ironic" that Moore was complaining about "judicial activism" while pushing to ignore a federal judge's ruling.
"The U.S. constitution guarantees the equal protection of the law for all Americans, and, sooner rather than later, that equality must come to Alabama's families, too," Jackson said.
This post has been updated with comment from Ashley Jackson.
Before You Go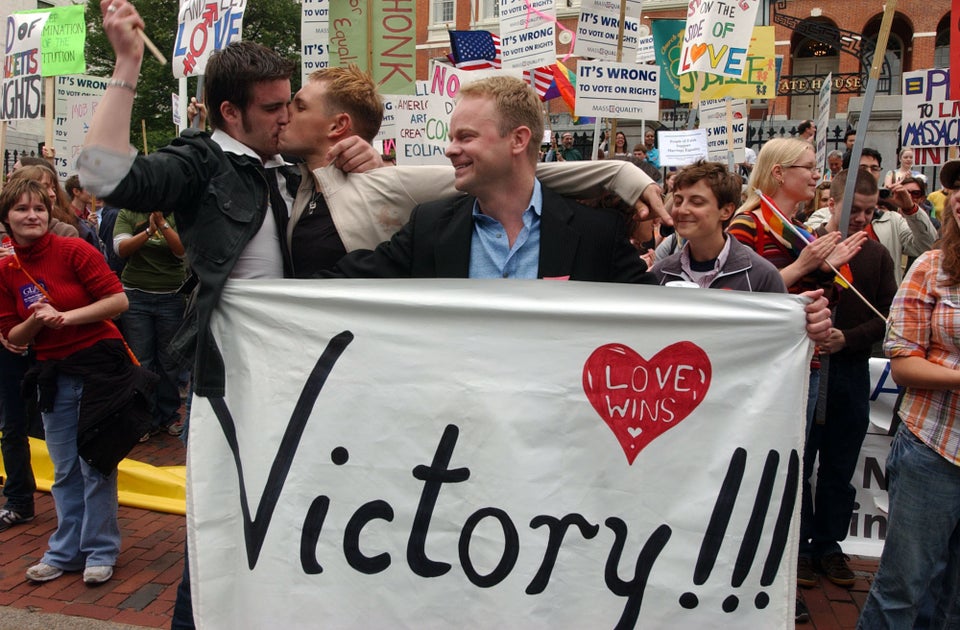 10 Incredible Improvements For LGBT People Since The First State Legalized Gay Marriage
Popular in the Community