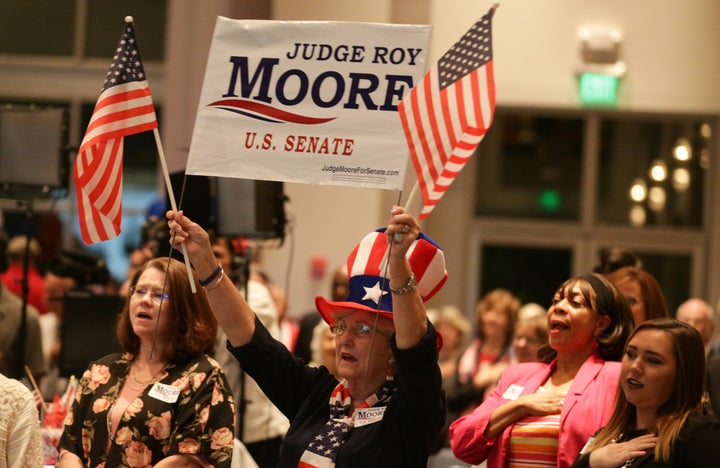 HENAGAR, Ala. ― Two weeks before Alabama's Senate election, some of Roy Moore's supporters say they are giving him a pass on the allegations of sexual misconduct against him because they think his female accusers are lying and being paid by billionaire Democratic donor George Soros.
"I do not believe the allegations," said Edna Bogue, 72. "It's George Soros."
Bogue was one of about 200 people who came out to a Moore campaign event on Monday night in this tiny conservative town. She, like the other half dozen attendees HuffPost talked to, said the timing of the allegations against the Republican nominee seemed fishy. He has been in public office for decades, and Bogue said the fact that nine women are publicly accusing him of sexual misconduct seems politically calculated to deny Moore a U.S. Senate seat.
Asked why she thinks Soros has anything to do with Moore's accusers, Bogue said she read about his influence on politics in a book by conservative author Sharyl Attkisson.
"She tells everything about where the money goes," she said.
Illa Bong, a retiree from Fort Payne who was sitting nearby, said the allegations against Moore are "totally wrong" and that she, too, thinks Soros' money is behind it. She speculated his money is being funneled through foundations to the women.
"These special little money foundations come in, and he puts all this money to the things that he wants to go his way," said Bong. "I would guess, yes, that he was part of it."
"Absolutely," Bogue chimed in.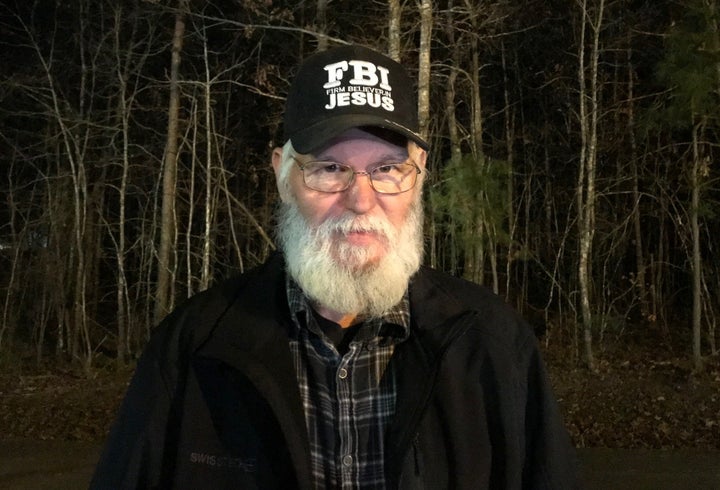 To be clear, there is zero evidence that Soros is paying women to make up stories about Moore's inappropriate sexual advances on them. But the idea fits with other unfounded right-wing conspiracy theories about Soros being a ringleader of a secret radical left agenda.
The fake news site InfoWars posted a video last year titled "George Soros Is About to Overthrow the U.S." Former Fox News host Bill O'Reilly has described Soros as "off-the-charts dangerous." Some have noted an anti-Semitic streak to the theories about Soros, as the claims against him are similar to false claims that the Rothschild family secretly controls the world's wealth. Breitbart News, a conservative website that serves as a platform for white nationalists, published tweets last year calling Soros "an octopus" ― an image Nazis used to refer to Jews controlling the world in the 1930s and 1940s.
Moore has suggested that Soros is targeting him in his race against Democrat Doug Jones. He tweeted a Breitbart story in September about a "George Soros-backed organization attacking Roy Moore." The story was actually about the Campaign Legal Center, a nonpartisan legal group that's received funding from Soros' son, filing a complaint against Moore's foundation for violating laws relating to charities.
The reality is that Soros is just a really rich guy who's given lots of money to Democrats. He also gave a whopping $18 billion to his Open Society Foundations, his philanthropic organization that promotes democracy and human rights in 120 countries. The foundation has spent more than $1.5 billion on democratic reforms in the United States, too.
A spokesperson for Open Society Foundations had only this to say when asked if Soros is, in fact, paying women to falsely accuse Moore of sexual misconduct: "No."
For some of Moore's supporters, though, it's more believable that powerful Democrats are trying to rig Alabama's Senate election than it is to believe the allegations against a man they see as a good Christian.
David Sipsy of Gaylesville said he definitely thinks someone is paying women to lie about Moore's past behavior, but he's not sure if it's Soros or other Democrats in Washington.
"You've always got George Soros. I think he's putting money toward them," said Sipsy, 61. "And that's paying these people, like Black Lives Matter."
His brother Ricky, a 59-year-old truck driver from Fort Payne, said he thinks Moore's accusers are being paid by Democrats and by establishment Republicans who don't want Moore in Washington.
Asked if he was saying that he thinks the Republican Senate majority leader is paying women to lie about Moore, Ricky said he didn't know.
"I'm saying, he's with everybody who speaks out about him," he said. "He's involved in it."
Before You Go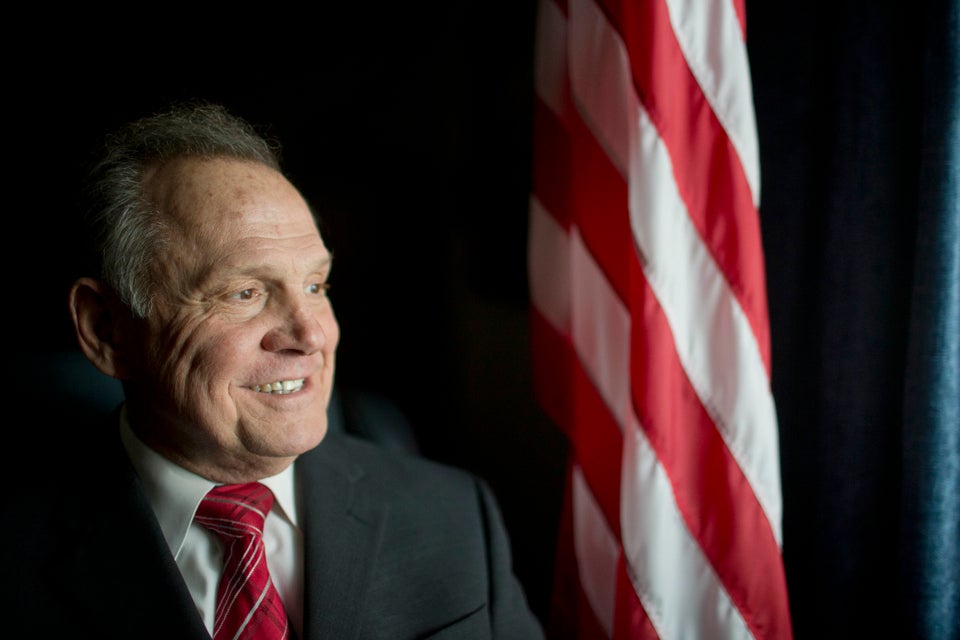 Reasons Ala. Judge Roy Moore Missed SCOTUS' Same-Sex Marriage Ruling
Popular in the Community