The Washington Post story about Roy Moore sure seemed damning. There were four women on the record saying that the Alabama Senate GOP nominee had pursued them when they were teenagers and he was in his 30s. The most shocking story was Leigh Corfman's, who said she was just 14 when Moore sexually assaulted her.
But for Moore's most die-hard supporters, the article wasn't that bad ― except in the sense that it was a hit job on the former chief justice of the Alabama Supreme Court.
And while some national Republicans have condemned Moore, other GOP officials and media figures are trying their hardest to defend him. Some of the leading defenses of Moore:
It was the 14-year-old girl's fault for not being smarter.

"I know that 14-year-olds don't make good decisions." ― Alabama GOP Geneva County Chairman Riley Seibenhener
The Bible says it's fine.
"Take the Bible. Zachariah and Elizabeth, for instance. Zachariah was extremely old to marry Elizabeth and they became the parents of John the Baptist," Zeigler said, choosing his words carefully before invoking Christ. "Also take Joseph and Mary. Mary was a teenager and Joseph was an adult carpenter. They became parents of Jesus." ― Alabama State Auditor Jim Zeigler, who has endorsed Moore
"Roy Moore fell in love with one of the younger women." ― Alabama State Auditor Jim Zeigler
"This woman also is not cited making any claims of inappropriate sexual conduct. In fact, she characterized Moore as being romantic, reading poetry to her, and playing the guitar. The woman is cited saying that physical contact only involved kissing and did not progress any further." ― Breitbart News
Why'd they wait so long to come forward?
"If they believe this man is predatory, they are guilty of allowing him to exist for 40 years. I think someone should prosecute and go after them. You can't be a victim 40 years later, in my opinion." ― Alabama state Rep. Ed Henry (R)
"I'm obviously suspicious. After all, some of these allegations are 40 years old." ― Madison County GOP Chairman Sam Givhan
Girls 16 and up are adults.
"The 16-year-old and the 18-year-old have no business in that story because those are women of legal age of consent." ― Breitbart News Senior Editor-at-Large Joel Pollak
They didn't actually have sex.
"I really don't see the relevance of it. He was 32. She was supposedly 14. She's not saying that anything happened other than they kissed." ― Alabama Marion County GOP Chair David Hall
"The allegations are that a man in his early 30s dated teenage girls. Even the Washington Post report says that he never had sexual intercourse with any of the girls and never attempted sexual intercourse." ― Alabama State Auditor Jim Zeigler
What about an unrelated Democratic senator?
"If the 14 year old girl stuff about Roy Moore is true, zero of my people will have that. Issue is WaPo has fabricated stories, ignored Menendez underage sex accusations. Trust issue." ― Right-wing media personality Mike Cernovich
"Media going all out on one Roy Moore article, silent on Robert Menendez who is actually indicted." ― Pro-Trump conspiracy peddler Jack Posobiec
The Washington Post can't be trusted.
"The Bezos-Amazon-Washington Post that dropped that dime on Donald Trump is the same Bezos-Amazon-Washington Post that dropped the dime this afternoon on Judge Roy Moore. Now is that a coincidence?" ― Breitbart News Executive Chairman Steve Bannon
Before You Go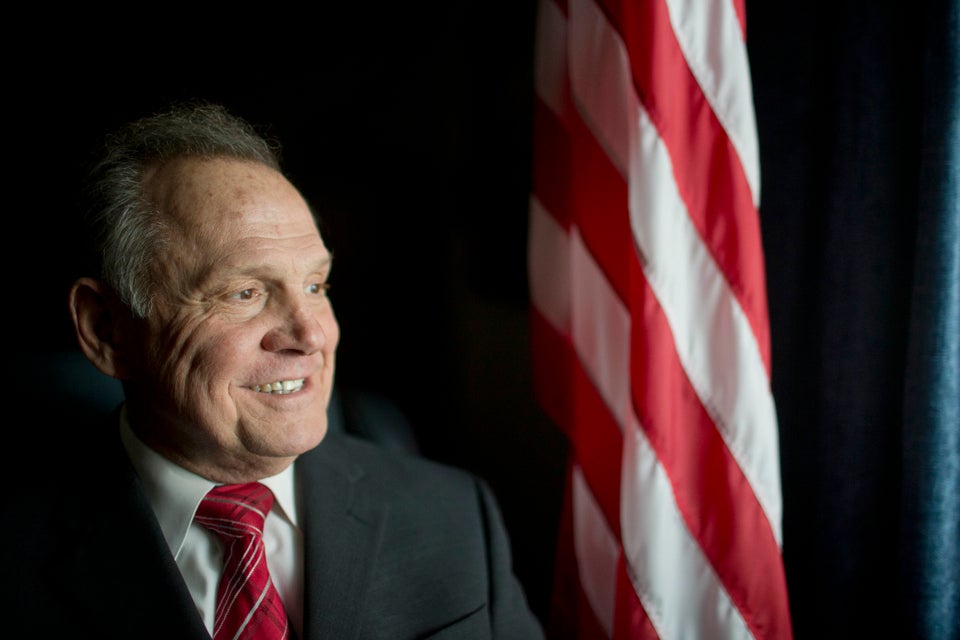 Reasons Ala. Judge Roy Moore Missed SCOTUS' Same-Sex Marriage Ruling
Popular in the Community