Republicans distanced themselves from GOP Alabama Senate nominee Roy Moore on Thursday after a woman alleged that the controversial judge sexually assaulted her when she was 14 years old.
Leigh Corfman, who is now 53, told The Washington Post in a deeply reported article published Thursday that Moore, then a 32-year-old assistant district attorney, took off her shirt and removed his clothes in the 1979 incident. He touched her over her bra and led her hands to touch him over his underwear, she said.
Three other women who spoke to the Post said Moore "asked them on dates when they were between 16 and 18 and he was in his early 30s."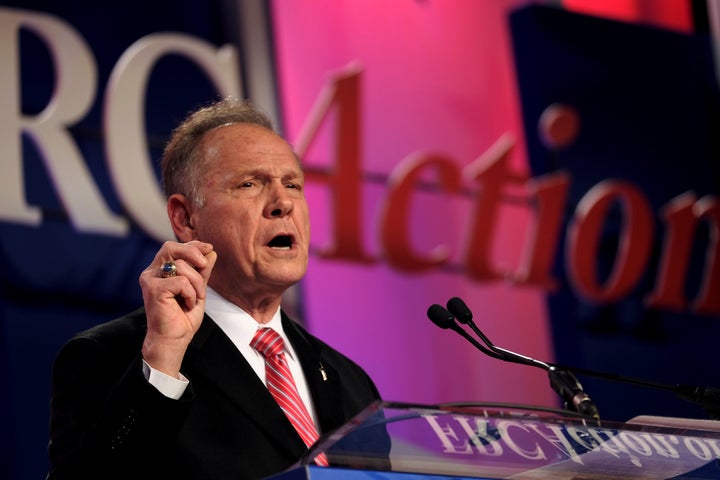 Moore's campaign blasted the report in a statement on Thursday, saying he was the victim of a "systematic campaign to distort the truth about the Judge's record and career and derail his campaign."
"After over 40 years of public service, if any of these allegations were true, they would have been made public long before now," Moore's campaign said.
Only one Republican in the chamber, Sen. John McCain of Arizona, called on Moore to "immediately" step aside. Other Republicans, however, said that he ought to do so if the allegations are "found to be true," as one senator put it.
"The allegations against Alabama Senate candidate Roy Moore are deeply troubling," Sen. Cory Gardner (R-Colo.), who chairs the National Republican Senatorial Committee, said in a statement. "If these allegations are found to be true, Roy Moore must drop out of the Alabama special Senate election."
Senate Majority Leader Mitch McConnell (R-Ky.), whose allied group the Senate Leadership Fund opposed Moore in the Alabama Senate primary, echoed Gardner.
"If these allegations are true, Roy Moore should step aside for all the obvious reasons. These are very disturbing allegations," McConnell told reporters on Thursday.
Sen. John Cornyn (R-Texas), the No. 2 Republican leader in the chamber, called the allegations against Moore "deeply disturbing." Cornyn endorsed Moore last month.
Sen. Lisa Murkowski (R-Alaska) said she had spoken to Sen. Luther Strange (R-Ala.), who lost to Moore in the Alabama Senate primary, about potentially running a write-in campaign before the Dec. 12 special election.
"If these allegations are true, Roy Moore should step aside for all the obvious reasons. These are very disturbing allegations."
Alabama law prohibits withdrawal of a candidate from a ballot within 76 days of the election.
Reached by phone on Thursday, Alabama's Republican secretary of state, John Merrill, said he had no comment about whether Moore should withdraw from the race. He noted that, under the state's election law, Moore's name will still appear on the ballot in December.
"The people of Alabama will have an opportunity to have their voice heard. That can't change," he said, calling sexual allegations against Moore "just another piece of information that will allow them to make their decision."
Merrill questioned the timing and source of the report, however.
"It's odd to me that this information has just been introduced. In all the campaigns Judge Moore has ever run before ― and he has run a lot of them, probably a dozen campaigns. It's very, very odd to me this information has just been introduced."
He added that Alabama is home to many "outstanding news people" and that "not one of those people has ever been able to" unearth the allegations in the Post story.
Richard Shelby, the senior senator from Alabama and also a Republican, similarly called on Moore to withdraw if the allegations are proved true.
"If that's true, I don't believe there'd be any place for him in the United States Senate," he said.
This post has been updated with more reactions.
CORRECTION: A previous version of this article incorrectly stated that Sen. John McCain is retiring.
Popular in the Community