Disgraced former Alabama Judge Roy Moore, who has been accused by multiple women of sexual assault, is running for the U.S. Senate again.
Moore announced he was running Thursday at a news conference, saying "the people of Alabama know dirty politics. They're angry."
He previously ran for Senate in a 2017 special election but lost to Democrat Doug Jones after Moore was accused of sexually assaulting multiple teenage girls. Jones is running for election to a full term in 2020.
Rep. Bradley Byrne (R-Ala.), who announced his candidacy for the Senate seat in February, previously said he would welcome Moore to the race.
"He knows that if I run I will beat Doug Jones," Moore tweeted in May, referring to Byrne. Trump responded with a tweet of his own, saying Moore "probably won't" win if he runs.
Moore responded to Trump's opposition Thursday by saying the president is "being pushed" by the National Republican Senatorial Committee.
"I don't know what he's thinking," Moore said. "I can't speak for him. But I can say I don't disagree with him in lots of his policies."
"I'm not going against President Trump," Moore added.
However, the president's son Donald Trump Jr. disputed that, calling it "fake news."
The Senate Leadership Fund super PAC also came out against Moore's decision to run again.
"We believe most Alabama Republicans realize that nominating Roy Moore would be gift wrapping this Senate seat for Chuck Schumer," the SLF said in a statement. "It remains to be seen whether Moore can escape his baggage without his candidacy collapsing under its own weight, regardless of what groups on the outside do."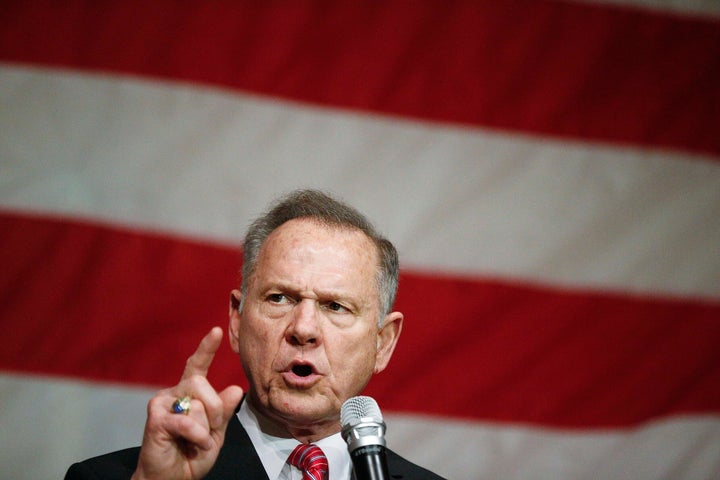 Multiple women came forward in 2017 to accuse Moore of sexual assault. One of them was Beverly Nelson, who said Moore groped her breasts and attempted to get her to perform oral sex on him when she was 16 and he was in his 30s.
"He looked at me, and he told me, 'You're just a child.' And he said, 'I am the district attorney of Etowah County, and if you tell anyone about this, no one will ever believe you,'" Nelson said of the encounter.
Moore has denied any wrongdoing, and said Thursday the allegations had "very little" to do with his previous loss.
This story has been updated with quotes from Moore and the Senate Leadership Fund as well as a tweet from Donald Trump Jr.