A handwriting expert has concluded that the signature in then-16-year-old Beverly Young Nelson's yearbook was, in fact, Roy Moore's, attorney Gloria Allred said at a Friday press conference.
The lawyer, who is representing Nelson ― one of several women who have accused Moore of sexual misconduct and assault ― said that at Allred's request, an expert had analyzed the GOP Alabama Senate candidate's handwriting and signatures in public documents and compared them to the message and signature in Young's yearbook. The expert, Arthur T. Anthony, concluded they were written by the same person.
"The conclusion is that the signature and the inscription that appears before it is Roy Moore's," Allred said. "Why is that relevant? Because he said he didn't know these women. And because his supporters have been saying that wasn't his signature."
Earlier on Friday, Nelson told ABC's "Good Morning America" that the date and location that appear directly below the inscription were, in fact, notes that she had added herself after Moore signed her yearbook. In the press conference, Allred said that Nelson had added the notes in order to remind herself who Moore was and when he signed her yearbook ― but that the rest of the inscription was Moore's.
The lawyer said they didn't ask the expert to analyze the writing that Nelson had added.
In another press conference later on Friday, Moore's campaign responded by accusing Allred and Nelson of changing their story by not mentioning earlier that the date and location were not written by Moore. The campaign spokespeople also repeated demands that the yearbook be released so "an independent expert, not your expert," could analyze the handwriting. They did not answer any reporter questions.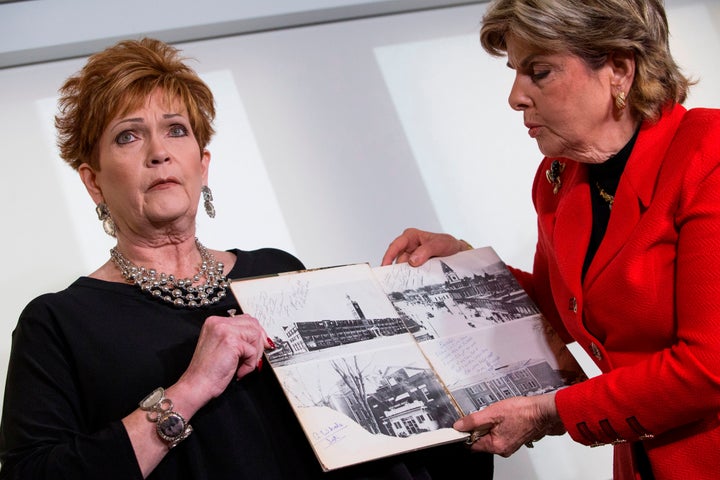 Moore has repeatedly denied the allegations from multiple women who have said he pursued relationships with them when they were in their teens. Some of them have accused him of sexual assault.
Nelson alleged in November that Moore had sexually assaulted her when she was 16 and he was 30, by groping her breasts and then trying to force her head toward his crotch while they were in his car. One week before the incident, Moore had left a note in her high school yearbook, according to Nelson.
"To a sweeter, more beautiful girl, I could not say 'Merry Christmas.' Love, Roy Moore D.A," read the note.
Anthony, the handwriting expert, has worked for the FBI and is a certified forensic handwriting and document examiner qualified to testify as an expert in federal and state court, according to Allred.
"It's time to stop the misleading statements about Beverly, who had the courage to tell what she says is the truth about Roy Moore," Allred said Friday. "We look forward to learning if Alabama voters will believe Moore's accusers or ignore the evidence presented to them."
President Donald Trump has endorsed Moore, who is running for the Senate in a Dec. 12 special election. Despite the allegations, Moore has refused to drop out of the race.