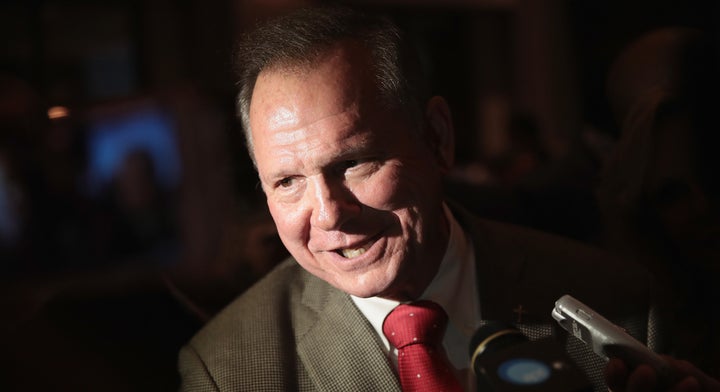 If you look at Caleb Moore's resume, his current position is assistant executive director at the Foundation for Moral Law, the organization founded by his father, Alabama GOP Senate candidate Roy Moore.
He allegedly has been in that position for three years, previously serving as an information systems specialist at the foundation from May 2013 to May 2014.
But if you ask the foundation, he is not an employee there and hasn't been one, at least for the past year.
The Foundation for Moral Law is no doubt a family affair for the Moores. The president of the organization is Kayla, Roy's wife. The Washington Post reported that the charity has employed at least two of the couple's four children, although it's not clear what their compensation was.
The foundation has been lucrative for Roy Moore. He collected more than $1 million total ― for part-time work ― as president from 2007-2012, which was far more than what the nonprofit disclosed in its tax filings.
Tax experts told The Washington Post that the foundation was suspicious because it may violate tax rules that prohibit the use of a charity for the private benefit of an individual. A board member acknowledged that it is basically run by the former chief justice of the Alabama Supreme Court and his family.
Caleb may be benefiting more from the resume boost rather than a steady paycheck. His resume, found on his LinkedIn page, is dated Feb. 27, 2017. Assistant executive director is his most recent position, from May 2014-present.
The resume is riddled with grammatical and typographical errors, such as the note that he has assisted in "managing a team of 5 attorneys', and two office staff employees," and has "7 years of management experience, including a two-high-level position's."
Despite those seven years of management experience, the resume states that he is looking for "entry-level employment."
"Significant relational and interaction skills, both written, and oral," Caleb writes on his resume. "Constantly aware of current Alabama Law; both Criminal and Civil Procedure. Also as a part-time contractor; I stay up-to-date with OSHA compliance. Business- professional competitive disposition with a prominence of gaining knowledge and experience in every aspect of the work place."
Caleb's LinkedIn page, however, has a different title: legal administrative assistant, a position he says he's had since May 2013.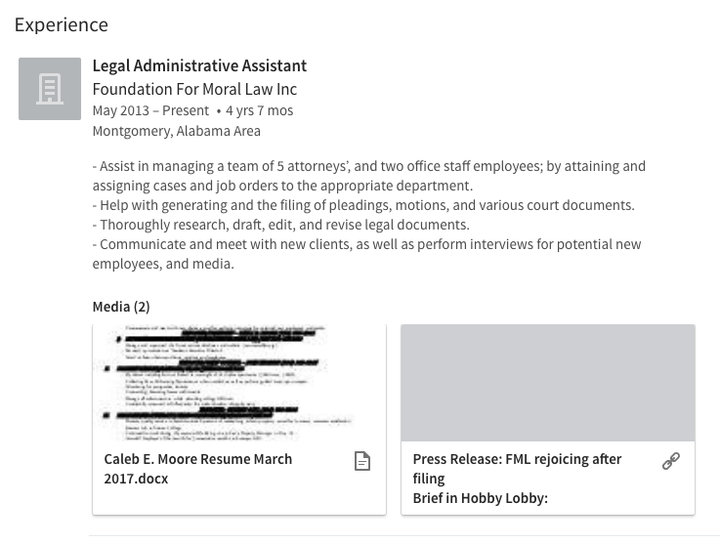 In its 2012 tax filing, the Foundation for Moral Law listed Caleb as the executive director and secretary for part of the year, although it said he received no compensation.
In a 2015 interview, Caleb denied ever holding that job.
"I work in the ministry," Caleb said. "I'm part of the foundation. Matthew Kidd is the executive director. My mother (Kayla Moore) is the president. I do work there. I basically draft letters. I'm also going to school. I'm taking classes from Troy online. I'm two classes short of a bachelor's degree."
Caleb's resume says he graduated high school in 2009 and is currently in the process of getting his college degree.
But Jessica Deem, the executive assistant at FML, told HuffPost that despite Caleb's resume, he does not work at the organization.
"Since I've been here [about a year], he's had odd jobs here, but nothing permanent. He helps out from time to time, but that's it," she said.
Deem also confirmed that Caleb has received compensation from FML: "He's gotten paid from our foundation, yes, he has. He was on our payroll, but it wasn't as an executive director."
She didn't have the exact dates of when he was on the payroll, asking HuffPost to email her so she could forward the request and get more details. The foundation never provided any additional response on Caleb's employment.
Neither Caleb Moore nor Roy Moore's Senate campaign returned a request for comment.
Caleb has also attracted extra attention not for his work at the foundation, but for his multiple arrests. Most recently, on Oct. 10, he was charged with third-degree criminal trespassing. It was related to his November 2016 arrest for hunting without permission.
Caleb has been arrested nine times, including for driving under the influence, drug-related charges and domestic violence. After one of his arrests in 2015, he wrote a Facebook post going after "crooked police officers and critics of my dad" who want to "not only destroy his career for what he stands for but will go as far as trying to destroy his family."
After the LGBTQ blog Joe.My.God published some of Caleb's tweets, he made his Twitter account private.
"I was getting tired of homosexuals messaging me and saying things," he told AL.com in 2015, also seeming to suggest that someone had gotten hold of his account and sent some of the messages without his permission.
Roy Moore has made a national name for himself with his conservative stance on social issues and has been an outspoken opponent of lesbian, gay, bisexual and transgender rights. As chief justice of the Alabama Supreme Court, he instructed state probate judges to ignore a U.S. Supreme Court ruling declaring marriage equality the law of the land.
He is running against Democrat Doug Jones in the special election, which will take place Dec. 12. Moore defeated the GOP establishment pick, Sen. Luther Strange (R-Ala.), in the primary.
Want more updates from Amanda Terkel? Sign up for her newsletter, Piping Hot Truth, here.
Popular in the Community