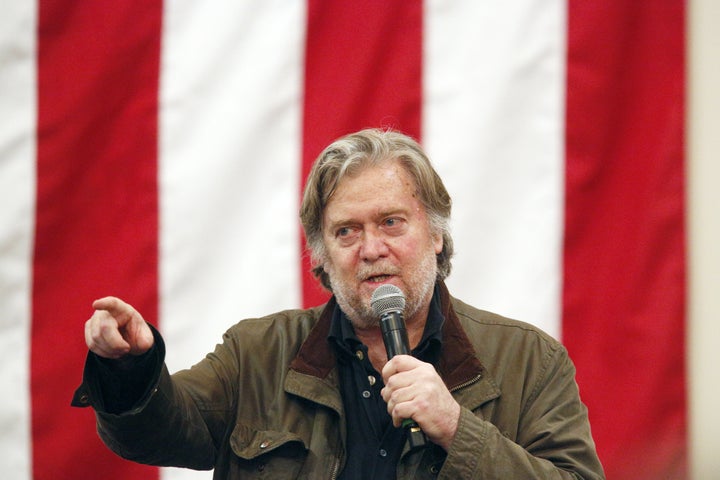 The victory by Doug Jones in Alabama on Tuesday night was enormous for Democrats and progressives, and a major blow to the GOP. And vanquishing Roy Moore, a theocrat, racist and accused child molester was powerful. I'd interviewed Moore twice over the past several years, on everything from his belief that the U.S. is a "Christian nation" to his false declaration that homosexuality is "evil" according to the U.S. Constitution and thus should be criminalized. It was exhilarating to see him lose in a nail-biter.
But Steve Bannon, the former White House advisor who raced to Moore's side in the primaries and attempted to rescue him in the general election, helped bring Moore to the brink of a win in the very close race by using Nazi propaganda techniques Bannon has long admired. As Joshua Green at Bloomberg reported the day before the election:
Bannon worked to create a counter-narrative that ultimately would change many Republicans' perception of the [teen sexual abuse] scandal. A former filmmaker, he's long been captivated by the propaganda films of Leni Riefenstahl, the Nazi filmmaker, and the Soviet director Sergei Eisenstein for their power to shape public sentiment. Earlier this year, Bannon told the New Yorker's Jane Mayer his 2012 anti-Obama film "The Hope and the Change," had consciously mimicked Riefenstahl's infamous, "Triumph of the Will." Her film, he added, "seared into me" that unhappy voters could be influenced if they felt they were being conned.
Bannon is now on to other races in other states. No one should believe he's down and out because of this loss and because GOP establishment figures are pointing fingers at him and demanding he be ostracized. The day following the Alabama Senate election loss Bannon was already on the phone with Donald Trump, who clearly has no interest in severing ties with him and is sloughing off the Alabama debacle. You can bet Bannon will continue to offer his destructive and ugly advice to a president who lacks any political vision and relies on scam artists like Bannon. With backers such as Trump billionaire megadonors Robert and Rebecca Mercer, it's unlikely money will dry up for Bannon-backed candidates even as the GOP shuns him.
That anyone can question whether or not Bannon is sympathetic to white supremacists and bigots of all kinds and will promote them for his own cause is ridiculous, simply by looking at Breitbart, the site he runs, and its infamous headlines ― and looking at his backing of Moore, a man nostalgic for the days of slavery.
Bannon's stated goal in trying to elect Moore was to help tear down Mitch McConnell and the GOP establishment. But the fact that he had no problem promoting an extremist and accused teen predator like Moore goes a long way toward showing us what he truly believes or, at the very least, what he'll accept in a candidate. (Of course, we knew that with his support for Trump, but Moore took it to whole other level.)
As Kurt Bardella, fomer Breitbart spokesperson (who's now left the GOP entirely), told me in an interview last week on my show on SiriusXM Progress regarding Bannon's motives in promoting Moore: "Because [Bannon] is a racist. Because he is basically a white supremacist. Because he is a sexist."
(Full disclosure: Bannon was recently brought back to SiriusXM Patriot, to host a Breitbart radio show, in a move that caused some celebrities, like Seth Rogen and John Leguizamo, to cancel their SiriusXM interview tours, while many subscribers, in tweets, pledged to boycott SiriusXM. I've made my opinion clear that Bannon shouldn't have been brought back. Promotion of white nationalism and racism aren't acceptable on the spectrum of "diverse opinions." Bannon has free speech, but no company is compelled to associate with it. I am, however, adamantly opposed to any boycott, since, as my colleague Dean Obeidallah eloquently explains, SiriusXM Progress, which has helped connect and organize the Resistance across the country, would be hurt, and that would be self-defeating.)
Bannon is focusing on Arizona for 2018 and the open seat left by the retiring GOP senator Jeff Flake, promoting the bigoted, anti-LGBTQ Kelli Ward ― who tried previously to beat John McCain and failed. He is also backing extremist candidates in Senate races in Wisconsin, Montana, Nevada, Tennessee and elsewhere (candidates, like Tennessee's Rep. Marsha Blackburn, who refused to demand Roy Moore drop out of the race), to take on GOP senators or establishment GOP candidates in the primaries with the hope of beating a Democrat in the general election.
Similarly, he's focused on the House, where he's backing and encouraging, among others, former GOP House member and convicted felon Michael Grimm in New York. Grimm, fresh out of prison after being found guilty on 20 counts, including tax evasion and perjury, has signaled he may run again for the Staten Island seat from which he'd resigned. Grimm violently threatened a gay reporter from NY1 in a homophobic rant back in 2014.
Democrats should be emboldened in beating back Bannon and his racist crew in Virginia's gubernatorial race (where Bannon's "Trumpism without Trump," as he called GOP candidate Ed Gillespie's strategy, failed) and in Alabama's U.S. Senate race, but they must not get overly confident. Bannon thrives on depressing turnout among Democrats and progressives while energizing alt-right racists and using Nazi propaganda strategies, fake news and other despicable tactics on GOP voters who are already receptive to his message.
Alabama should be seen as another example, like Virginia, of what works for Democrats: Taking the white nationalist threat seriously, and getting the base out, since there are many more of us, enough to overcome voter suppression, Russian interference and anything else they throw our way. When we turn out, we win.
Popular in the Community