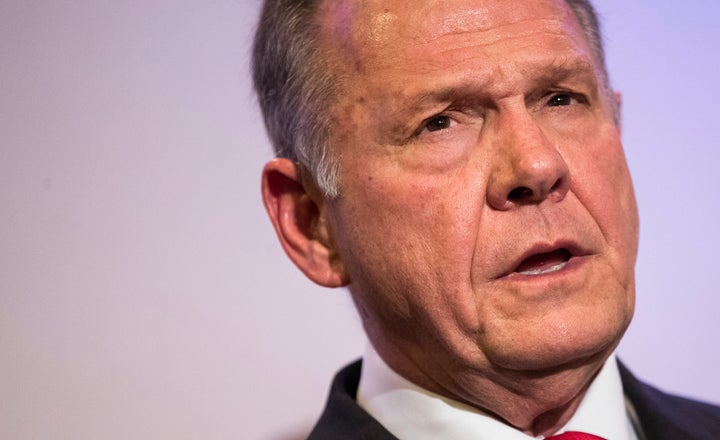 Alabama Senate candidate Roy Moore was a co-author and contributor to a 2011 textbook and series of audio and visual lectures, titled Law and Government: An Introductory Study Course, that promoted unequal gender roles and criticized women's suffrage.
ThinkProgress reported Wednesday evening that the textbook was part of a study course for Vision Forum, a now-defunct evangelical organization in Texas that taught a version of biblical patriarchy. Law and Government includes 28 hours of lectures from Moore and several other speakers. Moore is one of four co-authors listed on the project.
"In addition to learning concepts of civil government and public policy, students will be strengthened in their understanding of biblical principles which govern us and which point us to the Lawgiver who governs us all ― Jesus Christ," Amazon's summary of the book reads.
Another lecture included in the course, titled "What the Bible Says About Female Magistrates," argues that the Bible does not allow women to hold political office. The lecture, by William Einwechter, a teaching elder at a Pennsylvania church, criticizes the women's suffrage movement, which won women the right to vote.
"By and large, the issue of the female magistrate ruling in authority in America would not have been anywhere near as controversial," says a second man introducing Einwechter's lecture, according to ThinkProgress. "The controversy was beginning to brew with the women's suffrage movement."
"One of the most destructive ideologies of the last 50, hundred years have been the doctrines of feminism, which have transformed our culture and have paved the way for abortion on demand, the homosexual agenda, undermined our church, and subverted the doctrines of the biblical family," Einwechter later says.
Besides Moore, the textbook's other co-authors are listed as Doug Phillips, Dr. Joseph Morecraft and Dr. Paul Jehle.
Vision Forum's interpretation of biblical patriarchy demonized feminist ideologies and promoted strict gender roles.
The idea that there are only two genders and that they are fundamentally separate and different is fairly common among evangelicals. These beliefs underpin the concept of "complementarianism," the conservative Christian idea that men and women have specific God-given roles.
"Central to the crisis of this era is the systematic attack on the timeless truths of biblical patriarchy. This attack includes the movement to subvert the biblical model of the family, and redefine the very meaning of fatherhood and motherhood, masculinity, femininity, and the parent and child relationship," reads a statement from Vision Forum's website, available on the Wayback Machine. "Egalitarian feminism is a false ideology that has bred false doctrine in the church and seduced many believers."
Carol Kuruvilla contributed reporting.
Support HuffPost
The Stakes Have Never Been Higher
Popular in the Community