In an attempt to discredit one of the Senate nominee's accusers, Roy Moore's lawyer Phillip Jauregui is demanding that attorney Gloria Allred release a high school yearbook her client said Moore had signed before he sexually assaulted her when she was a teenager and he was in his 30s.
In a news conference Wednesday, Jauregui called on Allred to hand over Beverly Young Nelson's yearbook to a "neutral custodian" so that the Alabama Republican's legal team can have a handwriting expert analyze the signature.
Jauregui also called on reporters to analyze the handwriting themselves.
"I want you to look at it," he said. "Use your judgment."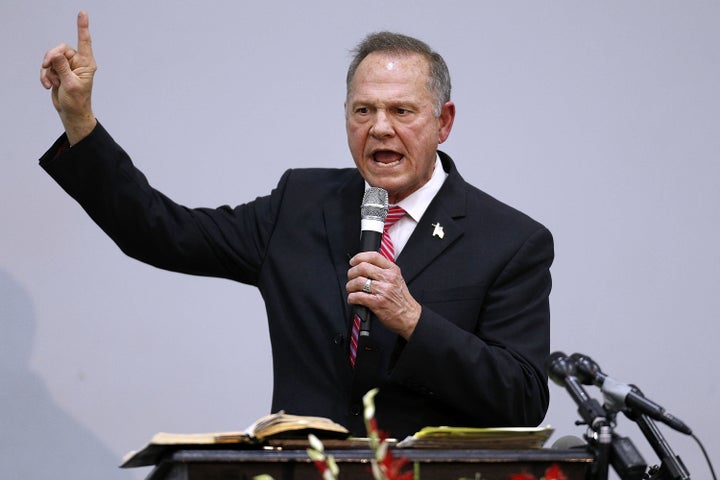 He also disputed Nelson's claim that she had not had contact with Moore since the 1977 incident, saying that Moore presided over Nelson's 1999 divorce. He then implied that Nelson had forged Moore's signature in her old yearbook using her divorce papers, claiming that Moore had no recollection of signing "D.A." after his name but had an assistant with those initials at the time of Nelson's divorce who would have stamped it on court filings.
"I've been with him in probably over 100 different meetings and been around probably an excess of 10,000 different ladies," the attorney said. "Not one time have I ever seen him act even remotely inappropriate against any woman."
Moore's press office later echoed that sentiment by releasing a statement featuring 12 female "character witnesses" vouching for the candidate:
Jauregui, however, did not specifically challenge Nelson's allegations. She came forward on Monday to say that Moore had sexually assaulted her when she was 16. Four other women, in accounts detailed by The Washington Post, have also accused Moore of preying on them when they were teenagers. A sixth woman came forward Wednesday, claiming Moore groped her in his office when she was 28.
Allred responded to the news conference later on Wednesday, saying she will agree to have the yearbook examined by an independent handwriting expert if the Senate agrees to investigate the claims against Moore.
Moore, who is running for Alabama's open Senate seat in a Dec. 12 special election, has denied any wrongdoing and has refused to drop out of the race, despite calls from Senate Majority Leader Mitch McConnell (R-Ky.) and other Senate Republicans to do so. Moore's campaign has lost funding support from the Republican National Committee as well as the National Republican Senatorial Committee since the accusations emerged.
Republicans are still weighing whether to stage a write-in campaign for a different candidate, McConnell said earlier this week.
This article has been updated with details on the accusations against Moore and the status of his campaign, as well as with comment from Allred and a statement from Moore's press shop.
Popular in the Community