Alabama's Republican Senate candidate Roy Moore is well-known to virulently oppose queer people having civil rights. But newly discovered audio of a speech he gave several years ago reveals just how far the evangelical Christian politician is willing to go to justify a cruel, distorted and dangerous view of the Bible.
On Thursday, Think Progress shared audio they said is from a speech Moore gave in 2008 for a controversial (and now defunct) evangelical organization called Vision Forum. In the speech, the Southern Baptist former judge voiced a number of troubling beliefs about morality and queer sexuality, at one point comparing the rise of the queer rights movement to the rise of the Nazi regime during World War II.
In the speech and a subsequent Q&A session, Moore, who is currently battling sexual assault allegations, reiterated his belief that all morality comes from God. He points to Nazi Germany as an example of a country that lost its moral compass when it prioritized the state above God.
"Without morality, without God, the only power is the power of man," he said in audio uploaded to Sound Cloud by Think Progress. "And as demonstrated in Nazi Germany, that results in an ultimate power given over to the state to commit murder."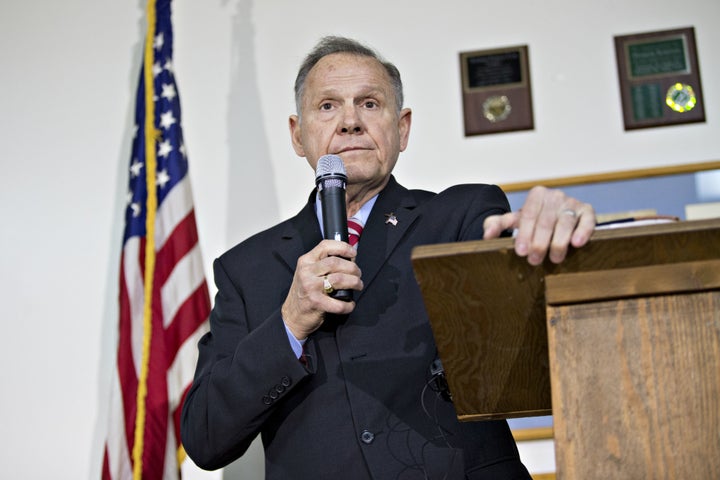 He later compared the loss of morality that occurred in Nazi Germany to the deterioration of morality he believes is illustrated by the modern-day movement for marriage equality. Just two weeks before the 2008 speech, Think Progress reports, California's Supreme Court had struck down the state's ban on same-sex marriage. 
"This is a spiritual battle in which everything of God is being attacked, and that's what it's about," Moore said. "It's not just about the institution of marriage, it's about the institution of parents' rights over their children, it's about every kind of sexual thing you can imagine, which I won't go into, but it's destroying anything about God."
For Moore, the California Supreme Court decision was proof of the moral decay of the nation. 
"It's not too many years from now when another judge is going to come along and allow one man to marry 10 women, or a man to marry his two daughters," he said. "Because you see, when there are no standards, there are no standards and they'll come along and make up the standard as they go." 
"I think that was a devastating opinion," he said about the 2003 Lawrence V. Texas decision, which ensured that queer Americans across the country no longer had to worry about being arrested, hauled to jail and fined simply for having sex. 
Moore's campaign has not responded to a HuffPost request for comment.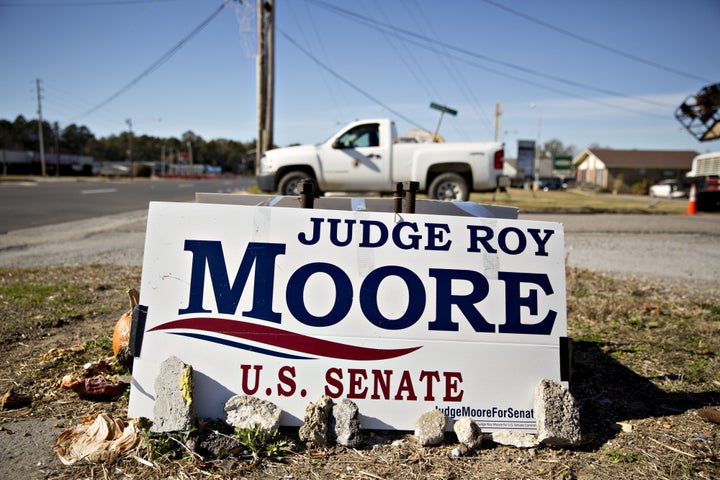 While Moore is an outlier for his openly blunt, brash and violent rhetoric on queer sexuality, his line of thinking ― that homosexuality is not part of God's plan for the world, and that Christians are called to resist its growing cultural acceptance ― is not at all uncommon among conservative Christians. 
Brandan Robertson, a progressive, queer Christian activist, told HuffPost that Moore's perspective on sexuality and gender identity is taught at many Southern Baptist churches today. It is a system that Robertson believes is inherently patriarchal, and that denies the liberation and equality of women, queer people and people of color. 
But Robertson believes the Jesus of the Bible preached a radical message of liberation and equality.
″[Roy Moore's theology] flies in the face of everything that Jesus preached and embodied," Robertson said. "It's about preserving privilege and power, not about defending families or protecting morality."
Ross Murray, senior director of education and training for the advocacy group GLAAD, told HuffPost that he believes this kind of preaching doesn't exist in a vacuum ― instead it has a direct and dangerous impact on the lives and well-being of LGBTQ people, resulting in violence against queer people, youth homelessness and domestic abuse. 
Murray is also the founder and director of The Naming Project, a faith-based camp for LGBTQ youth and their allies. He said that when he hears Moore's words about queer sexuality, his concern immediately goes to young people. 
"I want them to be safe and protected from harm," Murray said. "Unfortunately, Roy Moore is a source of harm, not only in his direct words and actions, but also for others who may take his words to a violent end."
"Thankfully, more and more Christians, including evangelical Christians, are abandoning that toxic line of thinking, recognizing that LGBTQ people are children of God, created in God's image, and worthy of their love and support."
REAL LIFE. REAL NEWS. REAL VOICES.
Help us tell more of the stories that matter from voices that too often remain unheard.
BEFORE YOU GO
PHOTO GALLERY
Most Inspiring LGBT Religious Leaders