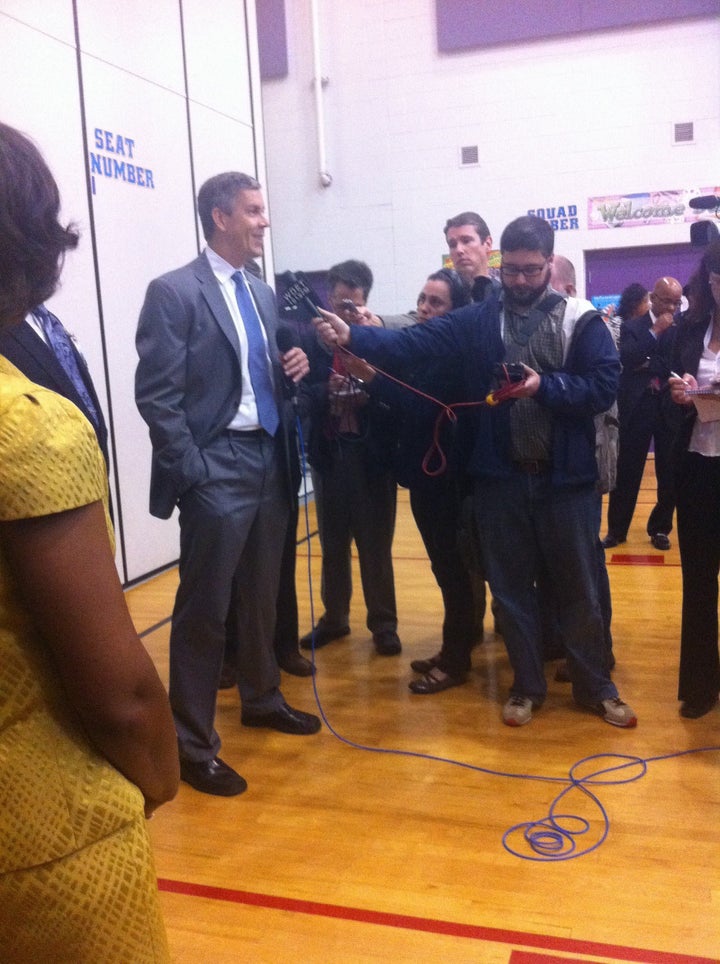 DETROIT -- U.S. Secretary of Education Arne Duncan gave the Motor City a homework assignment Thursday.
"Can Detroit become the fastest-improving urban district in the country?" Duncan asked Detroiters packed into the auditorium of the Charles H. Wright Academy of Arts and Sciences. "I see no reason why that can't happen."
It was a challenge, and a less scathing message than the one Duncan gave during his last visit here, in 2009. Duncan admitted branding the city as "ground zero" for education reform, may have angered Detroiters.
"I was a little bit tough," he said. "Two years later, I couldn't be more hopeful and optimistic about Detroit."
Duncan's emphasis on turning around the Detroit district is echoed in the sentiment that pervades the schools here.
"If we can do it in Detroit, then we can do it anywhere in America," said Michael Brennan, president of United Way for Southeast Michigan.
Detroit's schools are depressed. The district is hundreds of millions of dollars in debt and faces a mounting enrollment crisis. This year's first day of school saw a 55 percent attendance rate.
After a relatively tranquil Wednesday that included stops in Pittsburgh, Cleveland and Toledo and highlighted collaboration between teachers' unions and school districts, the Detroit panel featured unrest from some audience members and far more questions than could be answered in the time allowed.
But most of the ire was directed at local leaders, not Duncan.
"Let us not go back to Brown vs. Board of Ed where we're willing to make an investment in one group of students and tell another group of students, 'Oh well, survive as you can,'" said Detroit Federation of Teachers President Keith Johnson, who sat on the panel.
Johnson was referring to that state-run district, the latest education reform measure introduced in Michigan. The Educational Achievement System, announced in June, will govern 5 percent of the state's persistently lowest-performing schools, pushing more resources into failing classrooms. After a year of planning, the program is slated to pilot in 30 to 40 Detroit schools before expanding statewide.
Covington told The Huffington Post that he could not make Thursday's event in Detroit due to a family-related scheduling conflict.
At the panel, Detroit School Board member Lamar Lemmons noted that the district's debt has only increased under state-appointed administrators' watch. He also criticized the EAS.
"The district, under the state's stewardship, have quadrupled the percentage of failing schools," he said. "The only students that will be in that system are the ones that the emergency manager fails in his capacity as emergency manager."
Former Michigan Gov. Jennifer Granholm (D) first appointed an emergency financial manager for Detroit Public Schools in 2009. Under Gov. Rick Snyder (R), the manager's powers have expanded beyond balancing the budget to include managing individual schools.
DPS Emergency Manager Roy Roberts -- who has near carte blanche over the schools and is currently being sued by the teachers' union -- maintained that the EAS is a fair and effective reform measure. In addition to his role in DPS, Roberts will chair the executive committee of the EAS.
"We're admitting that these are repeatedly low-performing schools, the bottom 5 percent in the state of Michigan," he said. "We want to make sure we call those out and put the support behind those schools that are so sorely needed."
Lemmons criticized Roberts' dual roles, asking whether his leadership of both DPS and the EAS is a conflict of interest, since failing DPS schools will eventually end up in the EAS. To much applause, Lemmons also asked who will foot Roberts' bill -- local or state residents -- when it comes to items like a recently purchased SUV.
Roberts did not address the car purchase, but did say, "I feel a real responsibility for every child in the city of Detroit -- I don't care what school they go to."
Later in the discussion, Snyder, who helped design the EAS, said there was "no point in wasting time on blame."
Popular in the Community