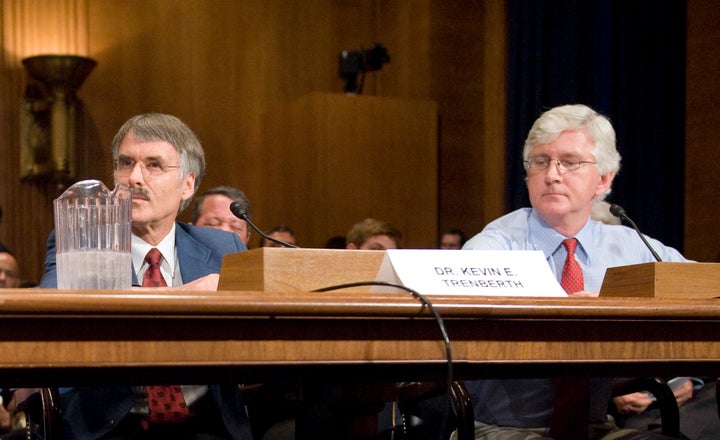 One of the world's largest coal companies, Peabody Energy, paid a prominent scientist and dozens of others to promote climate change denial, new documents reveal.
The company's list of creditors, filed to comply with financial disclosure requirements as part of its recent bankruptcy, shows just how many different organizations and individuals Peabody Energy paid to deny climate change. The watchdog group Center for Media and Democracy published a breakdown of creditors that details their affiliations.
One such creditor is Roy Spencer, who teaches at the University of Alabama, Huntsville. Spencer, a vocal denier of climate change science who writes a popular blog, has a Ph.D. in meteorology from University of Wisconsin-Madison and was once employed by NASA, according to his website. The Senate often asks him to testify about climate science.
Spencer's website claims he "has never been asked by any oil company to perform any kind of service. Not even Exxon-Mobil."
Yet, Peabody Energy's bankruptcy documents show that Spencer is a creditor. As part of a Greenpeace undercover investigation published in late 2015, Spencer reportedly told Greenpeace representatives that he had received $4,000 from Peabody Energy in exchange for testifying at a hearing about climate science in Minnesota.
The documents that were released this week do not say how much money Peabody Energy's creditors were owed, so it's unclear whether the company has ever paid Spencer more than the $4,000 he told Greenpeace about.
"The entities listed in Peabody's creditor matrix makes up a very large proportion of the climate denial movement," said Nick Surgey, the Center for Media and Democracy's research director.
Normally, these payments would be untraceable, Surgey said. It's only because Peabody Energy and its rivals, Arch Coal and Alpha Natural Resources, filed for bankruptcy in the last 12 months that these payments are coming to light.
"Just the sheer volume of individuals, scientists, nonprofits and political organizations espousing climate change denial and opposition to efforts to tackle climate change is astonishing," said Surgey.
The question of whether companies should be allowed to provide funding for researchers has been a sticky one in the scientific community since at least the 1980s, according to David Resnik, a bioethicist for the National Institutes of Health and the chair of the National Institute of Environmental Health Sciences institutional review board.
It's a conflict of interest for companies to fund research that could be good for their business. It might not always lead to bias on the part of the researcher, but it certainly doesn't help avoid the impression of bias, Resnik told The Huffington Post.
Different institutions have various rules about what kind of funding needs to be disclosed, he added. For example, government-backed agencies like the NIH have very strict rules about financial conflicts of interest. Universities and peer-reviewed journals usually have some rules, but each institution sets and polices its own rules.
"The point [of disclosure rules] is to try to deal with potential bias and to assure the public's trust," Resnik said.
Peabody Energy declined to comment to HuffPost about "alliances with particular organizations," but said that it "has a track record of advancing responsible energy and environmental policies, and we support organizations that advocate sustainable mining, energy access and clean coal solutions, in line with our company's leadership in these areas."
Spencer did not return a request for comment.
Popular in the Community