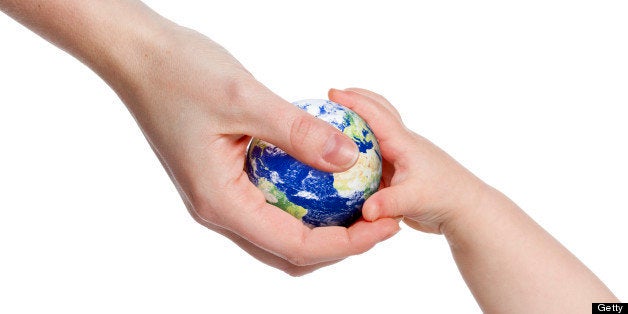 We don't know his name yet -- or what he'll look like in a crown. But the birth of England's newest royal has dominated global media coverage, thanks to the hundreds of journalists camped in the sweltering summer heat outside St. Mary's Hospital in London, where his mother, Kate Middleton, gave birth.
The little Prince of Cambridge, weighing in at eight pounds, six ounces, arrives as England sweats out a brutal heat wave that has prompted health warnings from authorities and turned this famously damp country into a bone-dry haven for grass fires.
More hot weather is in store for the little prince -- and every other kid born into this generation. By the middle of this century, according to Greater London Authority, most summers in London will be as hot as the city's epic heat wave of 2003, which killed an estimated 600 people. Many other cities around the globe will also suffer.
As a mom, I understand why so many people are fascinated by the royal baby. Like infants everywhere, he signifies hope for the future. But as a scientist, I know that the generation to which both my daughter and the prince belong will face unprecedented challenges from climate change.
These kids are being born as scientific research increasingly suggests that our climate will change more quickly -- and with more drastic and dangerous consequences -- than had previously been understood.
Just weeks before the prince's birth, the World Meteorological Organization announced that 2001-2010 was the hottest decade since the start of modern measurements in 1850. More national temperature records were broken than in any previous decade, according to the WMO report, and this period was also marked by deadly and widespread flooding, droughts, and other extreme weather.
Also in July, scientists at the Cooperative Institute for Research in Environmental Sciences published a new study explaining the accelerating melting of the Greenland ice sheet.
Surface meltwater draining through cracks in an ice sheet, the study authors explain, warms the sheet from the inside. That's a key reason why Greenland's ice is melting far faster than previously expected and will make a major contribution to sea-level rise.
Rising sea levels are increasing the risk of flooding and storm surges -- deadly walls of water like those that swept ashore in New York and New Jersey during Hurricane Sandy. Researchers say storm surges will become 10 times more frequent as the planet warms.
Every child of this generation will also witness catastrophic changes to our planet's web of life, according to a recent study in the journal Nature Climate Change. The researchers found that by 2080 global warming will make more than half the existing habitat for six out of 10 plants uninhabitable -- and do the same for about a third of animal species unless we reduce greenhouse pollution.
Fighting that pollution is critical to our children's future, but you wouldn't know that from the actions of many of our leaders.
Greenhouse gas emissions are continuing to rise, and earlier this year atmospheric carbon concentrations passed 400 parts per million -- a level not seen since several millions years ago, when sea levels were some 10 feet higher than present.
Indeed, the world is on track to experience as much as 10 degrees Fahrenheit of warming by 2100 unless emissions are cut, according to the U.S. government's recently released draft National Climate Assessment.
We have the power to do something about this terrifying problem. Here in the United States, President Obama has vowed to use the Clean Air Act to control the greenhouse pollution spewing out of our power plants. But we've been disappointed before by his administration's slow progress in the climate fight.
The president and his new EPA administrator, Gina McCarthy, need to act quickly to enact meaningful emission reductions -- and they must consider other tools, like a national cap on carbon pollution.
My daughter doesn't have much in common with the newborn Prince of Cambridge. But they both share one key attribute with every other child on the planet: None of these kids, whether they live in palaces or tin-roofed shacks in Bangladesh, created the climate problem.
It's up to us -- the grownups -- to make sure our children don't suffer its worst consequences.
REAL LIFE. REAL NEWS. REAL VOICES.
Help us tell more of the stories that matter from voices that too often remain unheard.