An unassuming character temporarily stole the royal baby's spotlight after news broke that the Duchess of Cambridge gave birth to a boy on Monday.
The town crier, donning an elaborate costume with enormous feathers and an antique-looking scroll, stood outside St. Mary's Hospital, ringing his bell and screaming the birth announcement. Cameras zoomed, crowds cheered, and sure enough -- the town crier ended up on the front page of newspapers around the world on Tuesday.
PHOTO: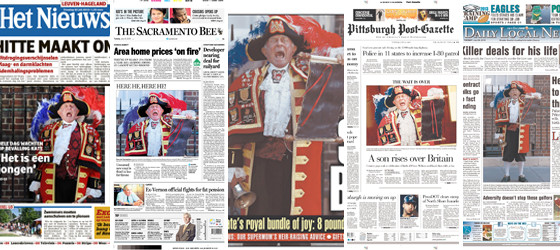 But it turns out that the town crier was not part of the official ceremonies surrounding the royal birth, though it certainly appeared otherwise. MSNBC's Rachel Maddow took some time on her Tuesday show to issue a correction. "I made a royal error," Maddow said, referring to the person she described as London's official town crier.
Maddow's show reported that his name is Tony Appleton, and he is a town crier, but not of London. He's the town crier of Great Baddow, and he just dressed up and appeared in front of St. Mary's Hospital, bell and scroll in hand, to announce the birth on his own accord.
Maddow's show then called Appleton to find out why he just showed up. He said that he just "loves the royal family ... and planned the royal birth announcement for two weeks." Maddow added, "He said a royal journalist from the Times of London helped him fine tune his announcement so it would be accurate." Apparently, security didn't even check him, assuming he was from the palace.
So—the town crier, who is not even London's town crier, and who was uninvited to announce the birth outside the hospital, was the face of the royal birth for one whole day. Congrats, Tony!
Calling all HuffPost superfans!
Sign up for membership to become a founding member and help shape HuffPost's next chapter
BEFORE YOU GO
PHOTO GALLERY
William and Kate announce their new son