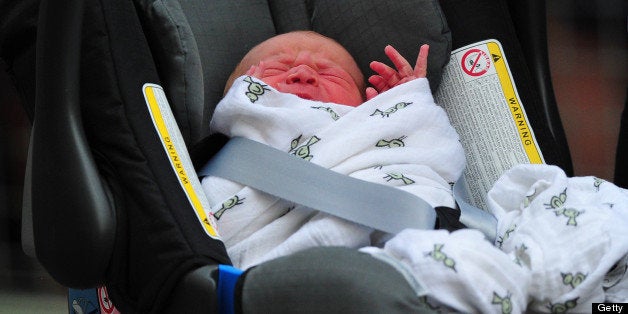 Bringing a newborn home for the first time is certainly anxiety-inducing for new parents, especially if that trip is being viewed by millions of people around the globe. So it is understandable if Prince William and Kate Middleton were a bit jittery Tuesday. In the hubbub, mistakes can be made, and some think they spotted snafus in the Royal Baby's first car seat ride.
Childcare blog Baby Center pointed to website ChildCarSeats.co.uk, which states that the belt should be properly adjusted across the child, laying tightly against the body so only two fingers can fit between the chest and harness. The blog's community started buzzing.
"If you scroll down to the photos of the baby in the carseat you will see he is not properly strapped in AT ALL!!" wrote one commenter. "Very disappointed! I'm sure they were in a hurry, and I hope that Kate will fix it once they are in the vehicle as it appeared she was sitting in back with the baby."
Other apparent mistakes were pointed out on iVillage, which advised parents to "[n]ever put a swaddled baby in a car seat." The site also advised that car seat "[s]houlder straps [should] go over baby's shoulders ... [and] should be snug enough that baby can't get hands under them." Woops.
Prince William would certainly not be the first parent to improperly secure a baby in a car seat. A 2012 study by the Insurance Institute for Highway Safety/University of Michigan Transportation Research Institute found that, in cases of installment using the Lower Anchors and Tethers for Children system, only 13 percent were done correctly.
Giving the royal couple the benefit of the doubt, it is very possible the first-time mom adjusted the belt once her husband had closed the car door.
President of Britax, the company that manufactures the baby's car seat, Jon Chamberlain, responded to The Huffington Post's request for comment on the matter in an emailed statement Wednesday.
"We've read many comments on how the Prince of Cambridge was harnessed in his BRITAX BABY-SAFE plus infant carrier. We trust that safety is of the utmost importance to the Duke & Duchess of Cambridge when it comes to their child, and the fact they've chosen a BRITAX seat is a testament to this!" he wrote.

"We at BRITAX are here to offer advice and tips on travel safety to any parents, royal or not," the statement continued. "If you want to be sure that you're correctly harnessing your child into their infant carrier, have a look at our BRITAX B-SAFE 'Securing Your Child in the Seat' video."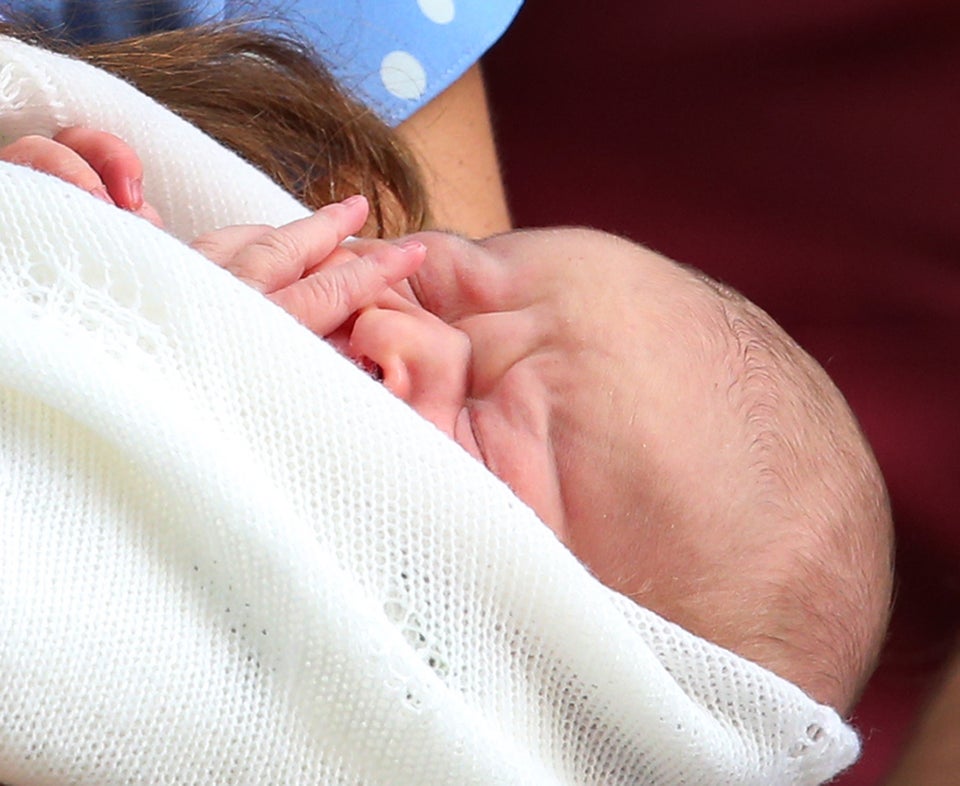 William and Kate announce their new son
Popular in the Community