While I'm too young to remember the day that President Kennedy was shot, the wedding of Charles and Diana is still fresh in my mind 30 years later. And what could be better than a June wedding but one in April? If you've seen the tulips that encircle Buckingham Palace during the month of April, you know what I'm talking about. The prime minister has even declared the date a public holiday. And what's more, the wedding date falls on the feast of St. Catherine, as in Catherine "Kate" Middleton.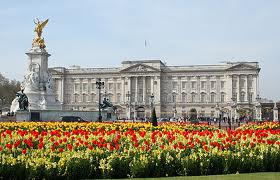 Buckingham Palace
As a senior in high school, I got up in the middle of the night to watch Charles and Diana's wedding in real time with my mother. Already a royal-watcher, I spent my junior year abroad in Oxford and lived briefly in London and with a family in Cornwall, where many fond memories and relationships were formed. For me, the anticipation of this royal wedding is palpable.
I had always planned to travel to London for the coronation of Prince Charles, but I am now in active training for the wedding of his son instead. I happened to be online early one morning when I read about the engagement of Prince William and Catherine Middleton. Within 48 hours, my plane and hotel reservations were set. Now, I'm preparing for the trip by attending my own Royal Boot Camp: refreshing myself with the niceties of royal protocol, and learning as much about the ceremony to come and the participants as I can. If you're going to London for the event or just staying home to watch the coverage of the wedding on television, here are some factoids that will help you enjoy it all to the fullest.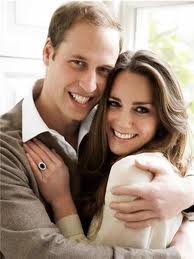 Royal Engagement Portrait
Photo credit: Mario Testino
Essential Royal Wedding Guide
Royal Protocol and Meeting the Queen. The word protocol refers to a strict code of behavior within a rigidly hierarchical group such as the military or the diplomatic corps. Unlike the rules of social etiquette, which evolve over time, protocol tends to be set in stone. And yes, royal protocol has unbending rules that must be observed. If you are one of the lucky ones who will be attending the wedding of the century, here are some of the basic rules of royal protocol in case you happen to find yourself in the receiving line being introduced to the queen:
• The no-touch rule means just that: Do not touch the queen in any way other than to take her hand once she extends it, at which time you lightly shake her hand. The queen turns 85 on April 21. I want her genes!
• British women should make a small curtsy and British men should bow their heads when meeting the queen, but citizens of the United States are not expected to do so.
• The queen is referred to as "your majesty" on the first greeting; in subsequent references, she is to be called "ma'am."
• Proper dress when meeting the queen should lean toward the conservative.
• Never ask the queen personal questions about herself or her family.
I'm Getting Married in the Morning. Why the Brits love to get married in the morning is beyond me. Can you imagine the Academy Awards at 11 A.M.? No one looks good in the morning. There's barely enough time for coffee, let alone time for hair and makeup! On my wedding day, the last thing I'd want to do is set the alarm, but the royal wedding will be held at 11 A.M. in the morning at Westminster Abbey, which is 6 A.M. Eastern Standard Time in the United States.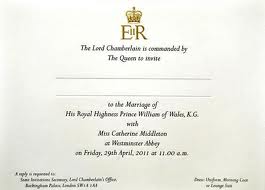 Gifts. If you have a coveted invitation to the ceremony, you don't need to wrack your brain about what to choose for a wedding gift. The young royals have requested donations to over 20 little-known charities in lieu of gifts. After all, they already have plenty of tea services and tiaras. Among the charities: PeacePlayers International, which promotes cross-community cohesion by teaching children basketball in Northern Ireland; Oily Cart, a children's theater group working specially with disabled groups; IntoUniversity, which encourages teenagers to apply for higher education; Beatbullying; and Combat Stress and Cruse Bereavement Care for the children of military casualties. Donations may be made through the www.royalweddingcharityfund.org website.
Recording the Event. Suzy Menkes of The International Herald Tribune has dubbed Kate the first royal bride of the digital age. This means photos and tweets by watchers on the street will be out before the first kiss even takes place. But of course no guests would dare to take photos or tweet inside the Abbey or during the actual ceremony itself (Or would they?).
In terms of Kate's title, the queen, who makes this decision, has not yet announced what her royal title will be. It has been reported that she will do so the day of the wedding.
Beauty and Miss Middleton. I recently read that Kate the commoner (One of us) is part Snow White and part Sleeping Beauty. In other words, her wake-up call is about to arrive, and one can only imagine how many designers will be lined up to meet, greet, and dress her. Between all the fashion magazines and celebrity weeklies, Kate Middleton will be the "it" princess for a very long time. Like the late Princess Diana, she has a style all her own: a model-like physique and confidence to go along with her legs.
Waiting to Exhale. Yes, there are more important things in life, but for a few hours on April 29, I will be caught up in all the excitement. Who knows when we will next see this type of pageantry? This wedding kicks off two other major events in 2012: In June, the Queen's Diamond Jubilee to mark her 60 year reign, and in July, the Summer Olympics (I hope to be there too).
Newly Wed. Get out your map: Visitors may catch a glimpse of the new bride and groom when their horse-drawn carriage passes Parliament Square, Whitehall, the Horse Guards Parade, and the Mall. Or, you can be like me, and get as close as possible to Buckingham Palace, where the royal newlyweds are expected to emerge for their first public kiss from the balcony.
Facts About the Princess-in-Waiting
• At 29, Kate will be the oldest royal bride in British history.
• Though her royal title is yet to be determined, she has been quoted as saying that she prefers to be called by her given name of Catherine. And perhaps some day Queen Catherine?
• Prince William and Kate dated for eight years before he proposed. Even Prince Charles was quoted as saying "They've been practicing for long enough."
• Per royal etiquette, Kate must always walk two steps behind William.
• Kate has some famous relatives across the pond, including George Washington. Who knew? According to the New England Historic Genealogical Society, Kate is an eighth cousin eight times removed to George Washington. Her other U.S. relatives include explorer Meriwether Lewis (As in Lewis and Clark) a ninth cousin seven times removed.
• The couple is currently living in North Wales where Prince William is serving with the Royal Air Force. They will remain there as long as he serves in this capacity. When in London they will stay at Clarence House, home of Prince Charles; his wife, Camilla, the duchess of Cornwall; and Prince Harry.
Lisa Mirza Grotts will be covering the wedding of Prince William and Catherine Middleton for the Nob Hill Gazette, San Francisco. She is a recognized etiquette and protocol expert, on-air contributor, and the author of A Traveler's Passport to Etiquette. Ms. Grotts is a former director of protocol for the city and county of San Francisco and president of The AML Group (www.AMLGroup.com). Her iPhone app, EtiquetteAGoGo, will debut next month on www.apple.com/iphone/apps-for-iphone/