Film festivals are large and small, high profile and low profile, single genre and full-spectrum, destination festivals in warm beautiful surroundings and festivals in cold boring urban areas. Some are more traditional and some are more daring. There are all kinds of festivals, thousands, maybe ten thousand worldwide, and the number continues to skyrocket.
In January I set out on a grueling nine month journey through America, road ripping from film festival to film festival, starting at Sundance and ending 30-some festivals later at Woodstock.
Many of the festivals were excellent and some were rather unique, there were great parties and lots of good times, yet as my journey progressed -- and I deteriorated -- a nagging doubt grew stronger. Too many of the festivals emphasized film celebrities, too many screened the same safe films, too many claimed to hold filmmakers in the highest esteem yet didn't give filmmakers what they need most -- a slice of the box office dough -- too many had audiences that were overwhelmingly gray-haired and too many had the same panels with similar experts. As the weeks turned into months, I started to wonder where all the diversity had gone.

Yet, when on the road for extended periods of self-abuse, a jaded feeling slips into the driver's seat and the mind can no longer focus. Presto, you're cerebral road kill. After returning to New York, what I needed was an easy festival to nurse my rattled mind and massage my still vibrating body. Instead I walked blindly into the Royal Flush Festival.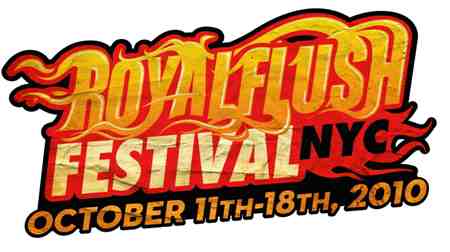 The festival's films were eclectic on steroids -- art house and stomp house, a few fruitcakes with a slew of bloodbaths, absolutely no dialogue and nothing but dialogue. The audiences were young, hardly a gray hair there, and anti-liberal -- no, anti-conventional liberal. Actually they were anti-conventional everything. But they did read, or pretended to read, evident from the hot selling Royal Flush Magazine. Male themes seemed to dominate, then came a film about men making toys followed by one about a woman off to war while her husband minded the kid and house. And I decided nothing dominated at Royal Flush.

The music was just as madly diverse -- ripping from hip-hop to classical rock to horns blaring to voices squealing "America has gone totally nuts," which was rather ironic considering everyone there was in the process of going nuts themselves. Or maybe that was only me.
Beyond the films and music, there was another category of events that bent the mind further, to the very edge where the absurd and the profound mingle and marry. Such as the wrestling match between the giant crab with huge claws and one scary eye against a masked rabbit -- anyway, it was strange.

To make sense of all this, I tracked down the man considered the force behind Royal Flush, Jim Muscarella, the festival's founder and co-director. Tall with broad shoulders and piercing black eyes and a full beard, Jim was at the bar in a cocoon of festival revelers with shots of Sailor Jerry Rum.
"In 2005 I went to Park City" -- his coal-black eyes have a slight glow -- "when I returned home I said: 'I want to do this! I want to make a festival.'" His eyes narrow, "But a festival with what we value, things we think are cool."
The festival began five years ago as the Evil City Film Festival with venues in the East Village at Ottos' Shrunken Head Bar and the Two Boots Pioneer Theatre, then it moved across the East River to Williamsburg and became the Royal Flush Festival, with numerous venues but anchored at the Knitting Factory. It's the only theater in New York where you don't have to leave the bar to watch the movie.

On my nine month jaunt around America, I learned that cohesion is highly prized on the film festival circuit. A film program without cohesion is poorly curated. While diversity in films is valued, the unexpected is commended, it is structure and unity that are most cherished and what produces a festival's unique personality. This gibberish went nowhere with Jim. "Royal Flush has cohesion," he instructed, and picked up his Sailor Jerry.
Whereas I was under the impression that the festival's disparate films and bands and wrestling riots -- leaping across styles and categories and burning more than a few brains along the way -- were nitroglycerin blasting cohesion to smithereens, my next shot of Sailor Jerry steered me to the ship of truth. Cohesion is grounded upon common values; "what we value," is what Jim had said. Design is constructed from group tastes; "things we think are cool." Yes, Royal Flush has cohesion, but with radically different tastes from the standard film festival -- probably radically different from every film festival.

"A bit of overload, that's what we want!" Jim says. A mischievous smile spreads across his face, which throws a soft twinkle into his dark eyes. "Royal Flush is five days of being bludgeoned with the cool."
Yes, overload, to jolt settled lifestyles, and bludgeoned, to kick-start trapped minds. It's the spirit of the East Village and Williamsburg, the New York City that does not read the financial page. It's the credo of indie film and music, which promises to be an alternative to mainstream film and music. Royal Flush was no clone. Although what it was I'm not sure.
All I know is Royal Flush uprooted the placid lake of organized society and replaced it with the rough ocean of the unexpected. And Jim Muscarella ordered us two more Sailors.
Calling all HuffPost superfans!
Sign up for membership to become a founding member and help shape HuffPost's next chapter