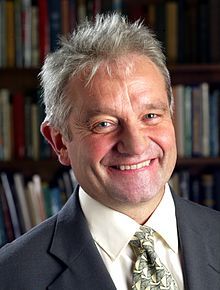 But Nurse, who will continue in his role as chief of Francis Crick Institute, has not left the Royal Society without first ensuring that the world's oldest scientific society remains relevant: a major Royal Society meeting in London has been called for November 7-9, 2016 on evolution paradigm shift with the understated working title, "New Trends in Evolutionary Biology: Philosophical and Social Science Implications." The conference is being co-sponsored by the British Academy for the humanities and social sciences. While specific details of the event have not yet been announced, I'm told that many of the 50 or so scientists associated with The Third Way of Evolution -- who I call "The Paradigm Shifters" -- will attend, one commenting to me about the upcoming meeting:
"The bandwagon is therefore quite definitely rolling."
Paul Nurse has been thinking about these matters for some time. As president of Rockefeller University, for example, he presided over a pivotal evolution symposium in 2008 --open to the public -- featuring Jack Szostak, Eugene Koonin et al., and that summer at the World Science Festival said the following:
"Maybe biology is on the edge of something similar to 1905 physics with the emerging complexity of biological systems -- in fact, a move from straight forward linear causality. And I wonder whether biology may go through a revolution in the coming decades."
Nurse made these remarks about evolutionary biology during a conversation with me for a 2008 book interview:
"Paul Nurse: It may require a different sort of language, by which I mean, quite often what biologists do is make interaction maps. Does A touch B touch C touch D and so on.

But, in fact, the nature of those interactions varies. Sometimes they just touch and do nothing. Sometimes they touch and turn into something else. Sometimes they touch and change another connection.

Using simple network analogies, like transport networks for example -- it's not appropriate because it's not reflecting the biology. It's reflecting a man-made simplified interaction network. So we may need different language which could lead to different mathematics to describe this -- and that this is not going to be intuitive, to go back to an earlier point.

We perhaps have to think, I've sometimes argued this, of better ways to move from the chemistry of life, which we're rather good at describing, into how that chemistry is translated into the management of information. . . ."

Nurse also told me he thought it was "very important for science and scientists to be talking to the general public." Let's hope Venki Ramakrishnan feels the same way and that the Royal Society considers the Rockefeller University and 2013 NASA/Princeton Origins of Life conferences a precedent, invites the media and streams the proceedings over the Internet. . .
Related
Popular in the Community