Well, I'm not the only one who's ready to join in the festivities of William and Catherine's wedding on April 29. More royal guests have confirmed their attendance...while some have bowed out.
Scroll down for just the text.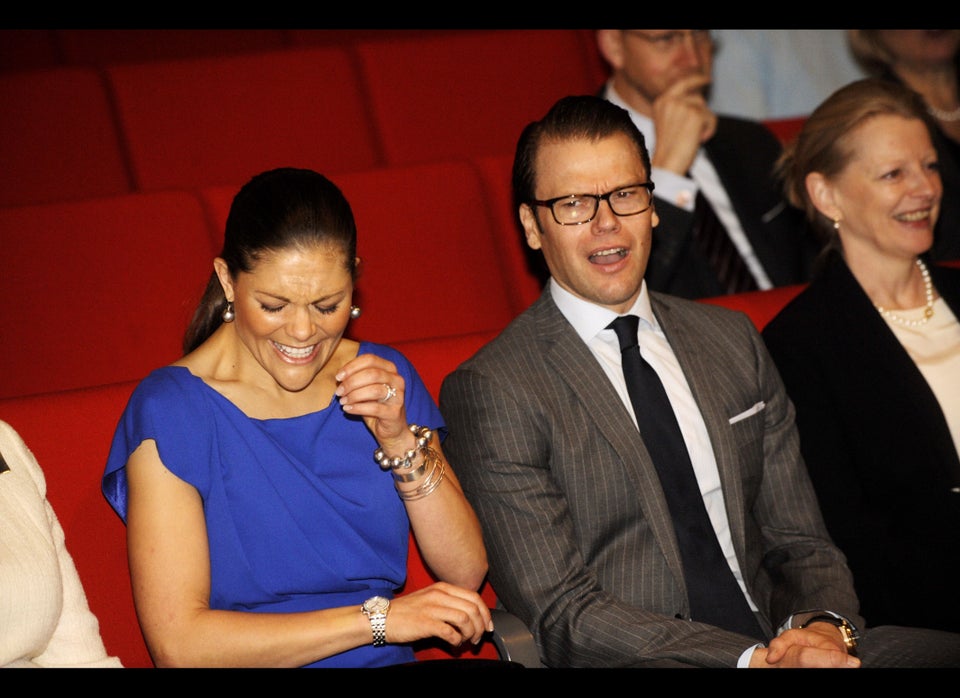 It was announced that Sweden's heir to the throne, Crown Princess Victoria and her new commoner-turned-prince husband Daniel will be at Westminster Abbey. The newlyweds are set to celebrate their first anniversary on June 19, and being at William's nuptials will no doubt bring back memories of their own romantic wedding. Fellow Scandinavian royals King Harald (who's a distant cousin of Queen Elizabeth) and Queen Sonja of Norway have also accepted their invitations.
The latest word is that Crown Prince Willem-Alexander and his vivacious wife Princess Maxima will represent the Netherlands at the royal wedding, although Maxima let the news slip ahead of the official announcement when she was overheard last week on an official visit to Qatar, saying to Sheikha Mozah that she'll be seeing her again in London. Well, that means the Sheikha will also be at the wedding. On a state visit to Britain last October with her husband the Emir of Qatar, Sheikha Mozah dazzled in one glamourous outfit after another complete with turbans, opulent jewels, and even a pair of shoes with icicle-shaped heels.
Although it's been reported in the Danish and Australian press that Crown Prince Frederick and Crown Princess Mary of Denmark (who was Australian before her marriage, and who gave birth to twins in January) have not been invited, my royal contacts tell me otherwise, and so we'll be seeing them at the wedding alongside Queen Margrethe, and her husband Prince Henrik. April is set to be an eventful month for the Danish royals with Margrethe's birthday on the 16th and the christening of Fred and Mary's boy and girl twins on April 14. As with Danish royal custom, the three-month-old babies will not be named until the day of their christening, but Prince Frederick has jokingly said that they are calling the boy Elvis for now since they share the same January 8 birthday as "The King." At least we hope that he's joking about the prospect of a Prince Elvis. Besides, it'll be a demotion in royal rank from "The King" to prince, wouldn't it?
On a serious note, it seems that every time there's a major royal wedding, there's a diplomatic minefield to maneuver through. In 1981, the Spanish king and queen ended up boycotting Charles and Diana's wedding because the young couple was starting the yacht portion of their honeymoon from Gibraltar. Spain has long disputed the status of Gibraltar, a British overseas territory that was captured from Spain in 1704, and which the Spaniards have been trying to reclaim. This time around, someone forgot to include a Gibraltar representative on the invitation list for William's wedding, and a potential diplomatic rift between Britain and Gibraltar was averted only when a hastily-issued invitation was then extended to Gibraltar's Chief Minister and his wife. Whew! Let's see which Spanish royals will be at the Abbey on April 29, although it seems certain that King Juan Carlos won't be attending since he doesn't go to royal weddings abroad.
Others who have opted out of the wedding include King Hamad bin Isa Al Khalifa of Bahrain, who has declined his invitation, as confirmed by St James's Palace. The inclusion of the dictator monarch (who proclaimed himself king) on the wedding guest list had elicited opposition and outrage in Britain and elsewhere. Just this week, the king enlisted military forces from Saudi Arabia to violently quash pro-democracy demonstrators in his island nation state -- a move that has been denounced by the U.N Human Rights Commissioner. The Bahranian king's presence at Westminster Abbey is sure to bring much negative attention to William and Catherine's big day, and perhaps the palace is secretly breathing a sigh of relief that he won't be attending after all.
With the recent earthquake and tsunami in Japan, it's not surprising that the Japanese Imperial Household Agency just announced that Crown Prince Naruhito and his wife, Crown Princess Masako will not be going to London now. An earlier statement last month that the couple intended to be at William's wedding was met with anticipation by many royal watchers and supporters eager for a rare glimpse of the 47-year-old princess. However, the chances of Masako actually traveling to London was less than certain even before the latest crisis in Japan. Due to an ongoing stress-induced illness, Masako, who's become the equivalent of a royal Greta Garbo, has not traveled overseas since a private visit to the Netherlands in 2006. The last royal wedding she attended was that of Crown Prince Phillipe of Belgium in 1999, and since then, she has missed the weddings of the heirs to the thrones of Denmark, Spain, Sweden and Brunei. Our thoughts and prayers to the Japanese people and best wishes for a recovery to the devastation.