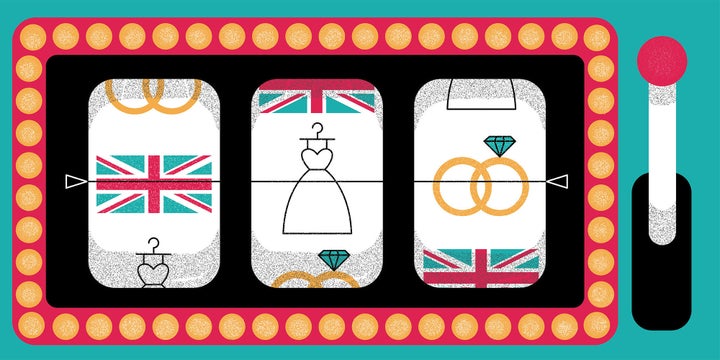 As the wedding of Prince Harry and Meghan Markle draws near, royal enthusiasts are speculating about all aspects of the May 19 celebration, from the dress to the bridesmaids to the entertainment.
In fact, many in the U.K. are hoping to turn their guesses into cold hard cash by placing bets with various betting companies.
Ever since the royal family announced the couple's engagement (and even before then), bets have been pouring in to companies like Ladbrokes, William Hill and Paddy Power, all of which offer the chance to place money on the wedding day weather, guest list and more.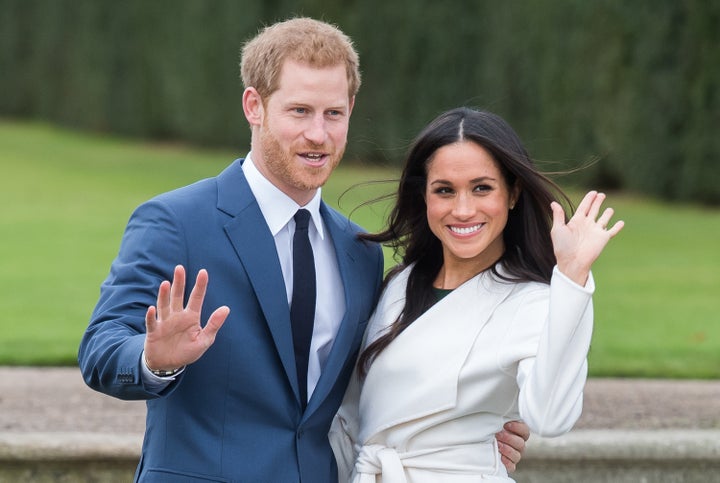 Irish bookmaker Paddy Power is taking bets on whether or not it will rain on the day of the royal wedding ― with 4-9 odds on no and 13-8 odds on yes.
Paddy Power also has a "who will attend the wedding ceremony" category, with bets on potential guests like Serena Williams (1-7 odds), Elton John (1-50 odds), and Simon Cowell (5-1 odds) ― as well as Prince Harry's ex-girlfriend Chelsy Davy (1-2 odds) and Markle's "Suits" love interest Patrick Adams (1-100 odds).
Williams recently demurred when asked if she would be attending the wedding. "We'll see if I can make it," the tennis star and close friend of Markle's told "Good Morning America" in late April.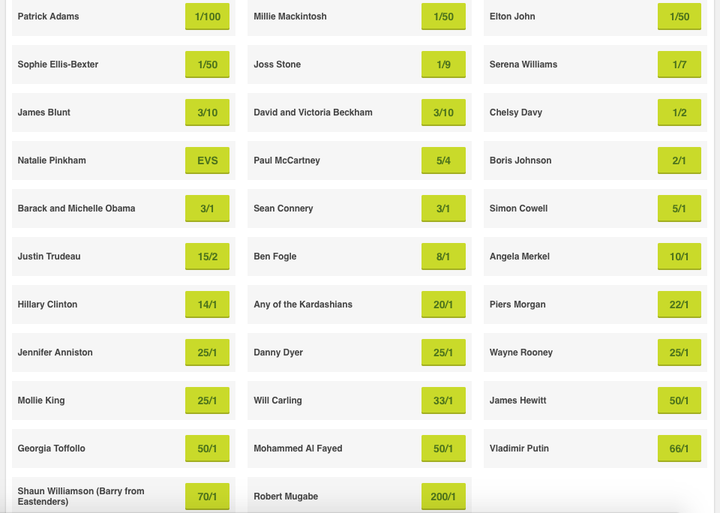 William Hill is taking bets on how best man Prince William's hair will look on the wedding day ― with 1-2 odds on a buzz cut, 6-4 on a shaved head, 16-1 on a "hair transplant" and 100-1 on a wig. William Hill has also reported the odds that Meghan will wear a predominantly white dress at 1-8 and that Harry will wear his army uniform at 1-12.
Another William Hill betting category is the location of Harry's "stag do" aka bachelor party, with Switzerland in the lead at 6-4 and Scotland at 5-2. It's possible, however, that he already had a low-key one, as Prince William reportedly did before his wedding.
Other bets throughout the engagement have included the kind of wine to be served at the festivities (1-3 odds on California wine and 5-4 that British wine will also appear), according to Ladbrokes.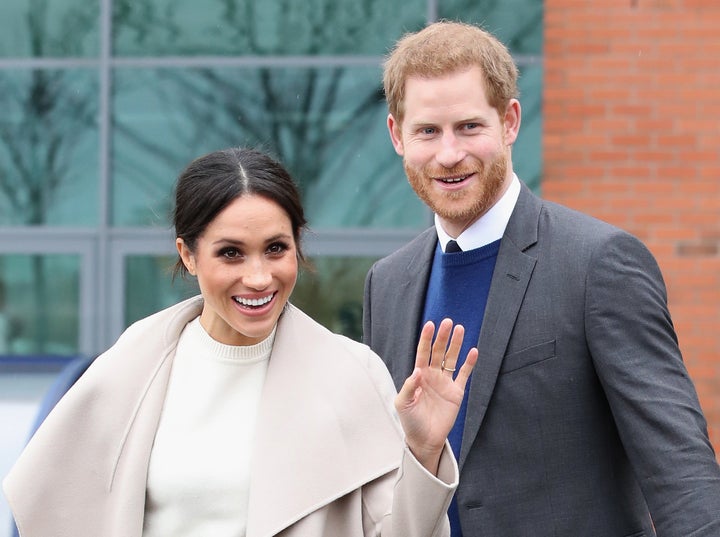 In March, Ladbrokes published its betting odds for performers ― Elton John (1-5), Spice Girls (5-6), Stormzy (4-1) and Liam Payne (25-1).
In April, Paddy Power's bet for Markle's wedding dress designer had 2-1 odds on Ralph & Russo, 9-4 on Roland Mouret and Stewart Parvin, 6-1 on Erdem, 7-1 on Victoria Beckham and 8-1 on Alexander McQueen, the fashion house behind the Duchess of Cambridge's wedding dress. Markle had worn a sheer black Ralph & Russo dress for her engagement photos with Harry in December, while her close friend Mouret said "no comment" when asked whether he was involved in February.
Gambling companies accepted wagers on the color of the queen's wedding day hat, number of worldwide viewers, honeymoon location, which guests would cry, the length of the couple's first married kiss and more. Needless to say, the bookies will be paying attention to every detail come May 19.
Popular in the Community