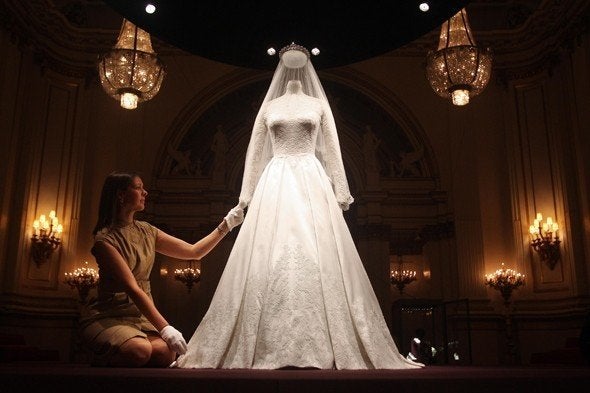 In my work as a stylist and personal shopper, with every client I face new and different challenges. With career women I am often hunting down the most comfortable pump that can be worn 14-hours-a-day straight, for actresses I am predominantly finding dresses that will photograph perfectly from every angle as they fight off attacks from the dreaded paparazzi, and as a regular helper of brides-to-be I, of course, have to search for the dream wedding dress, but I am also dealing with a new and much requested item that brides are desperate to find, the angora bolero.
I have no doubt that the people responsible for this new bridal obsession are Sarah Burton of Alexander McQueen and the Duchess of Cambridge. As the newly married Catherine swept down the stairs of Clarence House on the eve of her wedding, she looked truly exquisite in her McQueen gown with a jewel encrusted waistband, and her outfit was completed with a white angora bolero.
As a regular helper of brides-to-be (and a patriotic Brit who scrutinized every detail of the wedding) at first glance, the bolero seemed rather unnecessary and extraneous. However, the more I examined the Duchess' look, the more I grew to love and understand the purpose of the bolero. The angora knit brought a softness and true femininity to her look. It was also a practical move, England in April can be rather cold, and I'm sure the bolero allowed the duchess to relax and be comfortable, and what bride doesn't want that on their wedding night?!
So back to the onslaught of requests for angora bolero's from my brides-to-be. I was faced with where to find them and had to ask myself the dreaded question, do they even exist?! Not everyone can call up Sarah Burton and the McQueen team and ask them to whip one up! Another matter I had to contend with is that I work with brides with varying budgets and timelines and I had to find a multitude of options to suit them all.
I tentatively Googled 'angora white bolero' with my fingers/legs/arms/toes crossed. I was met with a plethora of links to eBay and other auction sites screaming various self-selling headlines, such as 'Kate Middleton hand knit angora bolero' and 'Be a princess in your own knit wedding shrug-100% ANGRORA' (sic). Clicking on these links led me to photographs of middle aged women proudly sporting their carefully hand knitted 'princess shrugs'. I sighed, I appreciated these women's efforts and they had clearly put a lot of time and love into their creations, but they were undeniably hand-made and did not have a sleek enough appearance for a bride on her big day.
The Googling continued, and other than patterns so that you could knit your own, there was nothing. I began to panic, and resorted to a desperate plea on Facebook (darling FB, what did us stylists do before you existed? It is not uncommon to see my stylist friends' status updates be hijacked with bizarre and panicked requests, such as, 'Where can I find a vintage 1920s wedding gown with 3/4 length sleeves?' or 'I need rainbow colored platforms for men, NOW!') I typed in, 'STYLIST PALS! Does anyone know where I can locate an off white angora bolero reminiscent of Kate Middleton's at the Royal Wedding?!' and I waited... with baited breath... Three hours later, with no responses and my heart sinking, I hit the hay.
The next morning I nervously turned on my laptop and HURRAH! I had a response. A dear stylist friend back in London provided me with a web link to a British store called Monsoon that shipped internationally (phew) and had the most perfect, affordable ($100) simple, neat, tidy, polished, slick and sleek little white 100 percent angora bolero that any stylist or bride could possible dream of! I was in bolero heaven and the relief I felt was indescribable.
Several clicks later and I finally relaxed, the bolero was on its way. To some of you, I am sure this all sounds rather silly, but when you are dealing with one of the most important days in a woman's life you want everything to be perfect, and I mean PERFECT. So to round off this stylist's tale, I will tell you that the bolero arrived safely and it was just as splendid as I had hoped for. The bride was ecstatic and everyone lived happily (and stylishly!) ever after.
Support HuffPost
A No-B.S. Guide To Life
Related
Popular in the Community