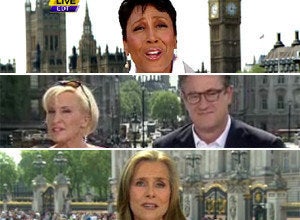 We all know that the American media has gone all in on the story of the royal wedding (which starts on Friday and, while we're on the subject, why not follow The Huffington Post's coverage?) But a new study from Nielsen shows that the coverage of the wedding by the U.S. press has surpassed even that of the British media--and surpassed it by a rather large margin.
The study found that, "while the United Kingdom creates the greater overall level of consumer buzz about the Royal Wedding, the United States has the highest share of news coverage by traditional news sources, such as the online versions of newspapers and magazines."
Indeed, much of the American media has essentially decamped to London all this week, following every twist and turn in the run-up to, and on the day of, the wedding. (The Brits, of course, have an advantage here, since it's not as notable if you send twenty people down the street in London than if you send them across the ocean.)
Lest we forget, the UK happens to be the country where the wedding is actually taking place. So, what is it about the nuptials of Prince William and Kate Middleton that is causing such a glut of coverage in the States?
Chart from Nielsen:

Popular in the Community