So 1,900 of those gilded, gold-stamped royal wedding invitations were sent out last week. While heads of state such as President Obama and President Sarkozy reportedly did not receive one, plenty of others heads -- crowned heads that is -- did. The Prince of Wales' office announced that over 40 members of foreign royal families are on the guest list, although as I've said before, the palace does not customarily release the names of individual invitees.
***For more royal wedding news, visit our Royal Wedding Big News page.***
Of course, as with protocol, foreign royals were first given a heads-up in the form of a save-the-date-fax from the Queen back in January (with the embossed invitations arriving afterwards), and several have already confirmed that they will be attending. So we know that King Constantine, the former king of Greece and William's godfather, will be at the wedding along with Queen Anne-Marie and their eldest son Crown Prince Pavlos. Invitations are extended to the spouses as well (even though it's not mentioned) so expect to see Crown Princess Marie-Chantal, Pavlos' American heiress wife to make an elegant appearance at the Abbey. The former King Michael of Romania and members of his family have also confirmed their attendance back in January.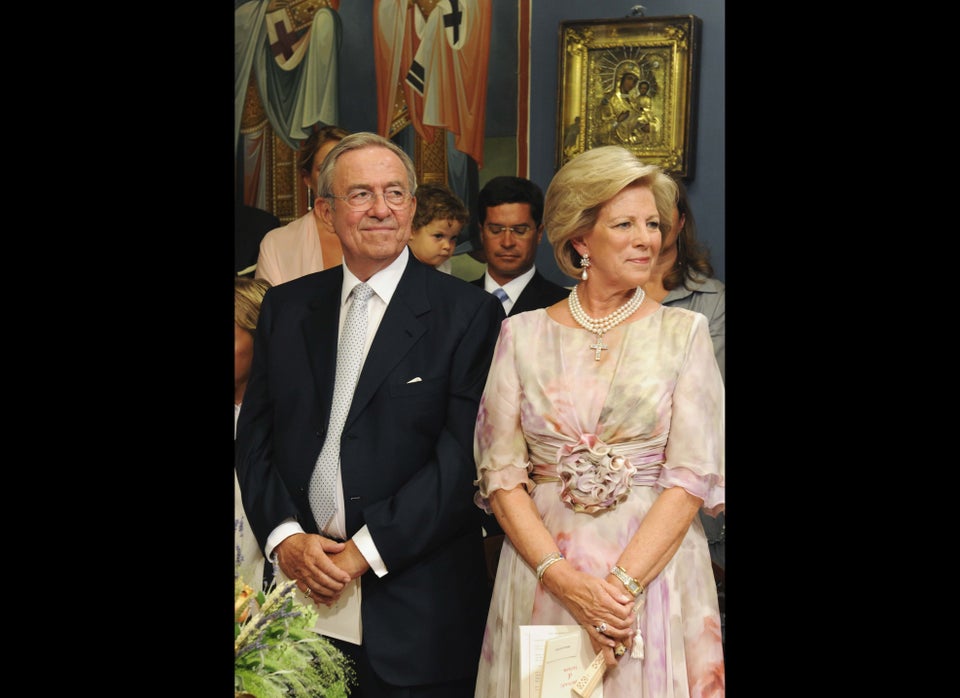 Crown Prince Alexander II of Serbia, who's the Queen's godson, and his wife Crown Princess Katharine sent their RSVP via their official website. The prince is no stranger to London, having been born in Claridge's hotel when his family left German-occupied Yugoslavia in 1941, and went into exile in London. Some Yugoslavian dirt was placed underneath the bed when Alexander was born in 1945 so he would technically be born on Yugoslavian soil, and Prime Minister Winston Churchill declared suite 212 (the room where he was born) at Claridge's to be Yugoslavian territory.
The bulk of the foreign royals invited are from reigning families such as Sweden, Norway, Denmark, Belgium, the Netherlands, Spain, and so on. Queen Elizabeth is close to the other two reigning queens of Europe -- Queen Margrethe of Denmark and Queen Beatrix of the Netherlands, and they are certain to be invited. I've heard that Crown Prince Frederick and Crown Princess Mary of Denmark have indicated that they would like to attend. The Australian-born Mary, who made Vanity Fair's best-dressed list in 2010, has just given birth to twins last month and no doubt will be getting in shape for the April 29 nuptials.
Queen Sofia of Spain (the sister of King Constantine of Greece) will likely be there as well. Even though they were invited, she and King Juan Carlos did not attend Charles and Diana's wedding in 1981 due to the political furor over the couple starting their honeymoon on the royal yacht from Gibraltar -- a British dependency territory that is disputed by Spain. This time around, William and Catherine will most likely be spending part of their honeymoon on Richard Branson's private Necker Island, so there won't be such diplomatic concerns.
Royal and style watchers are keen to see if Letizia, the Princess of Asturias, who is always one of the best-dressed at royal weddings, and her handsome husband Prince Felipe will be going to London as part of the Spanish contingency. Likewise, it isn't confirmed yet if another heir to the throne, Prince Willem-Alexander of the Netherlands and his popular wife Princess Maxima will be attending, although I suspect that they will be there. I've had the pleasure of meeting the lovely and down-to-earth Maxima at Crown Princess Victoria of Sweden's wedding last year, and I can tell you she can light up any room with her infectious warmth and friendly manner.
I've been told that Grand Duke Henri and Grand Duchess Maria Teresa of Luxembourg are invited. However, the Grand Duke underwent an angioplasty surgery earlier this month, and if he decides not to attend, he might pass his invitation to his heir, 29-year-old Guillaume, the Hereditary Grand Duke of Luxembourg, who also happens to be one of the most eligible princes in Europe.
The Asian and Middle-Eastern royal families will be out in full force at the wedding. Invitations have reportedly been sent to the Emperor of Japan, and the Kings of Malaysia, Thailand, Tonga, Jordan, Saudi Arabia, Bahrain, as well as the Crown Prince of Abu Dhabi, and the Sultans of Oman and Brunei. Of course, their respective spouses are invited as well so I expect to see the glamorous and social media- savvy Queen Rania of Jordan at the Abbey. The last time I saw her in person, she was tweeting on the balcony of the Royal Palace at Victoria of Sweden's wedding.
The 83-year old King Bhumibol of Thailand is the longest reigning monarch in the world, and I was in Bangkok for the celebrations marking his 60 years on the throne in 2006. However, due to the king's age and health, he is unlikely to attend so it'll be interesting to see if he'll send his son, Crown Prince Vajiralongkorn, or more likely, his daughter Princess Sirindhorn, who usually represents him at official functions.
The Emperor and Empress of Japan have been invited, however the Imperial Household has indicated that Crown Prince Naruhito and Crown Princess Masako intend to go to the wedding instead, subject to the princess's health. I've met the gracious and soft-spoken Naruhito, who had been attending royal weddings on his own since 2004, including those in Spain, Denmark, Sweden and Brunei. His wife, the Oxford and Harvard-educated Masako gave up a promising diplomatic career to marry into the imperial family, and has long suffered from a stress-induced illness brought on by the restrictions of royal life. Masako has not traveled overseas since visiting the Netherlands in 2006, so if she attends William's wedding, it will be a momentous event for royal watchers, and there are many who are rooting for her.
Despite some suggestions that this will be a "down-sized" wedding, indications are to the contrary, going by the senior rank of the royal invites -- mostly kings and queens (rather than just princes and princesses) of the reigning and non-reigning royal families.
I correctly reported in an exclusive story for E! News, which then appeared on The Huffington Post on January 15, that the Queen was not happy with some of the "cost-saving" wedding details William had announced. Prime Minister David Cameron confirmed as much when he then declared in early February that, "The newly engaged royal couple will have all the pomp and pageantry that is expected of a royal wedding." Cameron, who has weekly meetings with the Queen, dismissed the suggestion that the wedding will be scaled down because of the government's austerity measures.
So I can't wait until I'm in London covering all the glorious pomp and circumstance of William and Catherine's wedding. Until then, I'll be at the Oscars this Sunday bringing you behind-the-scenes coverage and a report on all the best and worst dressed! Stay tuned.