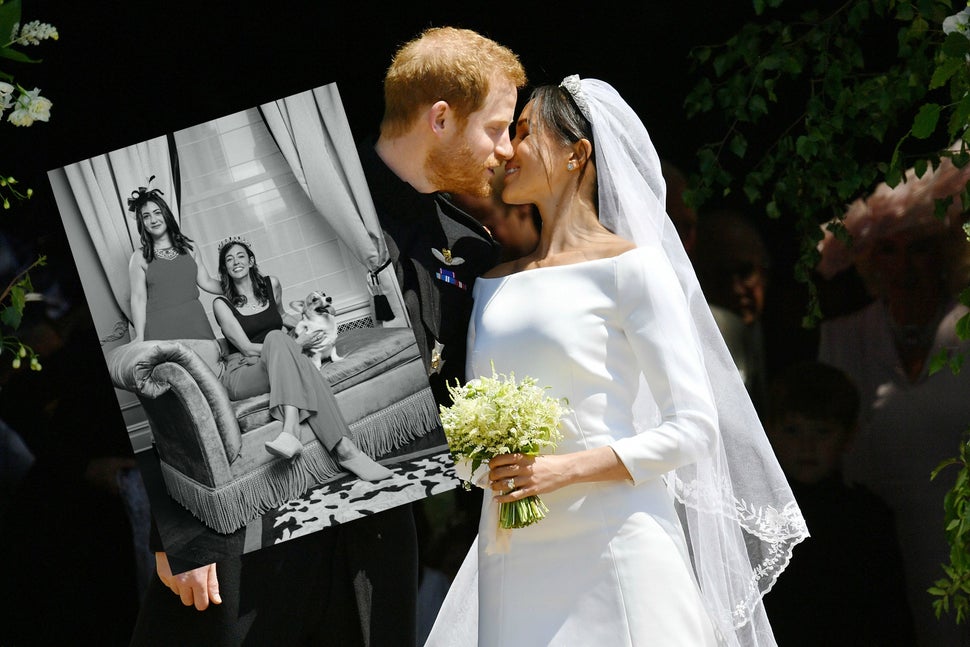 It was somewhere between my fourth or fifth glass of Champagne and the Elton John impersonator that I learned how to fold a napkin properly. This lesson came courtesy of The Plaza Hotel's etiquette expert, who explained that napkins should be folded such that any stains only ever appear on the inside layer.
Clearly, the etiquette guidance was lost on me. We were at a royal wedding "rehearsal dinner," hosted by Love Stories TV at The Plaza, and by this point I had already used my dinner fork to cut into my fish course and had lost my napkin to the floor halfway through the meal. But there was a useful lesson in this — something that explained the appeal not just of this surprisingly enjoyable press event but of this morning's royal wedding itself. Lives are messy, even those belonging to the monarchs. But once in a while it's nice to indulge in a collective fantasy that, with a few tight folds here and there, a clean surface can appear to the world while all the stains are hidden inside.
It was a little strange to find myself caught up in wedding fever. I've never really been a royal enthusiast. Before Meghan Markle and Prince Harry's engagement, my interest in the royal family didn't extend much beyond the Princess Diana beanie baby (which I had to have in 1997), a handful of episodes of "The Crown," and some cute photos of Princess Charlotte, Prince George and, naturally, the queen's corgis. I didn't even bother to watch Prince William and Kate Middleton's wedding in 2011.
The royal family seemed interesting ― but more in a stuffy, remote way, museum relics walking among us. Monarchy is so pre-1776, and the princess fantasy is frankly one I never wanted to buy into.
But when I was invited to this royal wedding rehearsal dinner, which included "royal glam," a formal dinner and a Krug toast, my interest was piqued. Free food and Champagne at one of the fanciest hotels in New York? Hell yes. A love story? Sure, that's nice too. I've been a guest at more than 20 weddings over the last five years. What was one more weekend spent fêting someone else's life event?
Plus, the occasion of Meghan Markle entering the royal family felt different, historic even. She's American! She's biracial! She's divorced! She's an outspoken feminist and humanitarian, and has been since she was a child! (She once wrote a letter to Proctor & Gamble complaining about a 1993 commercial for Ivory dishwashing liquid that declared that "women are fighting greasy pots and pans." Apparently in response to the complaint, the company changed the word "women" to "people.")
Also, I actually met Meghan once! In April 2016, I sat across from her at a Glamour Magazine luncheon, and she was flawless. We talked about U.N. Women and her humanitarian work, and even exchanged a few short emails afterward.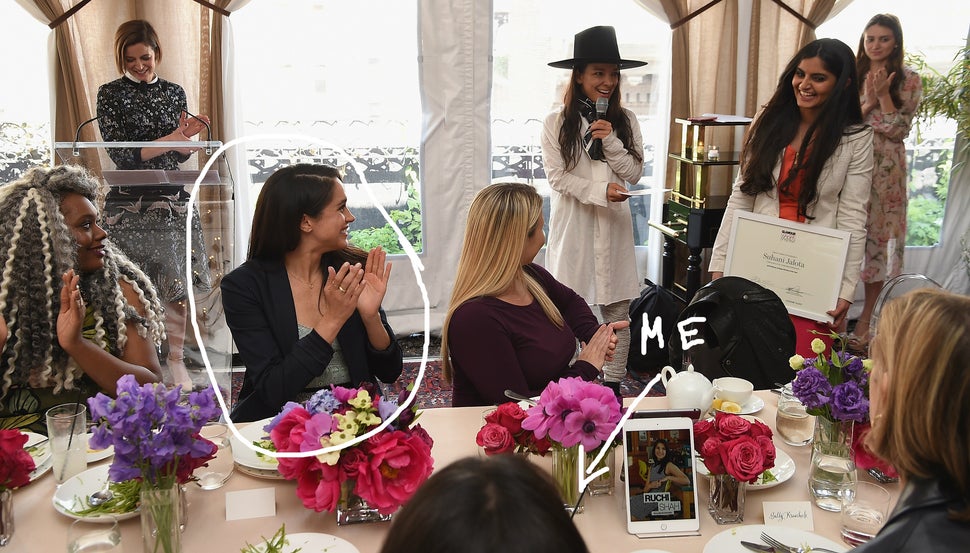 Of course I was going to get swept up in the wedding. It was as natural as cheering for the home team.
And that is how I found myself sitting on a very fancy chaise lounge in a very fancy suite at a very fancy hotel on a Friday night, petting a corgi, wearing bling on loan, being professionally shot by New York City wedding photographer Andre Maier.
God save the Queen ― and me.
On Wednesday I had chatted my co-worker Laura in a panic. I knew I would need backup at this "rehearsal dinner" and I had no idea what to expect. Luckily, she was game to dress up and join me. We would channel Eloise's excitement and Meghan Markle's sense of classic style, and throw ourselves into this faux royal experience with the abandon of commoners.
We still weren't quite sure what we'd be getting ourselves into, but we knew it would include food and the chance to wear a fascinator. (I had attended a "death to my 20s"-themed party two years ago, and happened to have two black headpieces I got from Amazon Prime still lying around.)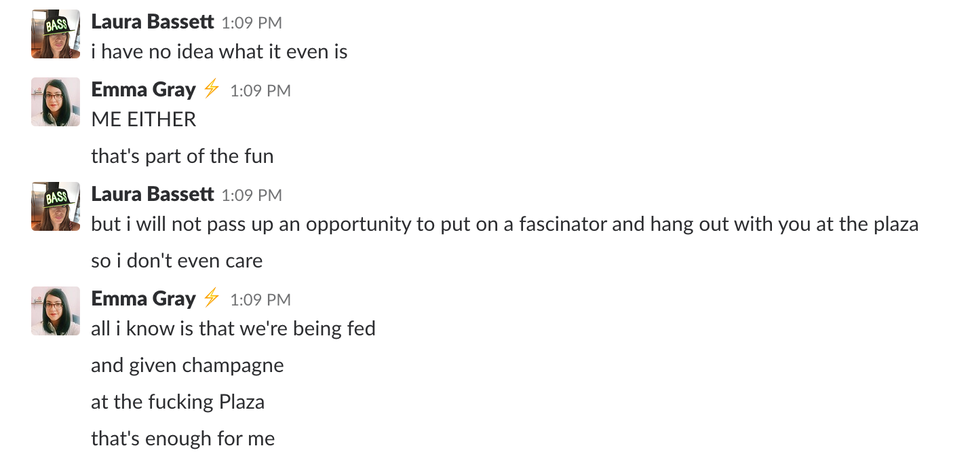 So on Friday evening we hopped into a cab and made our way uptown to The Plaza Hotel. We were ushered upstairs to the Royal Suite, which was significantly larger than my Brooklyn apartment. (It had its own mini gym!) Dozens of well-dressed women wandered around, getting hair and makeup touch-ups, picking out tiaras and necklaces to wear for the night, sipping Champagne and Boodles gin cocktails, and having their royal portraits taken. There were also lots of selfies ― mirror selfies, tiara selfies, corgi selfies, professional photos of selfies. (All in all a departure from the royal family's strict social media protocol.)
Most importantly, the Royal Suite included a designated corgi room, an homage to Queen Elizabeth's well-documented, decadeslong love of corgis. Laura and I squealed (well maybe just me, but, details), and befriended all five corgis. I learned that these corgis and their human parents were part of an NYC corgi meetup group, and they had been recruited to entertain and delight annoying people like me for the evening.
I had arrived prepared to snark, but I quickly remembered that I was a sucker for free things and puppies. Just 40 minutes in and I had become a monster taking mirror selfies with my Champagne glass in hand.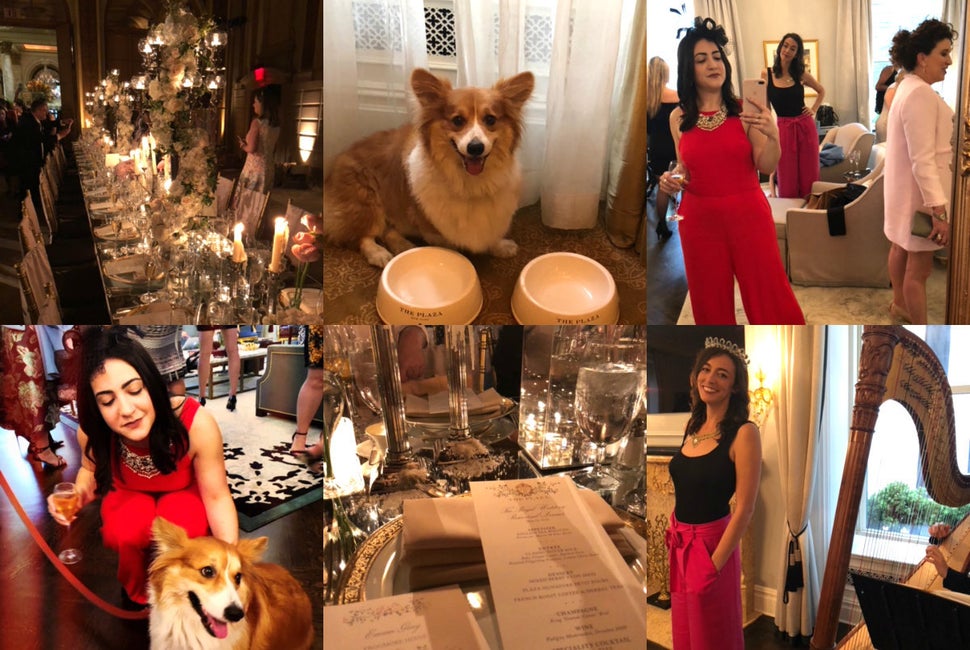 After 90 minutes of "royal glam," it was time for the dinner portion of the evening, as a British-sounding attendant announced to the room. Laura and I got our seating assignments ― at the Frogmore House table, which I just Googled and can now report is named for the country house where Harry and Meghan will be having their wedding after-party tonight ― and headed downstairs to the ornate Terrace room.
You'll excuse the Britishism, but the room was nuts, y'all. I've been to many a wedding, including some that featured insane centerpieces seemingly designed for no other purpose than to show off just how pricey the reception was. But this was next-level: candles everywhere, gold cutlery, a three-course menu printed at each seat, white garden roses for Princess Diana, peonies for Meghan.
Then came the toasts ― often the most painful part of any wedding, unless the bride and groom's parents happen to be very funny and/or Noël Coward. But it turns out that being at a wedding event where the couple isn't present and all the toasts are given by wedding experts you aren't actually obligated to pay attention to is deeply pleasant! I began to think that all weddings should include makeup and hair for guests, no gifts and the ability to ignore all the people speaking.
There was the etiquette lesson, and the Elton John impersonator, and then it was 8:30 p.m. and Laura and I were fully afflicted with royal wedding fervor. What would Meghan's dress look like? (Simple, stunning, designed by Claire Waught Keller, the first female artistic director of French fashion house Givenchy.) How rad was it that the royal family would finally have a little color in it? (Very.) Did we think Americans cared more about this royal wedding than William and Kate's? (Yes.) Was that in part because of our Very Bleak news cycle? (Probably.)
After we had demolished the dessert course, one more glass of Champagne and one much-needed cup of coffee, we were ready to take our royal-glammed bums back to Brooklyn.
We didn't belong among royals ― even fake ones. It was time to be back with our people: common people, dive bar people, people who watch the royal wedding in their pajamas at 7 a.m. while texting their friends about the U.K.'s proudly feminist, half-black American royal. The royals can have their pomp and their properly folded napkins. I'll take the commoner's life, stains on the outside, give or take a corgi.