Why stick to horse races, afternoon tea and other stuffy royal events when you can tour the set of "Harry Potter"?
Throughout the tour, the royals joked and played with all sorts of props -- given wooden wands to test out, Prince Harry immediately challenged his brother to a duel. Will joked later on, "Harry's just excited to see a real-life talking owl in the Harry Potter studios. I haven't told him yet that Harry Potter is fictional, so please keep the secret for a little longer.‬"
The group also investigated pieces from the "Batman" movies, including the giant "Batpod" motorcycle and the Batmobile. "You don't do baby seats for these cars, do you?" quipped William.
We bet not, which is a shame: Kate was looking more pregnant than ever, resting her hands on her tummy as she made her way around the studio. Given the laid-back nature of the day, the duchess made a savvy fashion choice: a £38 Topshop dress with a black Ralph Lauren jacket on top. (True story: We almost bought that Topshop dress just recently -- and it's still available right here.)
We just wish she and the boys had tried on some authentic Hogwarts robes.
Check out all the fun in the photos below.
UPDATE: Within an hour of her appearance, Kate's polka-dot Topshop dress sold out. As of now, you can only purchase it in burgundy. Darn Duchess Effect...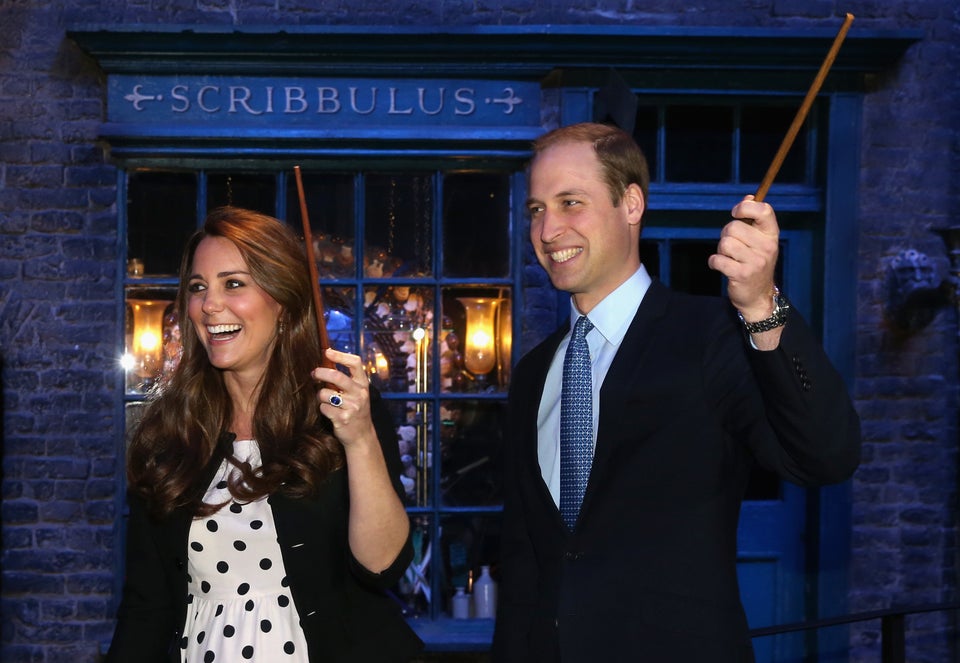 The Royals Visit Warner Bros. Studios