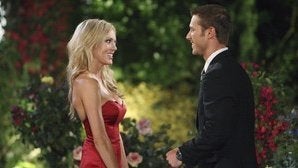 UPDATE: (SCROLL TO WATCH ROZLYN BE TOLD SHE'S BEEN BOOTED)
In his blog for People, Bachelor Jake says in part:
I had started to develop feelings for Rozlyn and that's why I had given her a rose. But what also hurt was the fact that I was friends with the staff member who engaged in the affair. That was hard to swallow. I was so hurt by both of their decisions, but I reminded myself that I still had 14 amazing women there for me, so I composed myself and moved on. After Rozlyn left the show, a few of the girls admitted that they saw her and the staff member inappropriately physical with each other ... to put it politically correct. Honestly, I harbor no ill will towards either of them and wish them both the best in life and career. Hopefully they are still together and in love!
Rozlyn Papa, a makeup artist/model, 28, tells 'Entertainment Tonight' that the 'scandal' that will unfold on Monday night's episode of 'The Bachelor' was sex-free. Host Chris Harrison chooses vague, decidedly non-scandalous language to describe what happened. He writes on his blog:
It was very unfortunate that two adults decided to selfishly make the decisions they made. They forced me and the show into a very tough spot. It had to be dealt with and next week you'll see exactly what I mean. This is a very good season and I hope this incident won't draw much attention for long.
The public will probably tire of hearing about the incident long before Harrison does, but if you're still curious Rozlyn's two-part interview begins airing Monday night. 'Entertainment Tonight' released the following statement:
Rozlyn tells ET she feels "betrayed" after being accused of having an inappropriate relationship with a member of the show's production, "It seems they want the ratings!" When asked if she had sex with a member of the production team, Rozlyn says, "Absolutely not, no."


She goes on to say, "This seeps into my personal life. I have a 7 year old little boy at home that I want to look up to me and to have this blatant lie out there perpetuated by the show itself, it's hurtful. It's scary to think what my son will think of me."


The truth according to Rozlyn is the "inappropriate relationship" was a producer being a good friend, "I would absolutely call him a friend. A good friend. What he did I think is really noble and I'm really happy to have him as a friend." She maintains that her friendship with the producer did not give her an advantage on the show, "The only thing out of the ordinary was that he sympathized with my situation and my situation was unique, different from the other girls. I made good decisions. I did not choose to have sex with someone else."


Regarding tonight's episode of "The Bachelor" on ABC, which has been promoting the scandal, Rozlyn says, "I'm afraid it'll be shown and I'll be portrayed as a cheater."


"It really comes down to my son," she continues. "Why would you go on national television and throw a mom under the bus like that?"
WATCH THE BOOTING:
REAL LIFE. REAL NEWS. REAL VOICES.
Help us tell more of the stories that matter from voices that too often remain unheard.