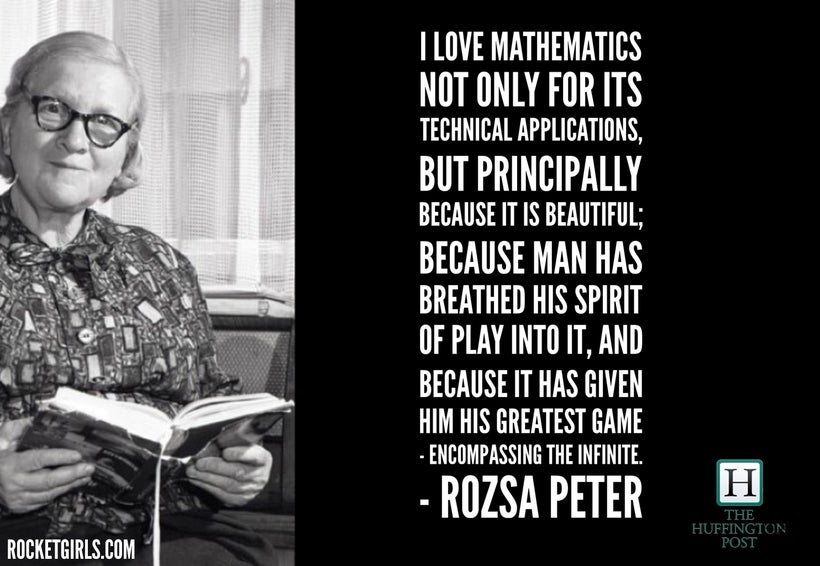 https://youtu.be/H-9XBE4WKhA
Rozsa Peter was born on February 17, 1905 in Budapest, Hungary. Rozsa initially studied chemistry, but switched to mathematics. For 18 years after graduation, she had difficult securing a position, so she tutored and substitute taught at the high school level. Peter earned her doctorate in 1935, and was known as one of the founders of recursive function theory.
Peter's achievements in computational theory were on the level of Gödel, Alan Turing, Alonzo Church and Stephen Kleene. Perhaps because of her gender, and her Jewish ancestry during World War II, she never became as well known as the others. After the war, Aunt Rozsa, as her students affectionately referred to her, got a full-time teacher position at Budapest Teachers Training College. She went on to teach at Lorand Eotvos University and taught there until she retired in 1975.
She was always troubled with people's fear of mathematics and science, and felt that kids would get excited about these fields if only they were exposed between the ages of 8-11 to great scientists and mathematicians.
Rozsa Peter died in 1977, the day before her 72nd birthday.
"I love mathematics not only for its technical applications, but principally because it is beautiful; because man has breathed his spirit of play into it, and because it has given him his greatest game – the encompassing of the infinite." – Rózsa Péter
Rocket Girls honors Rozsa Peter for her contribution, courage and persistence.
CONNECT WITH MELANIE FINE AND ROCKET GIRLS:
Melanie Fine is an award-winning high school science educator, encouraging and enabling countless students to pursue careers in the scientific fields. She has taught in both the public and private sectors, and has been a driving force in STEM (Science, Technology, Engineering and Mathematics) education long before it became a political charge and household word.
Fine earned her B.A. in Chemistry from Cornell University in 1987, studying under such luminaries as Dr. Roald Hoffmann, winner of the 1981 Nobel Prize in Chemistry, and poet and author Robert Morgan. She received a Masters in Sacred Music and Cantorial Investiture from the Jewish Theological Seminary in New York in 1997, and has earned writing and education certifications from UCLA and Chapman University, respectively.
In addition to her work on RocketGirls.com, she teaches high school chemistry at Culver City High School, writes a blog on science for the Huffington Post and offers online chemistry education at http://ChemIn10.com. Her writings have been featured on the Huffington Post blog, among others.
Get your free guide on how to become a Rockstar Rocket Girl scientist at RocketGirls.com
Subscribe for iTunes podcast:
Calling all HuffPost superfans!
Sign up for membership to become a founding member and help shape HuffPost's next chapter
This post was published on the now-closed HuffPost Contributor platform. Contributors control their own work and posted freely to our site. If you need to flag this entry as abusive,
send us an email
.