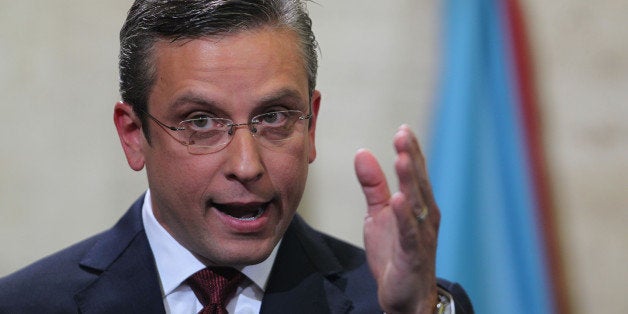 (Repeats story that appeared earlier or July 13)
By Megan Davies and Edward Krudy
NEW YORK, July 13 (Reuters) - Investors in Puerto Rico hope to get specific information about how the commonwealth plans to restructure debt when government officials meet with creditors on Monday, but there are fears that any bungled messaging could knock bond prices.
Puerto Rico Governor Alejandro Garcia Padilla dropped a bombshell on holders of its $72 billion debt on Jun 29, saying he wants to restructure debt and postpone bond payments.
"They have generically said: 'We would like to renegotiate terms of debt'," said Craig Brandon, co-director of municipal investments at investment manager Eaton Vance. "What do they mean by that? I would like more clarity."
A working group created by Garcia Padilla will meet creditors at Citibank's offices at 1500 Eastern Time on Monday. The group includes officials such as Victor Suarez, chief of staff in the governor's office and Government Development Bank (GDB) head Melba Acosta. The meeting will be webcast on the GDB's website.
"There is always that risk that they sit before investors and they try to describe what they are trying to accomplish and that description then leads to even more unanswered questions," said Robert Amodeo, Portfolio Manager, Western Asset. He said any "poor messaging" at the meeting could result in the island's debt trading at a steeper discount.
In a June address, Garcia Padilla said the island's public debt was unpayable. On Tuesday, Acosta said Puerto Rico does not intend to cut principal payments.
"There's a lot of confusing information, so it would be helpful to get something more direct in terms of what they want to accomplish," said Daniel Solender, lead portfolio manager at Lord Abbett, which owns a range of Puerto Rico bonds. "They seem to be trying to find a way to make it work but at the same time saying they can't pay."
A government-commissioned report by former International Monetary Fund economists, released in June, proposed a voluntary exchange of existing bonds for new ones with a longer or lower debt service profile. On Friday, the GDB said it may seek to exchange $4 billion of senior notes at below par.
John Miller, co-head of fixed income for Nuveen Asset Management, said his expectation from Puerto Rico is for a bond exchange if prices can be agreed upon, and potentially a moratorium on paying debt service.
"There will be some people who will be unhappy," said Miller.
The GDB said in May it was set to run out of cash by the end of September without additional financing. It had been trying to organize a bond issuance of up to $2.95 billion.
"Until we're let in on what the grand plan is it's hard for us to lend money," said one major bondholder recently, who requested anonymity.
While the commonwealth made its key debt payments for July 1, there are question marks over upcoming payments such as a $170 million GDB debt service payment due Aug. 1. Miller said he expected Puerto Rico could be considering skipping that payment in order to conserve cash. (Reporting by Megan Davies and Edward Krudy; Editing by David Gregorio)
Calling all HuffPost superfans!
Sign up for membership to become a founding member and help shape HuffPost's next chapter