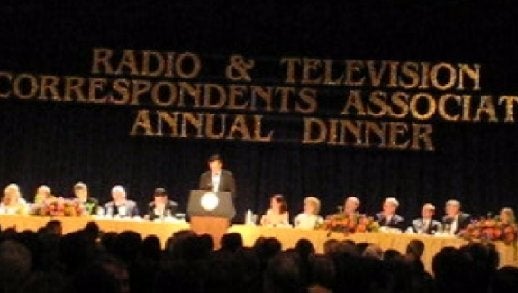 We're chiming with coverage of Wednesday's Radio and Television Correspondent's Dinner in D.C. — check out our
with featured entertainment
Mo Rocca
on what he learned sitting next to
Vice-President Dick Cheney
at the dinner — but since it's Friday, here are some pics from the event, along with some random recollections of what we saw wandering around the massive Washington Hilton, where 2,400 politicos and journos packed in together to enjoy a delicious dinner of fish and beef (unless you were a vegetarian) and the chance to mix and mingle with and gawk at the famous faces of C-SPAN and cable (yes, that
was
Lindsey Graham
, thank you very much!). Also
Rahm Emanuel, Chuck Schumer
,
Mike Huckabee
and
Tom Ridge
, who inverted the usual and was much taller than he looks on TV. I know, I'm leading with the good stuff, right? Okay, here's what I saw on my meander to the table:
NBC anchor Brian Williams wiping off the chair of Senator Joe Biden, a guest of the NBC table, whose chair apparently had "schmutz" on it, according to most-powerful-Yiddish-speaker-in-TV-news Steve Capus.
Wolf Blitzer, affable and friendly, making a point of politely introducing me to CNN's Carol Costello (eep) and reminiscing about that time he was on "Celebrity Jeopardy!" with Oliver Stone and bosslady Arianna Huffington. Blitzer was way out in front until Final Jeopardy, he mentioned twice; alas, his Italian ain't all that. Oliver Stone won.
My guide through those tables was CNN's indomitable SVP PR Christa Robinson, who wove expertly and looked pleased as punch later having her photo taken with the "CNN" ice sculpture at the after-party at Russia House, where they had many kinds of vodka. Christa and the lovely Mara Gassman were kind enough to invite me and tablefuls of others to the event and to the aforementioned after-party where in addition to vodka there were blinis plus CNN cookies and little plastic CNN-branded boxes of red jelly-bellies, which were a hit. Special thanks to CNN prez Jon Klein for the personal escort downstairs when we were confounded by the elevators (Klein: "So, what's the gossip?" Us: "Hmm, we heard Katie Couric might be jumping to another network, know anything about that?")
I was sitting between Glamour's Linda Kramer and Howie Kurtz of WaPo/CNN/Facebook. He said of CBS' Bill Plante that he had "The best voice in broadcasting." Alas, Howie 'fessed up little else and darted out in a media minute as soon as dinner was over.
The "Morning Joe" team travels in packs — I saw Mika Brzezinski (in elegant black) with Joe Scarborough and trusty producer Chris Licht outside, and then later saw Joe and Mika wending their way through the ballroom. Later, ran into Willie Geist and Courtney Hazlett leaving the CNN afterparty together. A morning show that plays together...
At one point during dinner, I turned my head and there was Ken Mehlman! Hello, Mehlman.
FNC's Griff Jenkins introduced me to Tom Ridge. What do I have to say to Tom Ridge? Er, nothing. It was a short non-conversation.
A moving moment: The awarding of the David Bloom Award for enterprise reporting to Lara Logan and her team from CBS News. Bloom's daughters,
Ava, Christina and Nicole presented the award, accepted by CBS DC bureau chief Christopher Isham. NBC's (and now MSNBC's) David Gregory was awarded the Joan Barone Award for Public Policy-based work.
Back to frivolity: The ladies of Fox were in brightly-colored satiny dresses: Martha McCallum in orange, Gretchen Carlson in red, Megyn Kelly in turquoise, Alisyn Camerota in lilac. Roger Ailes was not in a brightly-colored satiny dress, but oh, if he was.
Roger Ailes wouldn't let us take his photo — something about how the commenters at HuffPo are merciless (what? you guys?), so that last visual is the best we can do. All things considered, it's not that bad. Some more pics below: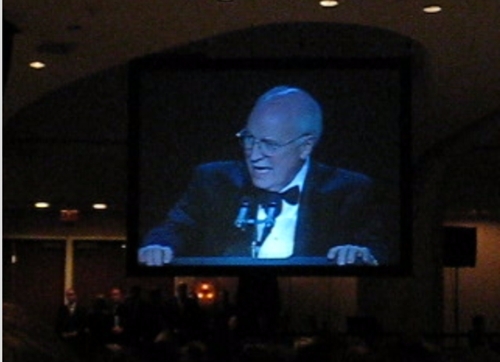 Vice-President Dick Cheney, Environmentalist: "Every time I rush to the hospital, I insist on a hybrid ambulance."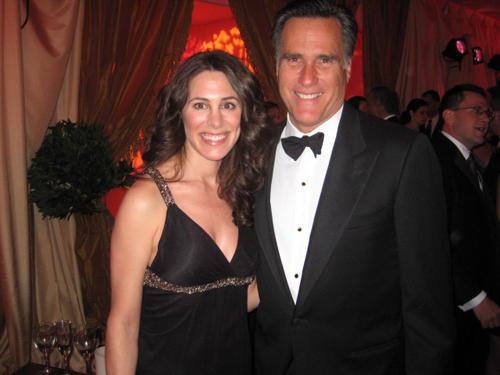 Your ETP editor with Mitt Romney, wearing her finest dress-bling. Mrs. Romney was a little ways away and I told the Governor that she looked beautiful. "She always looks beautiful," he said. Aw. Mi Padre!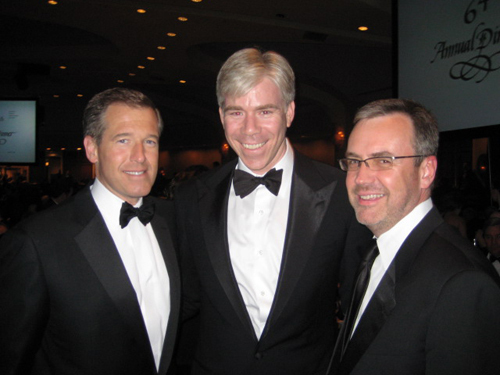 Brian Williams, David Gregory & Steve Capus (aka BriWi, D. Greg and SteCap)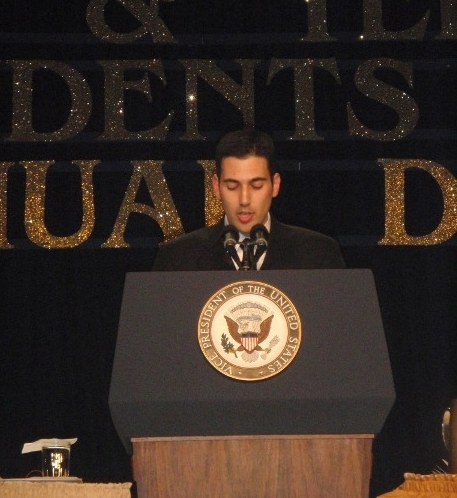 Master of Ceremonies and event chair Steve Chaggaris, Political Director of CBS News, and person about whom I received the following curious email: "Who was the hottie who wuz emcee'ing?" The emailer didn't mean Cheney; he's a Democrat.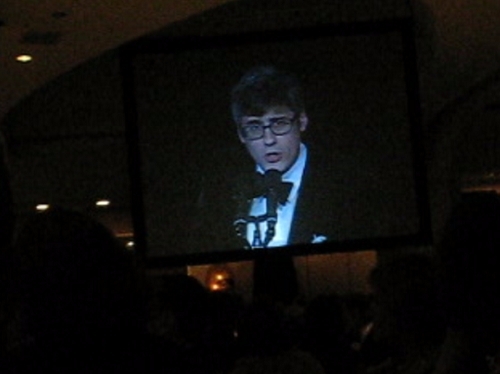 Comedian Mo Rocca: "Will Katie Couric leave CBS News after the inauguration or before? ...You know things are pretty bad when CBS News was listed as one of the charities for Idol Gives Back."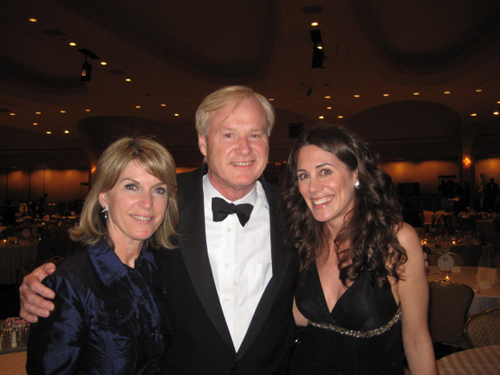 Chris and Kathleen Matthews with your trusty ETP editor. After the party they were planning their next move, and as Kathleen suggested options, Chris told her, "I'm not going anywhere without you!" They were holding hands. Aw again.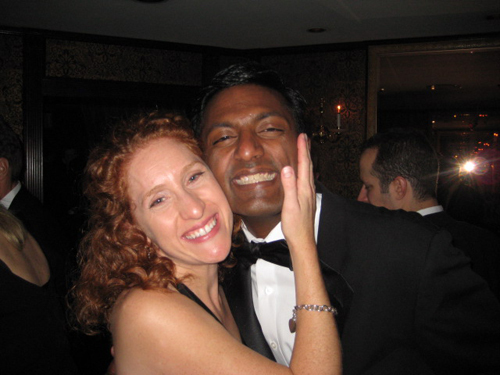 The LAT's Matea Gold and her brother-in-law, Roll Call associate publisher Peter Cherukuri. Aw's all around!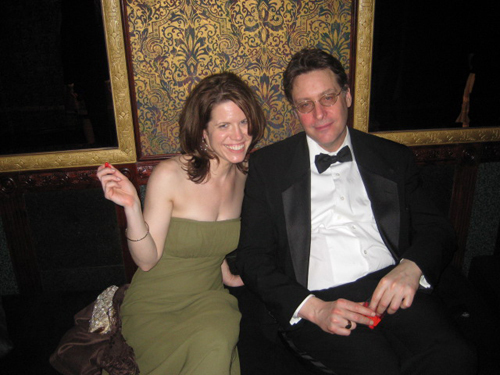 Two very Reliable Sources: Amy Argetsinger and her predecessor at WaPo, Lloyd Grove.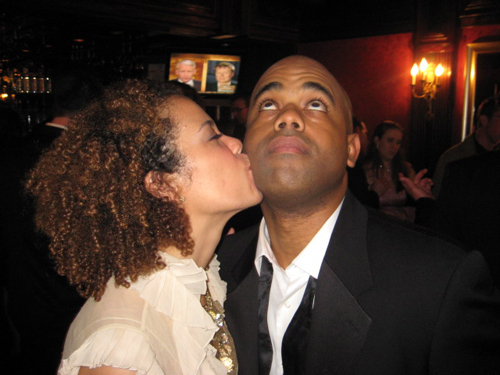 CNN election-night stalwarts Amy Holmes and Jamal Simmons. Holmes said they coulda been the next Matalin & Carville, except "I love Jews!" (Does this mean Wolf Blitzer should be careful when approaching the pundit table? Nope — Holmes is happily dating a nice Jewish boy in Los Angeles. You're safe for now, Blitzer.)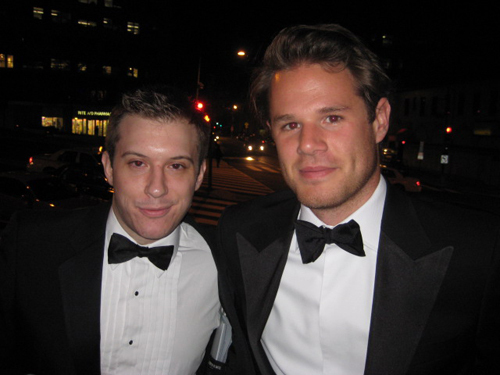 TVNewser's Steve Krakauer and DC Channel 1 anchor Alexander Marquardt, checkin' out the parade outside the CNN after-party (and getting checked out themselves — I mean, check them out!)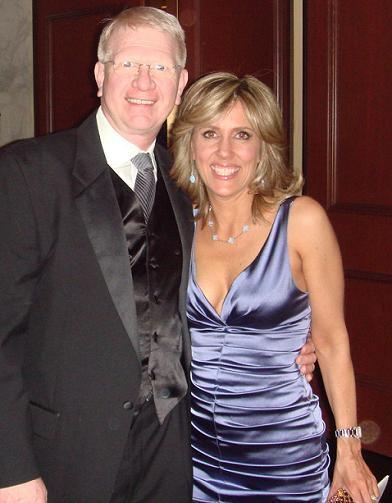 WETA's Ken Jones , representing the 'Radio' portion of the evening, with Fox News' Alisyn Camerota in a gorgeous lilac sheath (co-blogged here - thanks Alisyn!).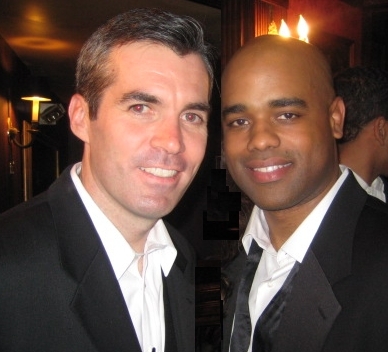 Former Romney spokesman Kevin Madden with fellow pundit Jamal Simmons. It was at this point at the end of the night that the lights kept going off and on. Listen, that's just never a good idea.
Thanks to Dipayan Gupta for assistance with photo upload. And to Mikael Aghal for my dress!
Popular in the Community