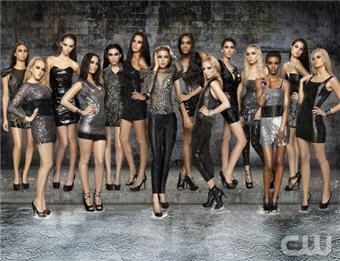 As we face ever disturbing new events on the world stage (Egypt! Libya! Wisconsin! - did anyone ever dream Wisconsin would be in the same sentence as those other two?) it's almost comforting every once in awhile to crawl back to the hearth next to the idiot box for a dose of so-called Reality TV. In the past I've occasionally rubbernecked episodes from the megalomaniacal empire that is Tyra Banks' and Bankable Productions' America's Next Top Model for kicks. And thus and so, here I am again, observing (albeit with a jaundiced eye) the Birth of Cycle 16 of said program.
It should be noted that ANTM is now a worldwide franchise, with versions having been seen in over 120 countries. Tyra pulled the plug on her daily talk show last year, but recently it was revealed that she is currently enrolled in a jet propelled version of Harvard Business School's owner/president/management program, taking place over a series of weeks instead of the usually two-year MBA program. According to New York Magazine, she's been seen all over Beantown doing the student thang.
Be that as it may, Cycle 16 started last Wednesday with Lady T wearing men's clothing and talking directly to the camera about how this wasn't going to be the same-old same-old ANTM opening episode where we get to watch the young hopefuls appearing before the judges and declaring themselves to be the next winner, ahem, etc. We're then treated to Tyra herself stretching her acting chops to imitate three hugely exaggerated (only not so much) contestants: the screaming platinum-tressed 19 year old ('my favorite designer is Hello Kitty'); a ghetto chick with huge tattoos and several strung together names that end either in a or ia; and a black-lipstick-wearing goth chick with chains who has apparently studied old Gene Simmons' videos.
Whereupon Miss T namechecks the 'twitter king and ultimate prankster himself' Ashton Kutcher, who has seemingly been her inspiration to punk the chosen 14 girls by setting them up to believe they're all going home - to teach them about Rejection. But first, they all fly to LA and show off their runway walks outside on an airport runway, clucked over by Mr. Jay and Miss Jay. They're whisked off to a reception, at which point the Jays show up again. This time Miss Jay is wearing an outfit that makes her look like the love child of Calvin Klein and Butterfly McQueen. (I swear, it's Miss Jay and André Leon Talley that keep me watching this show)
The girls are given envelopes either with or without photos, to tell them who is staying and who is leaving. Only the tables have been turned - the girls who think they're staying are actually the losers and off they go, never to be seen again, at least during Cycle 16. I guess their Rejection Lesson remained on the cutting room floor. The 14 remaining girls are taken to where their luggage is waiting, ostensibly to be driven to the airport. But first, Tyra descends the stairs to give them her trademark pep talk about not giving up and all that happy claptrap. She winds up the chat (some of the girls are sobbing heartbrokenly) telling them they have to go home - but luckily they're actually already home, and the pipe and drape suddenly reveal that they're actually inside the model house. And since it's Cycle 16, Tyra has lovingly placed photos of herself at the age of 16 all through the house. Isn't that special?
One girl almost has a heart attack at the Big Reveal, but eventually they all settle in to becoming what they are: a houseful of shrilly-screaming, adrenaline jacked-up young girls. Not long after, they're taken to their first challenge over hill and dale in Malibu. Here, they pretend to recognize Erin Wasson, supermodel, stylist and jewelry designer (OK, perhaps some of them actually do recognize her - but don't tell me they all did - that's just insane). Erin is there to help describe their ordeal; they are going to do a fashion show wearing T by Alexander Wang along with pieces from her own jewelry collection. Oh yeah and by the way, they're going to be walking on a 12 inch wide runway over water in a pool inside a plastic bubble with tiny pieces of burgundy confetti swirling around inside. But at least they'll be wearing flats.
They will also be photographed during the fashion show prep by Russell James, who looks like he stepped off the cover of a romance novel - kind of channeling Fabio. Later, Erin confides she doesn't think she'd be able to finesse this runway walk herself - and in fact, two of the girls take nasty spills on the slippery runway to hooting laughter from Miss Jay. The others look terrified.
The gangs' personalities are beginning to emerge even at this early stage. Alexandria is a beyotch who thinks she knows it all, condescending to teach dimply Southern gal babe-in-the-woods Jaclyn. Dominique immediately takes on the role of house mother, calling meetings and such. Sara's the quirky one with the nose ring and rattail - there's always one like her every season. She looks like someone who works in a coffeehouse in a small town in Colorado. There's of course the requisite plus-size model, the stunning Kasia, who Tyra calls "fiercely real" begging the question - what are the other girls? Fiercely unreal?
But it's Panel Time - time for us to gaggle over André Leon Talley's latest outfit, which is strangely muted today. A regular suit, but he's not letting us down completely - he also sports a hat with what looks like a big ol' horsetail flopping off the back. Noted Fashion Photographer Nigel Barker is also there as well as guest judge Erin Wasson. And Tyra herself, attired slavishly in an Andre Leon Talley t-shirt. This cycle's winner shall receive a Cover Girl contract, a contract with the IMG agency, a spread in Italian Vogue, a cover story for Beauty In Vogue (whatever that is), and a feature on Vogue Italia's website - "Vogue Dot Eye Tee!" to quote Tyra.
This show has become so predictable it's actually quite funny. Angelia, the beautiful raven-tressed German girl from Miami (the show's website tells us she's studying to be a marine biologist), who declared early on in the show, "I am America's Next Top Model. Recognize my face, get used to it," is sent home for a boring photo. Brittani, the girl who was raised in a trailer park, is advised to immediately get rid of a feather clip she's wearing on her hair - forever. It looks like something one would find in a K-Mart in Missouri. Molly, who wins best photo, looks like she just stepped off of a cruise ship in the Bahamas with her exposed-midriff blouse. Ah yes, they're unformed little ducklings at this point, sans style. Kasia is cautioned by Tyra that being a "fiercely real" plus-size model is as difficult as being black in the modeling world - so she needs to step up her game every time to get the same treatment the others get. Say wha???
And next week? Apparently there's some kind of fight over a piece of chicken (bring it!), someone has a crisis, and the girls are made to endure a photo shoot with live bees. Holy Honeycakes, Batman!
America's Next Top Model can be seen weekly on the CW Wednesdays at 8pm ET.
Popular in the Community