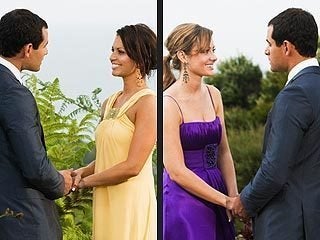 These are times that try men's souls. We're dealing with global conflict, the plunging economy, loss of jobs on a massive scale, the imminent tax season, yet another new Facebook design, killer chimpanzees, a new U2 album . . . I mean, these are tough times. And now we're asked to accept the table-turning decision of Jason Mesnick, AKA The Bachelor. I ask you, people, how much more can we stand and stay sane?
In a nutshell: Jason, who resembles nothing so much as a dorky Ken doll, is a 32 year old insurance account executive from Seattle and divorced single dad of a 3 year old son. As a contestant on last year's The Bachelorette, he proposed to Bachelorette DeAnna Pappas (on one knee, mind you) and was rejected as DeAnna went for the other guy, professional snowboarder Jesse Csincsak (BTW, it didn't last - but I digress). Hence, Jason was sent off in a limo and scored his own TV show as ABC's The Bachelor (Season 13).
Thus began an eight week televised search for true love in front of the whole world as Jason sought to choose his soul mate from 25 eligible young ladies. Fast forward to the end, which took place on Monday night March 2nd. In a nail-biting climax, Jason stunned the world by telling his original chosen pick, 25 year old former Dallas Cowboy Cheerleader Melissa Rycroft, that they weren't right for each other and he still has feelings for runner-up Molly Malaney.
Perhaps it's a slow world news week, but the media universe appeared to be rocked to its core by this development. Even MSNBC's Keith Olbermann made this his #1 news story of the night on Tuesday, March 3rd prior to the airing of After the Final Rose, Part 2. "This doesn't bode well for our country's argument about the sanctity of marriage," said Olbermann (himself a bachelor) as he discussed the earth-shaking situation with columnist Michael Musto.
Let's return for a moment to the scene where Jason got on one knee (again) and proposed to Melissa on a romantic New Zealand cliff. After her excited reaction, he picked her up and whirled her around as the helicopter-cam flew overhead to catch the touching, semi-private moment. Six weeks later in real time on March 2nd, host Chris Harrison brought the two back together and Jason dropped Melissa like a hot potato on the world stage in favor of Molly. In an US Weekly story that was hotly disputed by Executive Producer Mike Fleiss and host Chris Harrison, the entire thing was pre-planned by the show's producers to get - what else? - big ratings.
Back to Keith Olbermann on Tuesday night, March 3rd: "I feel like Charles Van Doren during the Quiz Show scandal. Yes it's true - reality television is scripted. And, literally, several viewers did not know that. Thus did this nation awake in unified pain and anger today. For the first time, everyone ranging from Ellen DeGeneres to Elizabeth Hasselbeck banded together in collective grief. Our number one story, a nation outraged by the season finale of The Bachelor." Is it me, or is Edward R. Murrow spinning in his grave right about now?
Quoting Chris Harrison on After the Final Rose, Part 2: "Last night America watched the most amazing - the most jaw-dropping - in fact the most shocking finale in Bachelor history and we know that Bachelor fans all across the country are still buzzing." In the usual reality-show fashion, Final Rose Part 2 was played out in front of a live game show style audience made up mostly of women with a few token guys scattered here and there. The set was replete with mood lighting, soap opera style music, and copious amounts of candles and roses. Special guests included a smattering of the original 25 contestants, who voiced their outraged opinions over the surprise flip-flop outcome. Medical marketer Stephanie allowed as how the turn of events was gut-wrenching and, "...it was, like, better to have loved and lost than never to have loved at all."
Harrison polled a few audience members, one of whom said, "you could tell that they were really in love when he proposed and she was SO excited...it was really real" (this is a reality-show staple theme; figuring out what is real and what is fake for TV. Like it's not all fake for TV - but I digress). Mr. Mesnick himself came out to sit with Harrison and explain himself to a hurting world. "It was definitely not the classiest thing in the world but I had to follow my heart and I think everybody out there knows what that's like . . . Even though I had to hurt people on the way I feel like I did it with integrity."
Molly came out to join Jason in their first public appearance together since he told her he was choosing Melissa on the Kiwi cliffs. "People tend to forget that we're not just characters on a TV show, we're real people who have jobs and who have families," according to Molly. A 24 year old department store buyer from Grand Rapids, Michigan, she's planning to move to Jason's city, Seattle, now that the secret is finally out.
Meanwhile, talk show host Jimmy Kimmel skewered Mesnick on Monday night after the first part of the finale aired, calling him a "fickle pickle." After some banter which made it clear that Jason seemed to have no idea he was the butt of the joke, Jimmy asked: "Does your son understand what's going on? ... Any chance you will dump him and replace him with a blonde child?" Kimmel also wondered aloud whether the rejected Melissa would start dating Flavor Flav.
To sum up, the final word on whether or not the whole debacle was pre-planned by the show's producers to boost ratings comes from an EW.com interview with Executive Producer Mike Fleiss: "You can't have people staging this, they're not good enough actors....If he was acting, then Jason is the nation's finest actor, better than Javier Bardem, better than Brad Pitt, and Molly is the new Meryl Streep!" Oh, and by the way? Mesnick is pretty much the worst actor I think I've ever seen on any reality TV show. He kind of makes Sister Patterson, New York's madre, look like Ingrid Bergman.
By the way, you can book your very own The Bachelor Dream New Zealand Vacation and stand in the very spot in Queenstown where all the drama took place. Your stay includes a bottle of premium New Zealand wine on arrival, pre-dinner drinks and canapés, a superb 4-course dinner each evening, full lodge breakfast, use of all lodge facilities including an outdoor hot tub and return airport transfers. And you can reflect on the astute words of 17th century French author François de La Rochefoucauld, "There are few people who are not ashamed of their love affairs when the infatuation is over."
Read more of Holly Cara Price's ruminations on the slings and arrows of outrageous pop culture at Snoop* Du Jour.
REAL LIFE. REAL NEWS. REAL VOICES.
Help us tell more of the stories that matter from voices that too often remain unheard.