My alternate titles for this episode:
Do We Have A Plan B?
Joan Crawford St. Patty's Day Party
Pass the Mustard
Bragging Rights
Wow, is it Week 4 already? Jeez Frickin' Louise, where does the time go? We begin our voyeuristic view of the Lucky 13 this week eavesdropping on the comments of the girls in their Atlas digs. Cecilia says she is feeling more confident now, less freaked out. We whip over to check out the boys, whose chalkboard reads "Bring the bald guy back!" (Josh C., where are you now?) Bryce is sharing that he knows he has to "bring it" this week because he's been in the bottom so many times. I know I'm being bitchy but I wouldn't miss Bryce if he was ejected from the show, I'm still mad at him for not helping his teammate Fallene last week after she couldn't cut the top on the grain. Plus I just don't find him all that talented.
Heidi presents their next challenge by saying that they are designing for a very important client who knows a lot about fashion. Enter Nina Garcia from behind the magic screen. Heidi reminds the gang that designers have designed for her in past seasons but never for Nina. This is supposed to be a look Nina can wear to work during the day and to an industry event at night. Nina tells them she likes "classic with an edge" and wears a lot of streamlined, clean silhouettes. "I do not like voluminous clothes" (or wee wee pads no doubt), "I do not like lots of pleats, I do not like loud patterns or colors." Heidi looks fake-askance. "What do you like?" The prize this week will be that the look will be featured in ad banners atop New York City taxi cabs.
Becky, who is wearing earrings that look like spider webs dripping over her shoulders, is terrified. She is nothing like Nina -- she's alternative whereas Nina is "more classic." Everyone else looks either absolutely thrilled with the whole idea, or a little bit deer in the headlights. They are to go upstairs and sketch, after which Nina will consult with each of them before their shopping excursion at Mood.
Tim comes into the workroom to tell them that there is a HP Touch Smart monitor with images of Nina they can study to help familiarize them with the clothes she usually wears. Kimberly says this challenge is their toughest to date which makes sense, as it should progressively get harder each week (duh). Anya shares that this will be a real challenge for her because of a lot of her work is about patterns and color. Julie gamely decides on a coat dress and remarks that she thinks she is running out of chances after being in the bottom so often.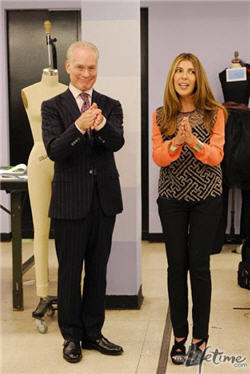 They each go in for their one on one with Nina to show her their sketches and have her rip apart their ideas. Anya is first, and Nina likes her idea of a jumpsuit but thinks she may have some difficulty sewing it. As for Viktor, Nina likes his sketch and tells him to "just think dramatic yet conservative." She tells Bryce she hates cowls and sends him right back to the drawing board (pardon me but have we ever seen her neck covered? That would be a no). Josh is asked if he has a Plan B. For Danielle, Nina suggests a pant with one of her "beautiful blouses." Julie thinks she understands Nina's style. Kimberly plans on a shift dress so she can break out of the pants thing which everyone loves. Nina shoots that right down and tells her she would love pants. The last victim whose consultation we see is Cecilia. She is planning a dress and a jacket. "It feels a little Dynasty," Nina tells her. Cecilia looks at Nina like she is thinking, What the hell is Dynasty. Throwing an 80's TV reference at someone who probably didn't grow up in this country...eep.
Becky tells the camera that there are four judges but Nina decides the win. "If she likes it, it wins -- if she doesn't, you're out." Yes child, the stakes are high this week. Especially after Tim comes in to tell them that when she left, Nina told him she doesn't want boring and doesn't want a runway covered in gray garments. Okay, then. Off to Mood they go.
At the store, Danielle can be found poking around in the chiffon and looking for olive green but finding something that's more of a kelly green (Come on. Really? Now I ask you, have we ever seen Ms. Garcia in the color green? Not to my recollection). Anya's in the silks again and thinks she may take a chance on a printed silk, which she acknowledges is a risk. She is grabbing a bolt of mustardy printed silk (and here again I ask you, have we ever seen Nina in yellow? Have these people even watched past seasons of the show?). Potential drama ensues when Becky and Anthony Ryan both pick the same exact fabric. Neither one of them backs down as there are only ten minutes left before they have to get to the cash register. Cecilia is in a total pickle -- not able to find anything in the color palette she wanted (which is, um, purple and yellow -- say what?!), and she's having a brain freeze.
Back at the workroom, Julie shares that she went to fashion school because she was fed up with being a waitress. Cecilia calls Julie "a real artist" and "a great companion." Anthony Ryan claims Becky saw the fabric when it was on his cut table at the store. The fabric in question is a non-impressive (IMHO) speckled black/white/gray thing. Cecilia suddenly realizes that the fabric she thought was purple in the store actually is gray, and freaks.
Entrez Tim along with Nina to see how things are going. Also I have to say -- Olivier is totally off the radar this episode. We hardly see him at all and I am not sure why. Meanwhile I've decided what his affected way of speaking reminds me of -- those voiceovers on commercials for expensive perfume or cars that cost my yearly salary times three. But he is gorgeous, that I will admit.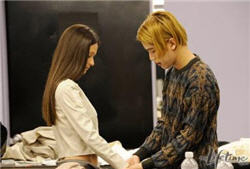 Olivier apparently is having a moment here with his model.
Danielle is first to be visited by Tim and Nina, who are obviously way under-impressed by the garment on her dress form. Nina explains that she liked Danielle's sketch because it was hard and soft, but this is just soft and soft. Danielle looks a bit nonplussed and starts to suggest modifications that perhaps would help, all of which Nina says no to. They move on to see how Julie is doing. Nina finds the collar way too big and seems a little apprehensive about the orange fabric, which she thinks cottons back to Julie's sports background. Julie feels pretty confident about her vision, to which Tim says -- "You're always telling me you feel confident. I leave you feeling confident and then I see it on the runway and I go Ohmygod!" Julie just laughs merrily at this.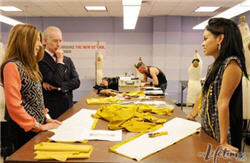 Something you never want to hear Nina Garcia say to you: What's Plan B?
Anya is next. When Nina sees the mustard patterned fabric, she agrees that yes, it is a risk. "Do we have a Plan B?" she asks Anya, who admits that she does not. The next drive-by is Josh. Somehow he cleverly gets Nina to admit that she doesn't wear a bra. Nina likes Anthony Ryan's fabric choice, which I have to say surprises me as I think it's a little less than. Their next stop is Becky, and Nina's astounded that she has the exact same fabric as Anthony Ryan. "How did that happen? Mood is enormous!" She wants to know who saw it first. Nina tells Olivier that his outfit looks "very safe" (ouch). She's worried about the plunging neckline on Bertzilla's boring little black dress.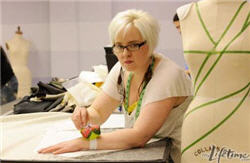 I saw it first
Laura Kathleen is next, and Nina is taken aback by the fabric color. "That's a lot of green. Christmas green." Laura kind of snaps back, "That?? Not when it's all tailored!" (I find the green she has chosen to be about the ugliest green possible -- it puts me in mind of a little girl's dress for a friend's 12th birthday party. But it doesn't really matter, anyway, because LK has immunity from winning last week's challenge) (Oh yeah, and once more I ask you -- green? Who has ever seen Nina Garcia wearing green?).
They like Viktor's little black dress and Tim says he is "on a good trajectory." Next up -- Cecilia. Tim and Nina are not impressed. Cecilia explains that she was looking for purple fabric and under the lights at Mood the fabric looked purple but turned out to be gray. Nina: "it's mousy and mousy." Kimberly is next and is told to follow her gut, and good luck.
Before Nina leaves she imparts to the group that there will be yet another reward for the challenge winner -- besides the taxi cab banner ad, the winning look will also be featured in a Marie Claire editorial. Back to work, everybody!
Anya is clearly in quite the quandary with her mustard-colored fabric. Josh suggests she dye the fabric, and Anthony Ryan helps her accomplish this feat since she clearly hasn't a clue. We also get to eavesdrop on Anthony Ryan calling his boyfriend on a large monitor provided by HP Touchsmart. Anya pops over to say hi, and admits Anthony is her favorite, "don't tell anyone" (I bet she says that to all the designers).
In come the models for their first fitting. Bertzilla notes that Danielle seems to be fixated with chiffon and that her look is "covered up", "old," and "frumpy looking." This from a guy whose dress had a plunging neckline practically down to the waist à la J Lo. Cecilia hates her outfit and the fabric is giving her a hard time. Julie, who is recently out of fashion school, is "drowning" because she isn't used to this much sewing.
After they get back to Atlas, Bertzilla asks the others who they think might be out this week. Viktor thinks Kimberly could be in trouble because her garment is "too loud" -- Nina would not wear that at all. Anya, meanwhile, is concerned because having to dye her fabric really set her back in terms of time. Cecilia says her model has "huge neeples" and this is a problem.
The next morning, back at Parsons, Tim comes in to deliver his trademark speech about having two hours to get the models to hair and makeup and using the Piperlime accessory wall very thoughtfully etc., and the room is empty. Every single designer is in the sewing room. "In the history of Project Runway I have never needed to deliver these lines in the sewing room," says Mr. Gunn. "You all have a ton to do...I'm sweating through my suit."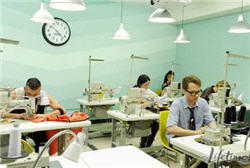 Bryce seems to have majorly effed up the hem of his garment. Over in Anyaville, Becky feels that her lack of sewing skills is going to eventually bring her down. She still has a collar to finish and we're just minutes away from the runway show. LK gallops to the rescue and helps Anya get the garment ready (Viktor, across the room, thinks this is "like cheating"). Cecilia knows she is headed for the bottom, the outfit doesn't fit right and she just doesn't care one way or the other. She washes her hands of it and pitches in to help Julie finish hers.
Heidi greets them on the runway and introduces the judges. This week they are joined by Marie Claire's Editor in Chief Joanna Coles, and "actress and arts advocate" Kerry Washington. And on with the show.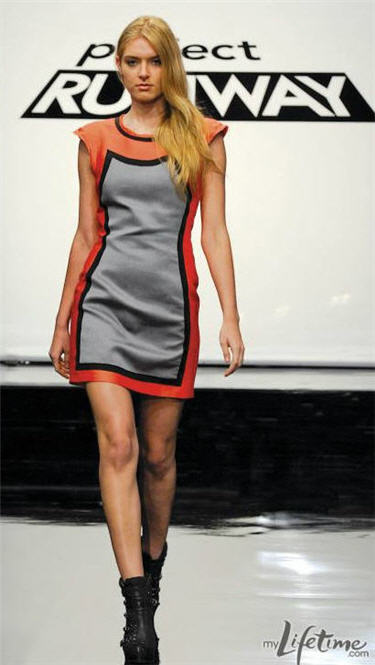 Josh
Josh: I know I took a risk with the color but I think it paid off (What's with the orange? I guess this is a takeaway a few of them got when they consulted with Nina and she was wearing some orange).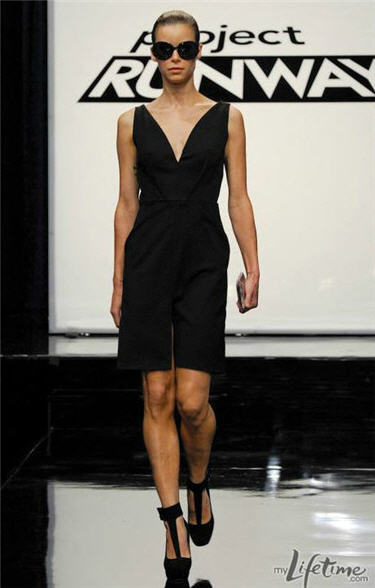 Bert
To rehash a very tired joke, 1982 called and it wants its' sunglasses back. Boring. Snoring.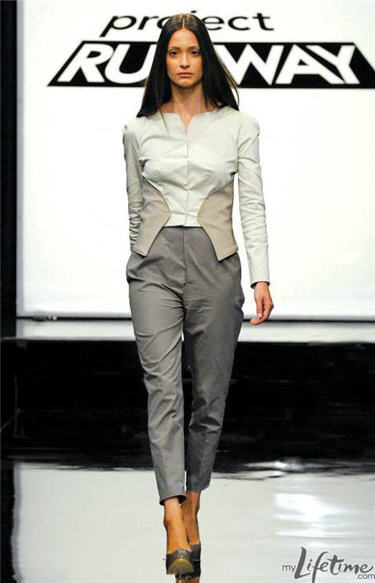 Olivier
When are you going to dazzle us, O Olivier with the extra 'I'? This clearly is not the week.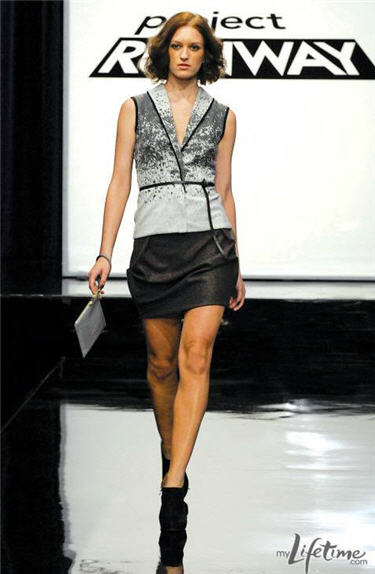 Anthony Ryan
Anthony comments that he wishes he would have turned the volume up 'just a hair.' My feeling on this one? Really bad. I could never in a million years picture NG in this.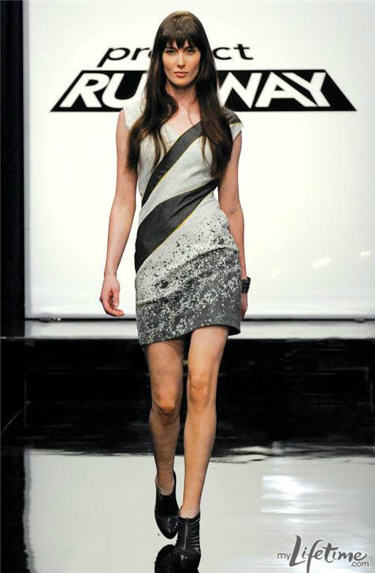 Becky
Um. Not so much. Slightly better than Anthony Ryan's though.

Kimberly
I have to hand it to her -- this looks stellar.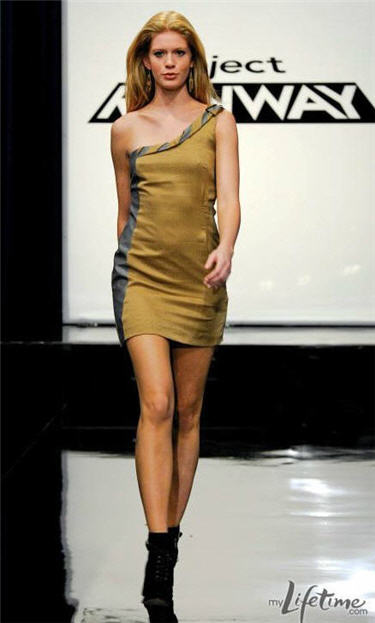 Cecilia
We actually see Joanna Coles wrinkling her nose as she writes on her card during this one. Oh yeah, and I don't consider those huge 'neeples.'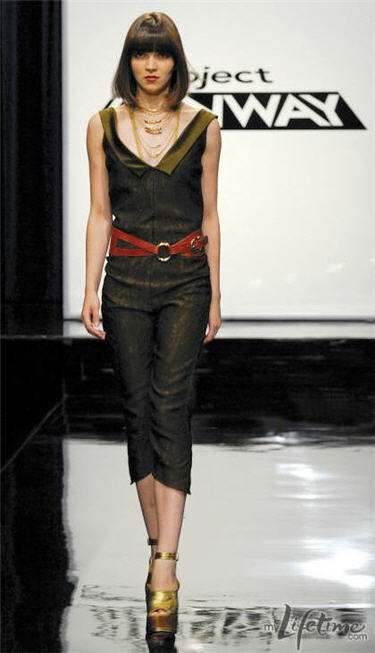 Anya
Wow. I am impressed, and so what that LK made the collar, this is damn fine looking.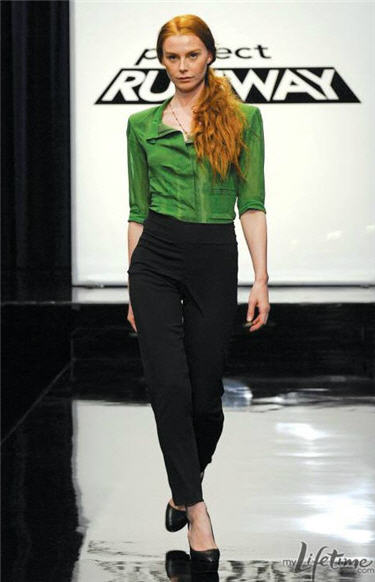 Danielle
Gadzooks, this is bad.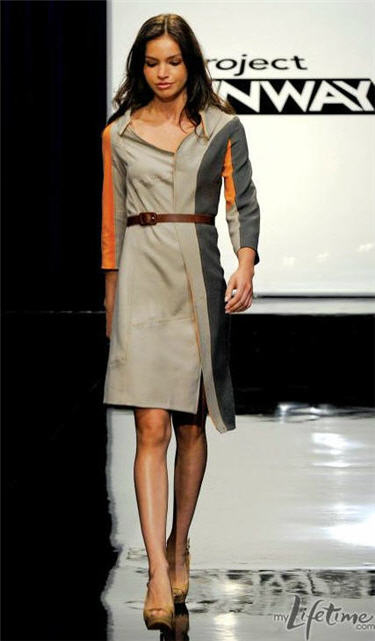 Julie
L'orange again! And what's with that collar?!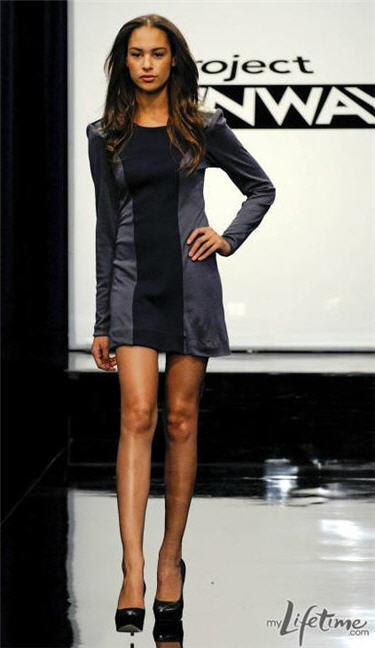 Bryce
Heidi appears to be blinking her eyes, aghast at the badly made hem.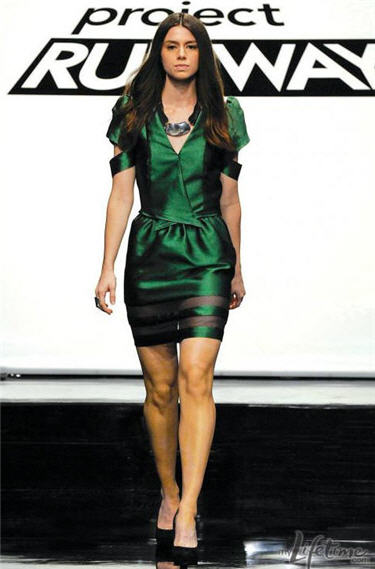 Laura
Good thing you have immunity, girl, because there is no way on earth anyone would ever see Nina Garcia in this dress. It has many different kinds of wrong. And that necklace. Ugh!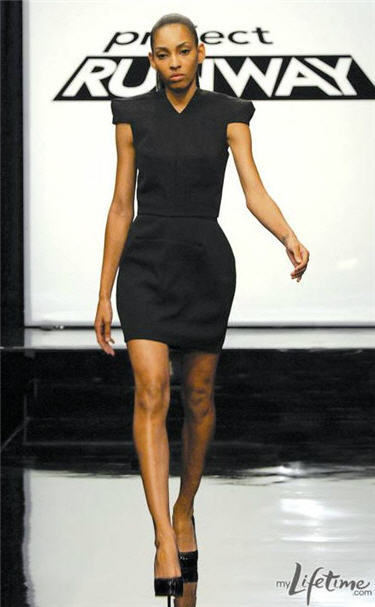 Viktor
Love this, love the styling, love everything about it. I knew he was worth keeping an eye on and I predict he'll be around maybe even until the end.
Becky, Anthony Ryan, Bryce, Josh, Olivier, Bert and LK are pronounced safe. They all repair to the green room and immediately start to dish on predicting who will have the high and low scores. LK thinks Kimberly and Cecilia will be in the bottom, she can't see Nina in the outfit that Kimberly made at all. Becky is of the opinion that Kimberly could be in the top, which no one else seems to share. Perhaps Danielle is in the bottom and Julie's in the top, says LK. Bertzilla, sitting next to Olivier, says "I have a sneaking suspicion Olivier stands a good chance." The others point out that Olivier is sitting right next to him. Holy AARP Magazine! "Oh, I guess you're not going to get it - -never mind," Bert says, to which Olivier makes a face (Good Gracious, Bert -- are you still here?).
Back out on the runway, the judges hone in on Viktor. They love his look. Nina thinks he did a great job and loves the versatility of having separates. MK pronounces it tailored, polished, and well made, though he says Nina is always about "what's next" and this is rather "current." Joanna says it's elegant and beautiful, to which Viktor beams. He says to Nina, "I really paid attention and listened to you, because it's for you" (cut to Julie casting her eyes upward).
As for Julie, the judges are brutal. "I don't understand it," says Kerry. "I know it's supposed to go from day to night but I'm not really sure where in the day it fits in." MK moves in for the kill: "it's a housecoat... I mean, she should have a pocket with Kleenex in it while she dusts, I mean it's just sad." Heidi doesn't think it looks like Nina at all and in fact it looks like it was worn on a 12-hour plane ride and then rolled around in. "Why did you struggle so much with this challenge? Or maybe you just love this" to which Julie responds (and, horrific as I think the outfit is, I have to admire her courage) "I like it, yes." Joanna Coles tells her that if Nina came in to work in this, she would think she was asking to be fired. Perhaps its nerves, but this makes Julie laugh uproariously.
Speaking of really bad, Cecilia is next. She explains that she bought the wrong fabrics and decided to finish the dress as well as she could. Joanna can't imagine what the fashion department at Marie Claire would say if Nina came in wearing this. MK calls the fabric a disaster, and the colors are "really tough for Nina." Kerry doesn't know how this would fit in the context of an office. Nina calls the choice of color very sad, and wonders why Cecilia didn't dye it. Cecilia says she didn't have dye (nor does she look like Anya, so apparently no white knights galloped to her rescue).
Next up - Kimberly. They can't say enough good things about her garment, which is totes ironic considering Viktor and LK's comments that Nina would never wear this. Joanna says that the top is "special. You wear that top and it transforms how you feel about yourself," adding, "that's the point of fashion, it's transformative -- it's just gorgeous." Also, if Nina doesn't want to wear this, she will.
Anya is also a big success story, perhaps even more so because Nina is amazed at how much the color change transformed the garment. Heidi is shocked that Anya only learned to sew four months ago, "how is that possible?" MK says it's beautifully tailored, Joanna and Kerry love it, as do Heidi and Nina.
Danielle's outfit, not so much. MK calls it "very pedestrian" and says it looks like a blouse that one of his aunts would have worn in the 80's with big shoulder pads. Kerry doesn't hate it, she thinks it's actually kind of pretty, but says emphatically that it's not a garment for Nina. Joanna says clothes are emotional, and this outfit makes her think the model is depressed and Danielle is probably a bit depressed too. "If Nina came in wearing that, honestly I'd think she was ill."
And then it's Time for A Lil' Chat. They are all sent to the green room to await their fate. Anya thanks her three saviors (Anthony, Josh, Laura) without whom she would never have finished. Viktor shares that he wouldn't expose her but Laura helped her sew half the garment. Julie cheerfully says she's in the bottom again, "I live in the bottom."
During the Lil' Chat, Nina says Danielle ignored her advice to not be so ambitious. Joanna feels "a mum could have worn this in a kitchen making pureed acorn squash for her children but this is not an outfit that you would wear as a fashion editor leading a team." MK twists the knife even further, "Unless you are going to a Joan Crawford St. Patty's Day Party, I mean who is wearing this blouse?"
Joanna says if Nina wore Cecilia's dress to work, she would have her committed. They all agree Cecilia has a bad attitude and clearly doesn't want to be there. Between her and Julie, they're torn as to which garment is worse. Julie's garment, according to MK, is "sloppy" and the colors are "unfortunate." They're confused as to what the hell the garment is. Kerry says, is it a coat? Is it a dress? Is it a dress coat? Joanna says it might be a new thing altogether -- a droat. Heidi claims MK thinks Julie is a great designer but every week she has made something really bad.
Viktor, Anya, and Kimberly are all praised. Nina says Viktor "delivered something really sharp and clean." MK is impressed by the cut of Anya's jumpsuit and Nina is still astonished by how quickly it turned around from the original mustard fabric. Joanna thinks that Kimberly's top is exactly what the show is all about.
Kimberly is declared the winner and has immunity and "bragging rights" that Nina Garcia is going to wear her outfit. Viktor is second runner up, then Anya. Danielle squeaks by and lives to design another day. The bottom two are Julie and Cecilia, no surprise there. They're both told how bad their garments are before the metallic broom music, the long pause, and Julie is out.
Cecilia tells the others that she feels bad because she knows Julie really wants to be there, and she kind of doesn't, which effectively puts the Scarlet Letter right on her chest for next week. Julie, to her credit, doesn't cry when she's sent packing, she merely says to the judges with a wry grin, "I had fun." She comes in to the green room and blithely tells the others, "hey -- we had fun." Off to the workroom to clean up her space. I will miss her scrappiness, her designs -- not so much.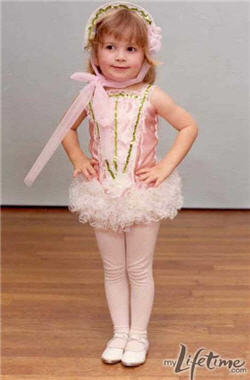 Goodbye Julie! I was starting to like you.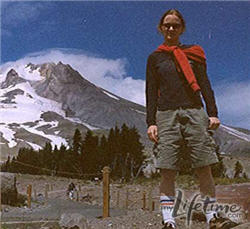 Kimberly is seen going to visit Nina at the office, Nina comes out to greet her wearing the garment and I have to say it looks amazing on her. When Kimberly leaves, a cab pulls up curbside and the banner ad is on top. And sew it goes!
Next week: Team Challenge! More than one person goes home! Doing laps around a track! Olivier falls down and looks like he's dead! There's Drama with Becky and Josh! Bertzilla rises again! Things are getting more interesting...finally! I'm starting to feel like these people (some of them, anyway) deserve to be here... et vous?

Question: Do you remember those who have departed this season so far? Let's remember together.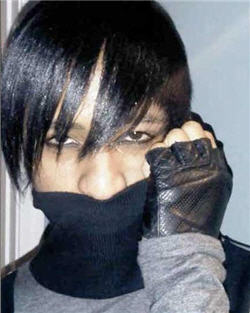 Rafael - the bastard child of Prince and Russell Brand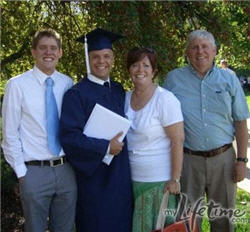 Josh C. - the Mormon Banker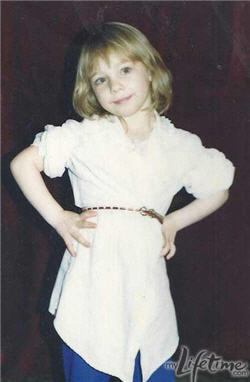 Fallene - the Hippie Child
Project Runway airs on Lifetime TV Thursday nights at 9pm
Calling all HuffPost superfans!
Sign up for membership to become a founding member and help shape HuffPost's next chapter