Actual Title: This Is For The Birds
Episode 11!! Meaning only two more!! What a freaking season this has been, n'est-ce pas? Well, as we rejoin our merry pranksters this week, we're down to six designers. Thursday, October 13 is the episode where they're pared down to the finalists who will get to show at Fashion Week, so we're really in the home stretch now.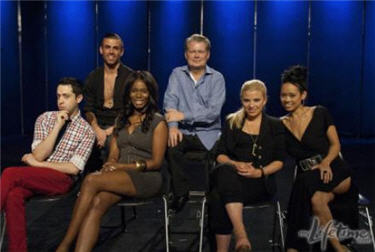 Which of them will make it all the way to Fashion Week? Thoughts?
Heidi tells them for this week's challenge "we really want you to spread your wings" (to which Viktor responds to camera, "my wings are spread, girl, okah? I'm just playing"). They march off to the workroom where they are greeted by Uncle Tim and Collier Strong (consulting makeup artist for L'Oreal Paris, dontcha know) and an assortment of exotic birds making bird noises on their perches.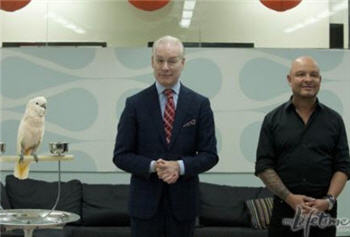 Polly Want A Cracker. Or something like that.
Everyone tries their best to look excited. It turns out that the birds will serve as the inspiration for a high fashion runway look and the winning design will be featured in a Marie Claire advertorial. Collier explains that L'Oreal Paris has a new fall color collection inspired by birds like the cockatoo, owl, amazon parrot, and raven.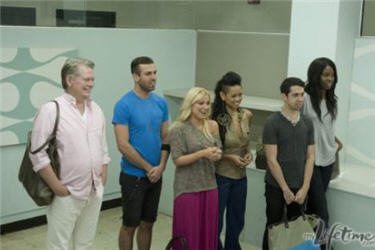 Everyone pretends to be excited. Tim: 'Wow is right!'
To provide even more incentive besides just staying in the game at this late date, the eleventh hour as it were, the winner will also receive $20,000 in cash. They'll also be paired up (their favorite thing... not) and each team will actually be in a head to head challenge against each other. Anya and Laura are one team, Viktor and Kimberly, and -- wait for it -- Josh and Bert (however they love each other now, and prove it by hugging, in fact now it's all happy families with Bert and everyone else on the show). Each team's inspiration will be one of the exotic birds and they'll have two days to complete the challenge. After a brief period of sketching, it's time for another frenzied 30 minute Mood shopping trip.
After they've been working away for a while, in between eying each other's designs surreptitiously to see how they can one up the other team member, Tim enters the room to tell them there's yet another curveball: they will have to make a second bird-inspired high fashion look. They'll need to sketch and go back to Mood for another shopping trip to get fabrics. Everyone's feeling very tapped out and uninspired.
There's the de rigeur sniping about each other's skillset (Although she knows Anya is a great designer, Laura is confident that she can tailor and sew at a higher level; Viktor believes Kimberly's designs are not "elevated" or "polished"; Josh feels he consistently brings a high fashion eye that Bert is lacking) as the first day winds to an end.
On Day 2 there's an unwelcome visitor to the workroom; a large New York City cockroach scuttles across the floor and Kimberly starts shrieking. Anya resolutely goes after it with a boot and and Josh compares her to Lara Croft, Tomb Raider. This kind of sets the tone for the rest of the day for Kimberly, who began the morning saying she felt like taking a sick day. Her fabric is stained and she has no clear direction with either look. She accidentally pierces her finger with a sewing machine needle and runs into the bathroom, crying. The other girls go in to see if she's okay. It's kind of meltdown time.
Before Kim's sewing machine debacle, Tim brings in Collier Strong for makeup consultations and so begins a segment of extended product placement for the L'Oreal Paris collection with lots of close-ups of eye shadow and L'Oreal signage all over the walls.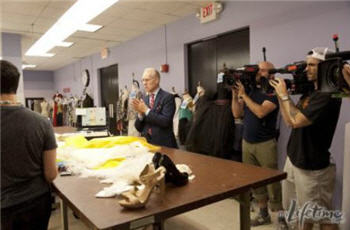 Sorry, but it can't be easy to work with cameras up the wazoo all the time.
Josh hates his god-awful first look and decides to completely scrap it. He asks Anya if she has any fabric he can use because he doesn't have anything to start a new look with. She kind of blows him off and confides to the camera that it's not right at this point in the competition to give fabric to someone else or to ask for fabric (meanwhile, as I recall, it was only last week that everyone except for Viktor generously gave fabric to her when she lost her money at Mood). Josh starts on one of his Joshzilla rants about how Anya's only been sewing for four months and he's been preparing for this for years and blah blah blah.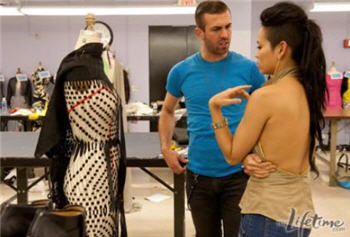 Queen of the Mean Girls vs. Lara Croft
Enter La Gunn to do his on-site visits. He's very complimentary on Anya's direction, and really likes the second look that Josh has created which is actually very Bert-like, a beautiful orange color and all classic draping ("quite frankly rather sublime," quoth Tim). Laura is advised to ditch the second look she's come up with. Tim's not sure he sees high fashion in what Bert is doing. This is one of those weeks where Bert is fighting against the challenge instead of, yes, making it work. Tim thinks Viktor might be going a little too bridal with his two garments. And then there's Kimberly, who is so sad and depressed at this point that Tim decides she needs a hug. He's hoping she will bounce back because she is so clearly in the weeds.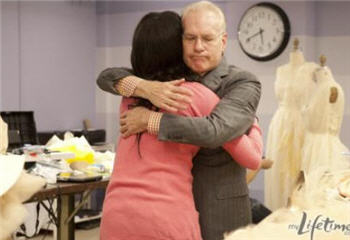 Tim 'n' Kim
Later on Kimberly is so frustrated that she throws one of her garments down onto a table with a hot glue gun and burns a hole clear through it so she has to scrap it and begin again, with only three hours until the end of the day. She decides to "pull out an Anya moment and go from tragedy to triumph." Which, amazingly, she does. But that's later.
The next morning as they're finishing up the garments for the runway show, Tim comes in with yet another announcement. Only one of the two looks they've created will walk the runway, and it's up to each designer which one that will be (Yes, we've been yanking your chains, bitches). Kimberly decides to take a risk and send down her three-hour gown.
The guest judge this week is Francisco Costa, Women's Creative Director for the Calvin Klein collection. And on with the show.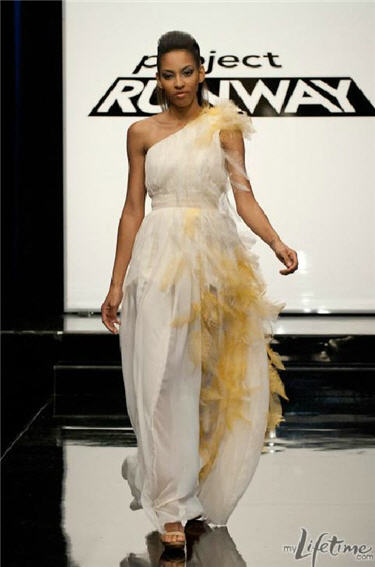 Viktor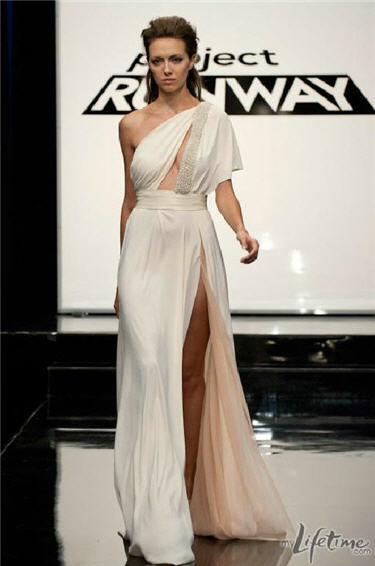 Kimberly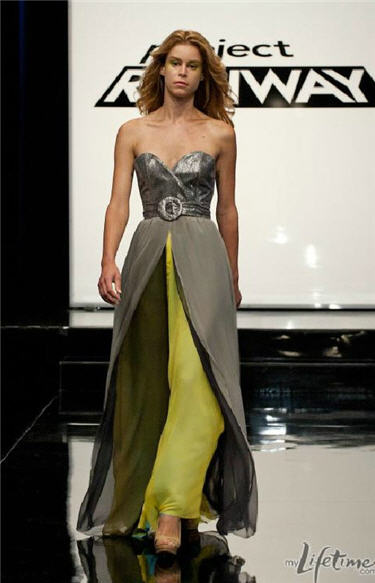 Bert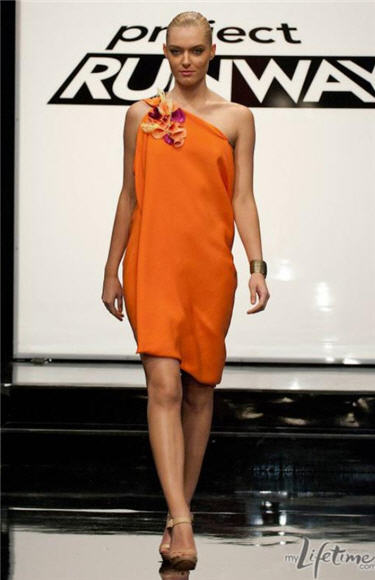 Josh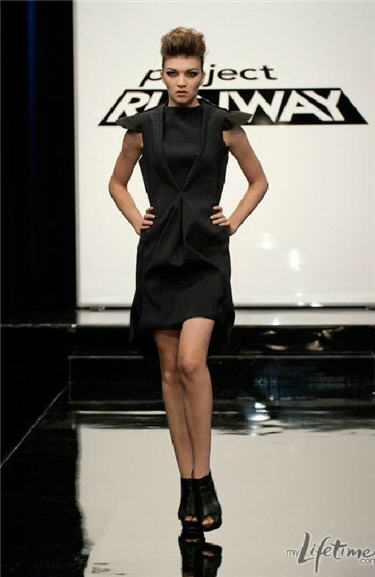 Anya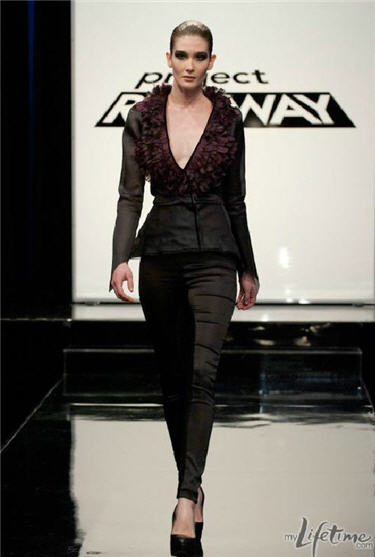 Laura
Anya's first to go under the microscope. Heidi loves her garment, calling it fashion forward, edgy, cool. Interesting and flattering, says MK. Nina says it may even be her favorite of any of Anya's work so far -- beautiful, modern, dramatic. Very urban, a sense of goth about it, per Francisco.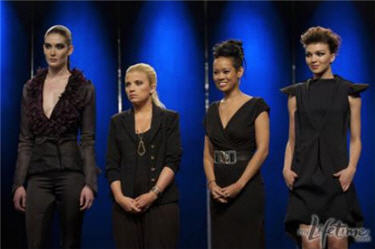 Laura is next. Nina starts out by saying she is impressed that Laura moved out of her comfort zone but she does not appreciate the tight satin leggings and the feathers on the jacket. Heidi thinks she's seen it too many times and the ruffles are too bird-y. MK finds it edgier than anything Laura's done before, but it verges on costume-y. Anya takes the win for their team.
Bert and Josh are next to be discussed. Bert admits upfront that he didn't like the bird at all so he based the design on the claws instead of the green and yellow plumage, creating something that looks like what Anna on the sci-fi series V might wear to a dinner party. MK says it's too pageant-y, Wonder Woman, though he does note that the reptilian buster is cut perfectly. Francisco doesn't find it new or interesting. Nina is disappointed, it's expected, it's generic. Heidi, who has always been Bert's champion, likes the color pop in the skirt but says the execution doesn't work.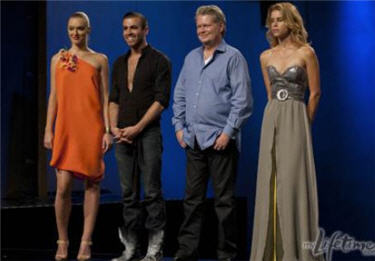 They move on to Josh. MK thinks the cut of his dress is fantastic, loves the chain detail on the side, is pleased that for once it doesn't look "worked," but eschews the "I was drunk in the Caribbean at a party corsage" on the shoulder. Nina is thrilled Josh embraced the minimalism of this garment and says it's modern and beautifully cut. Francisco loves that the inspiration was not literal but the exuberance of the bird is there. No surprise, Josh has the higher score here.
Kimberly and Viktor are next. The judges are amazed that Kimberly made her garment in only three hours. MK thinks it's great but he could live without the "mommyish" pearl trim. Nina likes it but says there is something a little beauty pageant about it and doesn't like the model's makeup. Francisco calls it "remarkable" that she whipped this up in such a short amount of time. Viktor is clearly squirming.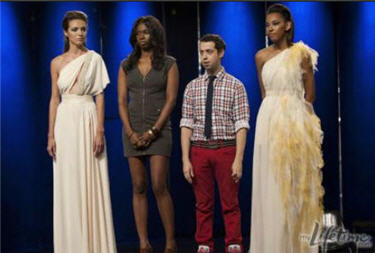 They think Viktor's dress is great, but way too literal with the feather effect. Francisco calls the technique of shredding the organza "fascinating." MK loves the colors. Heidi thinks it's impeccable but likes Kimberly's garment more. And in an incredible turn of events for this show (I certainly never expected Kimberly -- or anyone for that matter -- to go head to head with Viktor and win), Kimberly's garment is the winner.
Lil' Chat time. The judges praise the top three for stepping out of their comfort zones and note that the bottom three were all too literal in their designs. Anya is the winner, Josh is second runner up and Kimberly third (Is it me or does Josh not deserve the win this week with that beautiful dress? Much as I can't stand his histrionics anymore, I have to give it to him - that dress is the winner).
Viktor is safe and Bert and Laura are the bottom two, together again for one last time. Laura is declared safe and leaves the runway teary-eyed. Heidi tells Bert they think he's a great designer, but he really missed the mark on this challenge. Bert, who is Mr. Popularity the past few weeks (talk about a turnaround), gives everyone a hug and goes to clean up his workspace. And... sew...it... goes.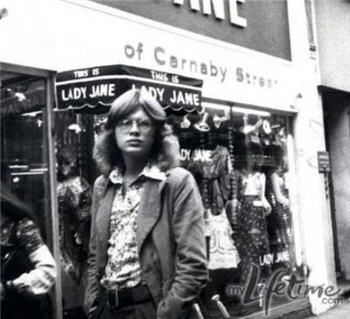 Bert back in the day, on Carnaby Street
Next Week: Final Challenge! Designers Gone By return to help or hinder! Josh gets even bitchier (if that's possible)!
Coda:
This week's show was followed by a new 30-minute program called After the Runway in which host Zanna Roberts Rossi has her own Lil' Chat with the remaining designers (except for LK, hmm?) and the ousted designer, in this case Bert. The show was mildly interesting (except for a TMI exchange on what color underwear Bert was wearing) but heated up considerably when they were joined by Laura Bennett, Season 3 finalist (and one of my all-time favorites from show past) who has been blogging about Season 9 on the official Project Runway website.
Before LB joined the Lil' Chat, Josh was getting all teary about how hard it is to live in New York City and his bills aren't getting paid and in other words, he should have won this week because he really needed the $20K. Laura pointblank puts him on the spot by asking if he is embarrassed by his bad behavior and bullying others on the show. He refuses to answer her question and instead turns the tables by saying she is bullying him, waxing bitchier and bitchier ("I mean, you are like twice my age") (cut to Zanna blanching and making big eyes at the camera). Josh calls Laura B. an "amazing internet assassin" and says he was hurt by her blogs and she's attacking him in her Chanel suit and she's biased and blah blah blah - oh and he hopes they don't run into each other in New York "because it will not be a pleasant meeting." Before they even end the program, Josh gets up and leaves the set (can you say thin skin?). OMFG, the DRAMA!
Project Runway airs on Lifetime TV Thursdays at 9pm.

Calling all HuffPost superfans!
Sign up for membership to become a founding member and help shape HuffPost's next chapter