Actual Title: Image is Everything

As we draw the curtain back this week on the remaining eight designers, Josh states that in order to be in the competition you must be a fighter and a survivor. Anya shares that everyone who is left are her friends, but friends are friends until there are "high stakes." Olivier says he's trying to find his confidence again, which is not a good sign when you're this far into the game.
"Fashion week is not at your fingertips just yet," La Klum sparkles at them as she imparts the news that Tim is waiting for them at Rockwood Music Hall to tell them about this week's challenge. And indeed yes, La Gunn waits for them onstage with consulting stylist for Garnier, Peter Butler.
Tim tells them that fashion and music are inextricably linked -- "Think about the Beatles! Or Lady Gaga, for that matter!" -- and their dear friends at Garnier have partnered with Rolling Stone magazine "to make rock and roll history" by presenting an unsigned band on the cover of the magazine, chosen by popular vote. Here's where you know for sure this ain't no reality show, as the designers try to look engaged but you can tell they're all like, please God make it stop. Apparently a Canadian band called the Sheep Dogs are the winner of said contest, and the fateful eight are all like -- oh, wow.... whatever.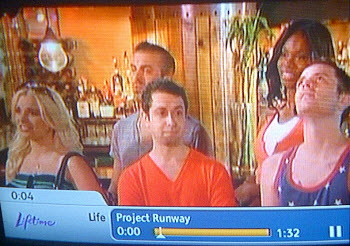 Their challenge, to their obvious dismay, is to create an image for the band but keep it true to who they are as artists. The winning look will be featured in advertorials in both Marie Claire and Rolling Stone Magazine. Viktor says "that's awesome," looking like it's anything but. They will work in two teams of four -- another extremely non-awesome component of this challenge. Out comes the black velvet bag of doom.
Oliver, Viktor, Kimberly and Josh are one team; the other is Bert, Laura, Anthony, and Anya. Laura has now been on a team with Bert three times and shares to the camera she's getting a little bit fed up about it. Anthony's remembering the last time he and Laura were on a team with Bert and how badly that turned out. And they're all -- to a man (or woman) -- completely freaked about doing menswear.
The band troops out onstage and plays a song for them, looking like 1974 pulled up outside the club and let them off. We're talking Southern Rock here. The designers all try to look interested, when it looks like this is the last genre any of them have ever cared about or listened to. Olivier, ever the delicate flower, actually backs away and holds his hands over his ears.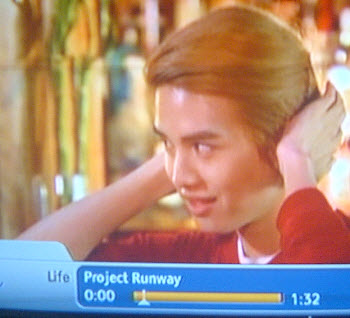 They have a few minutes to meet the band members and hear what kind of style they're into. Lead singer Ewan tells them musically they're inspired by "classic" sounds (like Freebird, no doubt). Lead guitarist Leot tells them he's been looking for red bell bottoms or cords "for like ever." Olivier shares to the camera that it's a good challenge for him because he is a menswear designer, famous last words.
Each team will create a look for the entire band, but each designer will only be judged on their particular band member's outfit. They will sketch, get measurements, and then go shopping at Mood (I actually typed Moody as I was writing this, which is certainly appropriate, at least this particular week).
The Bert-Laura-Anthony-Anya team calls itself "Team Harmony" and for once, Bert is not changing into fractious Bertzilla, but playing nice with others (He must have read a self-help book or something, the change is that dramatic). They huddle to discuss who is designing what for whom and Bert references Haight Ashbury when talking about what he wants to create for lead singer Ewan. Of course, he's the only one who gets this reference since the others weren't even a twinkle in their mother's eyes in 1967.
Viktor-Kimberly-Olivier-Josh's team decides to call itself "Team Untitled." Somehow Olivier ends up with Ewan, and he spends the rest of the show grousing about it ("I got the biggest guy"). We learned last week that Olivier does not like to deal with actual people, and never likes to deal with anyone who isn't a size 2 or less. Or anyone who isn't flat as a pancake.
Off to Mood with a budget of $300 and thirty minutes. Olivier is clearly lost, "I'm quite stressed and Tim is yelling," he says in his usual monotone. Laura is $150 over budget but, as luck would have it, this is exactly how much money Bert did not use so he gives his leftover cash to her. They then hug in the store and everything's all nicey-nice.
"He's massive," Olivier complains to Josh about Ewan. "That is true," agrees Josh. "I am, like, half his size," Olivier observes. He's completely bent out of shape because Ewan is so much larger than his mannequin. Anya points out that in real life you do have to make clothes for people who aren't the same size as a mannequin. Everyone at this point seems a bit fed up with Olivier and his holier-than-thou attitude.
Tim enters for a check-in, accompanied by Peter Butler from Garnier. The individuals on each team who share a band member will meet together with Peter to discuss their plans for hair. This is a long drawn out sequence where we get to see a lot of Garnier hair products up close and learn about how they can help with certain kinds of hair.
As their time in the workroom goes on, it's clear that some folks are going to rise to the top in this challenge (Viktor, for instance) and others (Olivier, for instance) are clearly going down faster than a Ramones record.
Tim brings the band members in to consult with each designer to see what they're planning. Laura meets with Leot and explains she is dying the denim red and tie-dying the top to make a slouch tank. He asks the cut not be quite so low as he has an overly hairy chest (I really didn't need to know this, btw). Anya tells Sam, the drummer, she's making a print dashiki for him, and Tim assures Sam she is a "master" with prints. Ryan, the bass player, likes the floral print Anthony's chosen for his shirt. Bert shows his ideas to Ewan, who's not all that excited about the extreme purpleness (because Prince he ain't). Tim says it feels very feminine to him (Sure, get a bunch of gay male designers to make clothes for a Canadian Southern rock band -- that makes sense, n'est-ce pas?).
The band then meets with the other team. Viktor shows Leot his ambitious plans which include artfully shredded jeans and a pleather fringed jacket. Kimberly's fabric has been given to her from Anya, who is on the opposing team, which surprises Tim. Josh is working on an exposed zipper in Ryan's pants. "It draws your eye to the crotch," Tim says. "Right," says Josh. Olivier's meeting with Ewan couldn't go worse; he starts pouting again about how Ewan is larger than the mannequin and Tim is having none of it. "You don't feel that passionate when you're designing for something that you don't really care for," Olivier tells the camera (And I guess trying to stay in the race isn't incentive enough for him).
A couple of hours later, Tim brings the band back for their fittings. At this point the Sheep Dogs look like they're wishing a different band won the Rolling Stone contest. Later, Josh and Anya are eating in the café area and dishing on Olivier when he walks in. The look on Josh's face is priceless.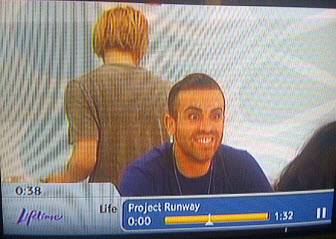 The morning of the runway show, Tim comes in to tell them that the band will perform for the judges in each team's outfits, "another Project Runway first!" Thirty minutes until the runway, Olivier is still in the sewing room and Ewan is joking that he might have to go onstage naked -- or with a sock. Bert points out that Kimberly's shirt for Sam looks like the things servers wear in fast food restaurants.
Out on the runway, Heidi comes out from behind the curtain after miming a rock and roll fan, which needed to be preserved for posterity.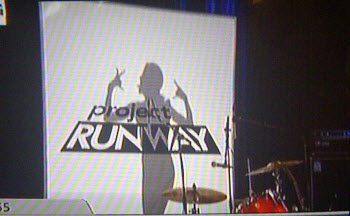 She reminds them all that one day you're in and the next day you're out blah blah blah, and the guest judge this week is "fashion forward musician" Adam Lambert, who looks like he used more product on his hair than Josh.
The band comes onstage first in their outfits made by Team Harmony and proceeds to play a really boring song, enlivened by the awkward bobbing of both designer's and judge's heads. Afterwards they change into their Team Untitled outfits and play another song.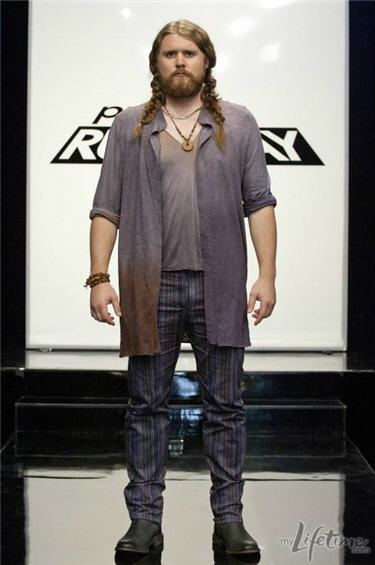 Bert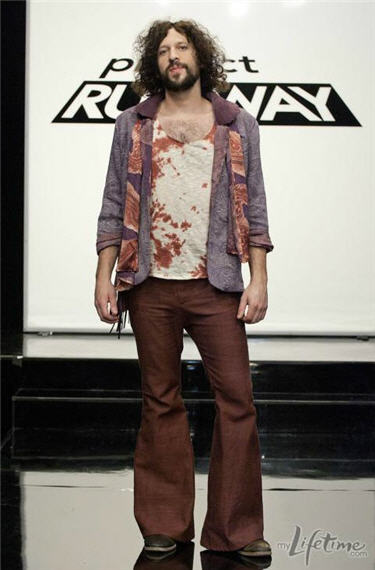 Laura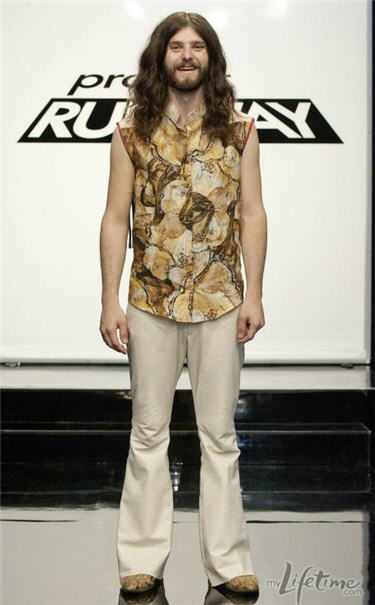 Anthony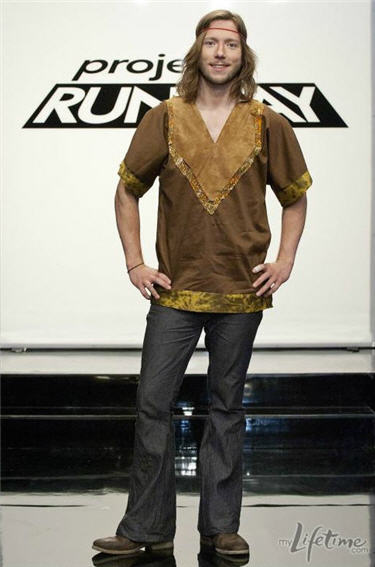 Anya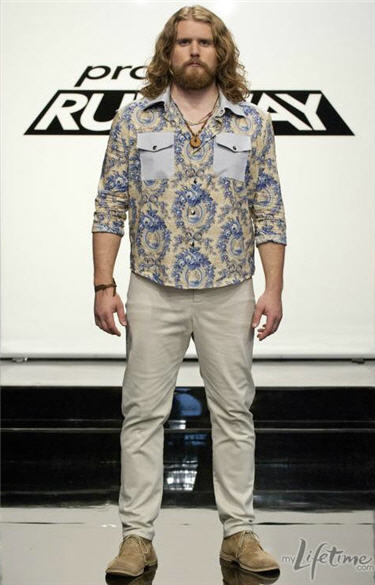 Olivier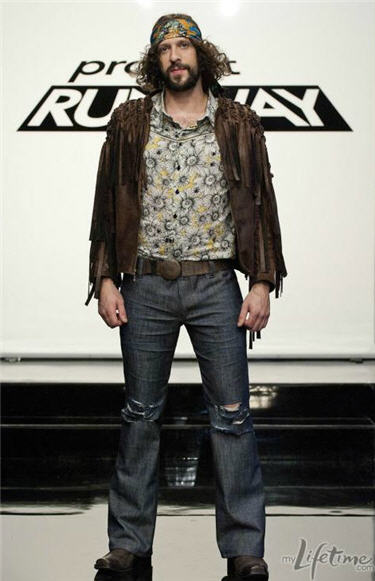 Viktor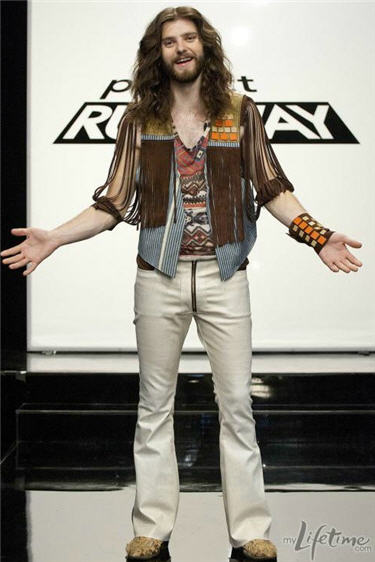 Josh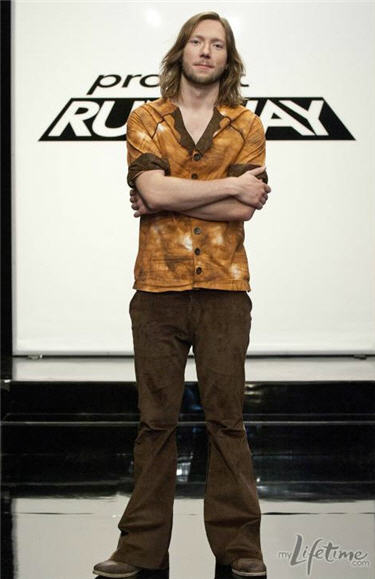 Kimberly
The first team to get their crit is Team Harmony and the band comes out to join them in the garments they made. I'll cut to the chase:
Laura (Leot) - original and real (per Heidi), not a fan of the tie-dye; looks like he cut himself shaving, a little Sweeney Todd (per MK); woman's jacket with a silk scarf from a mall (Nina).
Bert (Ewan) - who would have thought Bert had a rocker vibe? (per MK); Heidi doesn't like the pigtails but everyone else does and Nina says he looks like a Viking. They're all impressed with Ewan's overall look.
Anya (Sam) - he looks like Pocahontas (per Nina); this week we got to see that you've only been sewing for 4 months (per MK); Reggae Jesus, suede lobster bib, Brady Bunch dashiki (MK's classic Korsisms); the tunic is like an eighth grade production of Hair (per Adam, who proves here he can toss out a Korsism with the best of 'em).
Anthony (Ryan) - pants not tight enough (per Heidi); looks like a woman's blouse (per Nina); the top reminds Adam of mushrooms which he thinks is appropriate but he doesn't like the style; so polished it's like a Golden Girl Goes Rock & Roll Moment (MK).
Team Untitled's Crit goes as follows;
Olivier (Ewan) - really boring (per Heidi); looks like dad jeans (per Heidi); too feminine (per Nina); doesn't fit well (MK); shirt is unfinished (per Heidi); Ewan is "much bigger" than the mannequin (per Olivier, for the 500th time).
Kimberly (Sam) - looks like Peter Brady at an autumn harvest (MK, who else?); I'm happy he's in a shirt and a pair of pants right now (per Kimberly); old man pajamas (per Nina); looks like Scooby Doo, where are you? (per Adam); Tinkerbelle's boyfriend (per Heidi).
Viktor (Leot) - fringe jacket fabulous (MK); the jacket is insane, looks like it costs $2000 (per Heidi); very impressive (per Nina); like Mad Max meets Woodstock (MK).
Josh (Ryan) -- the exposed zipper is sexy (per Adam); Neil Young meets Jim Morrison (MK); pants fit great but doesn't love the fringe on the vest (Heidi). As usual with Josh, there is too much going on, but many components are great.
Lil' Chat Time. They don't like Olivier, Anya, or Kimberly's looks. Adam says Kimberly's shirt looks like it came from the Salvation Army five dollar bin. Nina disagrees, she thinks it's the two dollar bin. But as usual they love the pants she made -- same for Anya.
They are impressed by the garments made by Bert, Josh, and Viktor. Heidi thinks Josh's outfit by far had the hotness factor. The others are more on Team Viktor and Nina points out that he had the same time as everyone else and made three spectacular pieces.
Bert, Laura, Anthony, Anya, and Josh live to design another day. Viktor wins, and the bottom two are Kimberly and Olivier. Olivier is sent on his way after Heidi points out that he is a menswear designer and this could have been his chance to shine. Olivier goes to the green room to say goodbye awkwardly to everyone, and tell the camera he doesn't think he deserves to go home. And sew it goes, Mr. Green.


Interestingly, Olivier is the only designer who does not have a 'Friends and Family' portfolio on the show's website. But I did find a fascinating interview with him in which he said he listens to Bon Iver and Feist while working; his fashion must is "simple leather shoes"; his favorite colors are beige and "grays"; Kate Moss is his style icon; prefers wine to beer; plays the cello and piano; and his nickname is Ollie.
Next week - Viktor ain't driving Miss Daisy no more! Anya loses her money! Roller Barbie in the workroom! No one looks happy!
Project Runway airs on Lifetime TV Thursdays at 9pm.

Popular in the Community