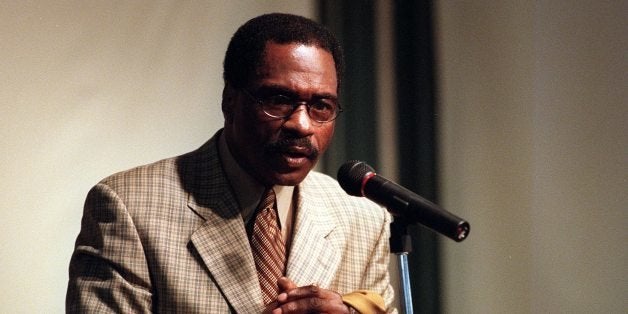 Rubin "Hurricane" Carter telephoned me a few days ago and said: "I want yours to be the last voice I hear before I pass away, because you were the one who gave my life back to me. I love you man."
We both cried. He died a few days later. Twenty-eight years ago, I issued an order freeing Rubin Carter from prison after he had served 19 years for murders that I am convinced he did not commit. His call in April came as a surprise to me, because he has called to thank me on November 7th every year -- all 28 years -- on the anniversary of his release.
His case came to me on an application for a writ of habeas corpus. Before my decision I never saw or met the man. But after the decision and the endless appeals by the prosecution -- ultimately to the United States Supreme Court, I came to know him. He is the greatest testament to the human spirit of anyone I have ever known. His conviction cost him his career as a boxer, his family and his freedom, and yet he never uttered a word of bitterness. Even facing death, he was upbeat and trying to cheer me up at the news of his terminal illness.
He devoted himself and his life to others who had been wrongly convicted. We spoke together at law schools and to a variety of audiences. He was always in good humor* and appreciative of whatever invitation or opportunity was presented to him to speak of the importance of habeas corpus review and the dangers of convicting the innocent. He never failed to carry with him and display the writ that had freed him. The movie about his life, The Hurricane, provided him with some notoriety, but he never lost his humility or his love for his new found freedom. He was always the messenger. His descriptions of the horrendous life of prisoners made listeners have empathy even for the guilty.
To the very end he was positive. He spoke only of his life after prison and what he hoped he had accomplished. There are books written about him and his resolve never to surrender his pride and dignity even while in prison. Despite repeated solitary confinements, he refused to bow to certain prison rules because it would have represented an acknowledgment that he belonged there -- something he refused to do. I know that there are still some out there that think he was guilty, but the man I knew was gentle, caring and courageous. I have often said that if he was lying to me over all of these years, he is a better actor than Denzel Washington. I was honored to know him and be his friend.
*As evidence of his sense of humor, he sent me a picture of a huge fish he had caught with the inscription: "Dear Judge -- Without you this fish would still be alive. Love Rubin"
Popular in the Community