A spokesman for U.S. Sen. Marco Rubio (R-FL) confirmed that the senator put his principles in a blind trust when he announced his candidacy for president in April 2015.
Moore Unctuous, Rubio's press secretary, said that Rubio made the decision because he wanted to run for president without having to compromise his self-worth.
He said that Rubio had included his integrity, virtue, and manhood in the trust.
"Senator Rubio did not want to compromise his principles if he ran for president," Unctuous said. "If he put his principles in a blind trust, there would be nothing to compromise."
Rubio pledged that he would not run for re-election in the Senate when he suspended his campaign for president earlier this year. Shortly thereafter, he announced he would indeed seek re-election.
Critics charged that Rubio compromised his integrity by violating his own pledge.
Unctuous, however, dismissed such criticism.
"It's absurd," he said. "How can someone violate their integrity when, legally speaking, they don't have any?"By putting his principles in a trust, did this mean Rubio could then say or do anything he wanted without having to defend it?
"Yes," Unctuous said. "It's a bit like diplomatic immunity."
Polls show Rubio with a slight lead over his Democratic challenger, Patrick Murphy.Les Sententious, a professor of political science at the University of Florida, said it was common for political candidates to put their financial investments in a trust to avoid a conflict of interest. But, he added, he was unaware of any other politician who had done so with their self-worth.
Sententious, who has long observed Rubio's career, said that the senator apparently had discovered a way he hoped to avoid having to explain questionable personal and business relationships such as the one with former Congressman David Rivera. The Center for Public Integrity said, "no one has more ethics and campaign finance scandals than Rivera."The Center for Public Integrity and other investigatory organizations found that Rubio had been fined repeatedly by the Federal Election Commission for excessive campaign contributions.
Sententious said that Rubio has a reputation as a political opportunist, intellectual lightweight, and absent legislator. Rubio was criticized for missing most of his committee meetings, including nearly all those on the Senate Select Committee on Intelligence.
Sententious said it is doubtful that Rubio was missed on the intelligence committee.
"On Rubio's behalf, it's unlikely he could have brought anything useful to the intelligence committee," Sententious added "unless it was coffee and donuts."
Sententious said that the news that Rubio had put his principles in a trust explained why he had pledged his support to GOP presidential candidate Donald Trump. While running for president, Rubio criticized Trump, the eventual GOP presidential candidate, as a con man and a narcissist who was mentally unbalanced and unfit for the presidency.
In addition, Rubio mocked Trump about the size of his penis. Trump responded by calling Rubio "little Marco."
"I was curious why Rubio would support Trump," he said, "and then when I learned that Rubio had put his manhood in a blind trust, it made sense."
Unctuous confirmed that Rubio was supporting Trump in part because he had put his manhood in the trust.
"Of course," Unctuous said. "How could any man with a wife and daughters support someone who brags about assaulting women?"
Unctuous was then asked if Rubio's manhood would be earning interest while in the trust.
"I don't think there's enough there to earn any interest," he said.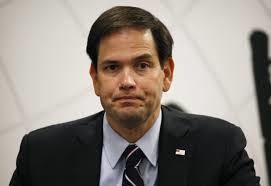 REAL LIFE. REAL NEWS. REAL VOICES.
Help us tell more of the stories that matter from voices that too often remain unheard.