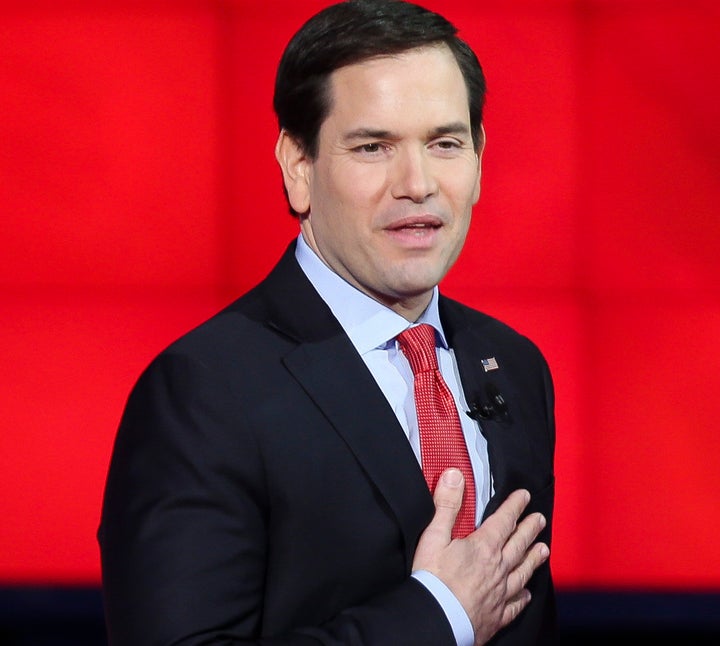 Sen. Marco Rubio (R-Fla.) and Sen. Ted Cruz (R-Texas) on Saturday released the first two pages of their tax returns for the last several years, with Rubio releasing joint returns from 2010 through 2014 and Cruz releasing joint returns from 2011 through 2014.
Both men have been calling on Republican front-runner Donald Trump to disclose his own tax documents, with Saturday's release timed to amplify pressure on Trump ahead of Super Tuesday.
"Donald Trump owes it to the American people to be fully vetted, and that includes releasing his tax returns so the voters can see the full financial picture," Cruz said after he released his returns late Saturday night.
Trump claims he can't release his returns because he's being audited by the Internal Revenue Service. The IRS, however, has clarified that an audit does not prevent a taxpayer from making returns public.
Rubio's returns, while incomplete, revealed that he and his wife, Jeanette Rubio, earned a combined total of $2.3 million in income from 2010-2014. Much of that came from the royalties from two books Rubio has written.
Rubio's yearly income for the five-year period ranged from a low of $183,826 in 2010 to a high of $938,963 in 2012. His tax rate ranged from 9.4 percent in 2010 to 27.4 percent in 2012. In 2014, Rubio earned a little over $190,000 in salary as a United States senator.
Rubio has released partial returns before. During his 2010 Senate run, he published the first two pages of a decade's worth of returns. None of Rubio's tax releases include details about his itemized deductions or his investment losses and gains.
Rubio spokesman Alex Conant told reporters the campaign "won't rule out providing more information in the future." The returns were released Saturday, he said, "to put pressure on Trump and the other candidates to release theirs."
As for Cruz's returns, they show that in 2014, he and his wife, Goldman Sachs executive Heidi Cruz, made more than $1.2 million. From 2010 to 2014, the couple reported more than $7 million in adjusted gross income, and the pair paid an effective tax rate of between 28 and 32 percent.
During his 2012 campaign for Senate, Cruz released his full tax returns from 2006 to 2010. On Saturday, he only released the top pages for 2011 through 2014.
Heidi Cruz took a leave of absence from Goldman Sachs in early 2015, but before that she was a well-compensated executive. It's unclear from the Cruz's forms what portion of the family's income came from which spouse, but the annual salary for a U.S. senator is about $190,000.
GOP candidates and establishment leaders are scrambling to attack Trump in the lead up to the next round of primaries. Until he decides to release his own figures, they'll likely continue to hammer the billionaire over what might be hidden in his income tax returns.
Popular in the Community