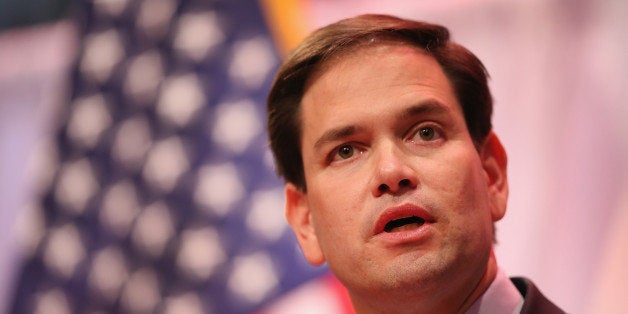 A good way to understand (or get further confused) about Rep. Mike Coffman's illusive position on immigration is to compare it to Florida Sen. Marco Rubio's. And reporters should consider using this comparison to help explain Coffman's (non) position to voters.
Back in 2013, Rubio was part of the "Gang of Eight" Senators (including Michael Bennet) who pushed a comprehensive immigration bill that, miraculously, passed the U.S. Senate. It offered major border security, along with a long path to citizenship for undocumented immigrants in America.
Despite claiming to be for "comprehensive immigration reform," Rep. Coffman opposed the Rubio bill and its path to citizenship. And House Republicans, with Coffman's blessing, never voted on the Rubio bill, and it died a truly tragic death.
Asked why he wouldn't support the comprehensive-immigration-reform legislation, after he'd thumped his chest in The Denver Post in favor of the idea, Coffman said he didn't want it all in one bill.
Instead, Coffman said he wanted a "step-by-step," multiple-bill strategy, telling the Aurora Sentinel that a "comprehensive approach doesn't have to be a comprehensive bill."
Now Rubio is running for president and facing Republican primary voters who seem to like Donald Trump's idea of rounding up undocumented immigrants and sending them, cattle-car style, back to their country of origin. And so he's given up on his gang-of-eight, comprehensive bill and is now favoring of a vague "three-step" dance that ends with a "further discussion about whether they're allowed to apply for a green card." The path to citizenship is gone.
With this new stance, Rubio is no longer considered a moderate on immigration. He's joined Coffman and the Republican right in opposing serious reform. At this point, with his position such as it is, Rubio would vote against his own immigration bill of 2013.
For his part, Coffman hasn't even said which parts of Rubio's vague "step-by-step" process he favors, since Coffman has never outlined the steps--even in bare bones terms--much less identified specific bills that he actually factually would vote for.
So Rubio's flipping and flopping sheds some light, such as it is, on Coffman's immigration mushiness, which shows no signs of getting less mushy as the years go by.
Popular in the Community