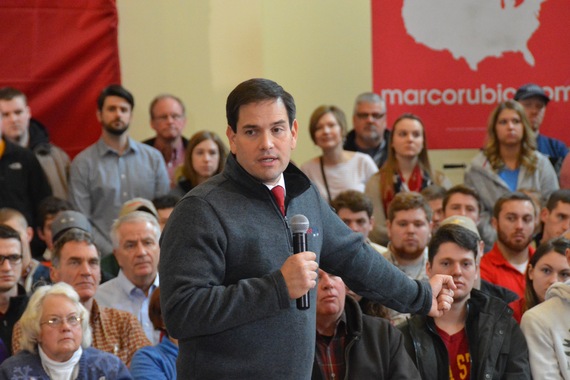 Sen. Marco Rubio speaks at an Ames town hall meeting at Iowa State University on Saturday. Ali Stratton/Huffington Post
AMES, IA -- Iowa State University students flocked to Florida Sen. Marco Rubio's town hall meeting in Ames on Saturday, hoping to find a Republican presidential candidate they could support.
Most either arrived as Rubio fans or emerged from the town hall supporting him. And though many of his policy platforms resonated with the millennial voters, their main attraction to Rubio seemed to be his character.
"He's a really genuine and reasonable person who is willing to talk about all of the issues and he's going to give his honest opinion about it," said 22-year-old Justin Bahr, an Iowa State student and self-proclaimed Rubio supporter.
Policies don't make people stronger or better, according to the young conservative. Instead, "it comes down to who you are as an individual, how much motivation you have and commitment to being successful."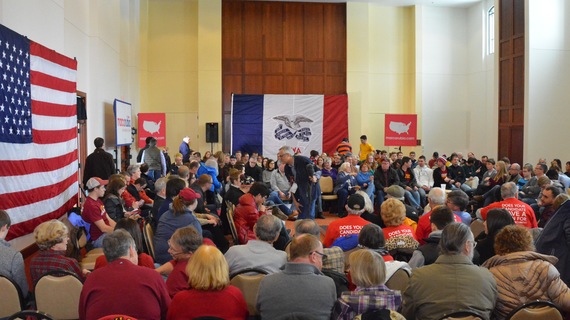 People gather at Iowa State University and wait for Rubio to speak at a town hall event. Ali Stratton/Huffington Post
Rubio began his speech by proclaiming Washington is broken, putting the blame on both Republicans and Democrats.
Admitting the flaws of his own party has gained him some respect from young conservatives.
"It's not really so much platforms, it's how he approaches the whole thing," said 18-year-old Cameron Smith. "What I like best about him is he doesn't go around blaming Democrats. That's something both sides do a lot of and I really hate it because it alienates half the country."
Smith, a Republican, attended the town hall with his roommate, David Henderson, 18, an independent. The two said Rubio is a candidate they can both agree on.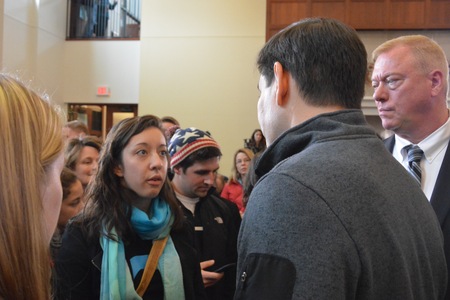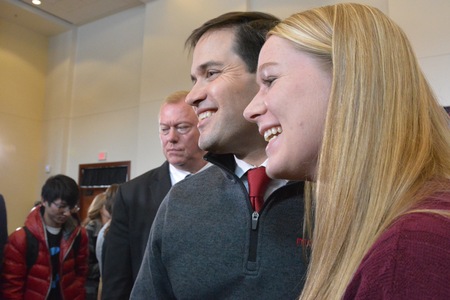 Rubio shakes hands and takes photos with town hall attendees after his stump speech. He stayed at the venue and spoke to every last person following the event. Ali Stratton/Huffington Post
Millenial students at the event--those born from 1982 to 2004--contrasted Rubio against other Republican candidates, describing Rubio as more pragmatic, humble and down to earth.
"Both Trump and Cruz are taking the same perspective," Marena Bartz, 22 said. "They're appealing to the emotions of the voters, and in all honestly I'm usually a more logical voter. Less about the frustrations that I have."
In his stump speech, Rubio reflected on his humble beginnings.
"I grew up paycheck to paycheck. I've lived paycheck to paycheck. I have a lot of people in my family who live paycheck to paycheck now," he said, adding that as of three years ago he still had a pending student loan of more than $100,000.
Though Rubio is a Christian and says his faith is his grounding, he hasn't been nearly as aggressive in catering to Evangelicals in Iowa as some of his fellow contenders.
"It's really important that (candidates) have good moral values," Smith said. "I think it's important that they let their religion guide them but they don't let it exclude other people for whatever they believe, and I don't think Marco Rubio does that at all. He's a very inclusive person."
In addition to values and character, millenials also want to see someone who's willing to take their future seriously.
Several students said Rubio's dedication to fixing the economy has played a significant role in drawing their support.
"I think that (balancing the budget) should be the number one issue in the campaigns and it's not," Winston Rosigner, 21, said. "So I'm glad that he at least addressed it and has a plan for it."
Smith said he thinks the country needs a president who will be able to prepare the economy for millenials to enter the workforce.
"If the economy is really messed up by the time that we get up into the workforce, then we're not going to have good jobs," he said.
Millennial supporters cited national security, energy, and tax policy as some of Rubio's platforms that resonated with them.
In his speech, Rubio echoed a recent poll, saying 50 percent of millenials believe the American dream is dead.
"That's devastating," he said. "Why do people feel that way? Well, one of the reasons is that they don't even recognize their own country. Because a lot of the fundamental things that made us great seem to be slipping away."
Yet Rubio appears to have a following of millennial supporters who have faith in his ability to restore their idea of the American dream.
"He has convictions and morals and moral clarity to see through on every issue," Bahr said.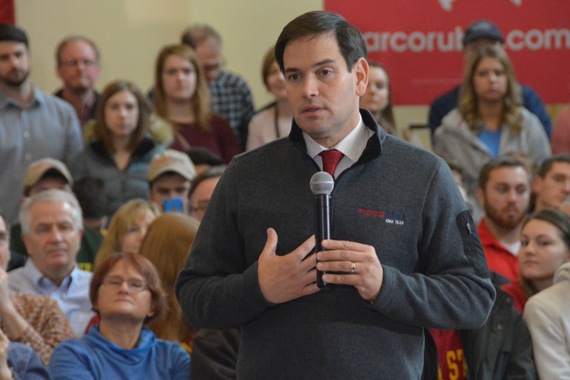 Sen. Marco Rubio speaks at an Ames town hall meeting at Iowa State University on Saturday. Ali Stratton/Huffington Post
Calling all HuffPost superfans!
Sign up for membership to become a founding member and help shape HuffPost's next chapter