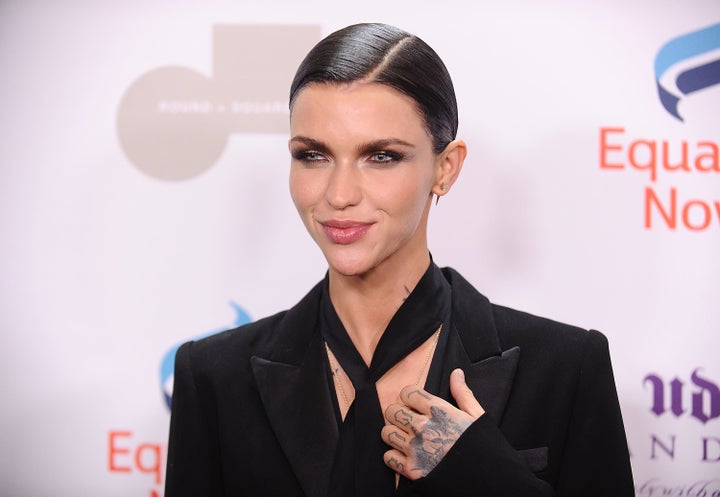 This post contains light spoilers from Season 3 of "Orange Is The New Black."
Like thousands of other Netflix enthusiasts, I spent any spare moment I had over the past weekend binge-watching the third season of the hit show "Orange Is The New Black." As I lost myself in another series of stories about the women serving time at Litchfield Penitentiary, I sporadically scanned Twitter to see what others thought of the season.
One sentiment I saw echoed over and over and over again was about how sexy actress and model Ruby Rose -- a.k.a. new inmate and Piper love interest Stella Carlin -- is. And many of the people Tweeting about her sex appeal were self-identified straight women (along with a few gay men). It seems that just about everyone is in love with Ruby Rose.
Even as a woman who considers herself straight (with a bit of wiggle room on the Kinsey scale), I hate the phrase "I'd go gay for fill-in-name-here." It most often serves as a way for straight people to try on queerness like a temporary tattoo, a nod to the fact that the person expressing the sentiment can see that another man or woman is super duper attractive, while still maintaining straight privilege. But the sentiment behind many of the Tweets I saw -- that you can have a specific sexual identity and still have sexual attractions that occasionally confound that identity -- rang true.
There seems to be something in particular about androgynous characters -- and the actors who portray them -- that transcends sexual binaries. The reaction to fictional people like Stella Carlin, "The L Word's" Shane McCutcheon (played by Katherine Moennig) and pretty much every character Ian Somerhalder has ever played helps expose the cracks in the way we try to pigeonhole desire, gender and sexual identity into neat little boxes. (After all, attraction is some messy, confusing sh*t.)
So exactly what is it about Stella that makes her so damn appealing, especially to people who wouldn't normally date women? (Though it's important to note that both Ruby Rose and the character she plays identify as somewhat gender-fluid.) Talking it over with my colleagues, a solid mix of both men and women, gay and straight, we concluded that much of her hotness comes down to attitude. She's assertive, confident to a fault, takes no bullshit, knows she's sexy as hell -- and owns it.
"She has that powerful sexuality that's not designed to appeal to male heterosexuality exclusively," Elizabeth J. Meyer, Assistant Professor at the School of Education California Polytechnic State University, told The Huffington Post, comparing Stella's sex appeal with Angelina Jolie's in "Tomb Raider." "It's more broadly desirable. 'I know who I am, I know what I want.' I think that's very alluring to straight women and gay men who might want someone who has that strong, powerful personality that gives them the sense of being desired."
Androgyny also challenges conventional ideas about gender identity. When intensely beautiful, desirable characters play with aspects of both masculinity and femininity so visibly, it allows viewers to imagine their own desires in a more fluid way.
"Everybody wants to feel desirable and that's what that androgynous character can do," said Meyer. "Anyone can feel that potential for desire with the absence of gender as the restrictive category."
And that's the transgressive power of televised fiction. When we see characters on-screen who challenge the way we categorize gender and sexuality, it allows us to play with our own attractions -- if for only an episode.
Ruby Rose's Stella certainly isn't the first androgynously sexy character on TV, but she might be the most accessible. "The L Word's" Shane was on television for six seasons from 2004-2009, but only on Showtime, a premium cable channel. And before she played Shane, Katherine Moennig and Ian Somerhalder were actually each other's gender-bending love interests (yes, seriously!) -- but only for one low-rated summer season of "Young Americans" on The WB in 2000. (If you haven't seen it, just check out the scenes those two are in together. It's hard to say who's more attractive.)
"'The L Word' lived in an ivory tower of the entertainment industry," said Meyer. "Now, ['OITNB'] being on Netflix, it completely democratizes who can and will engage with it."
As of January 2015, Netflix reported 57 million subscribers worldwide. That's a hell of an audience, most of whom can hop on Twitter, Tumblr and Instagram after watching to talk about it. And that is damn powerful.
Here's to you, Stella. Thanks for doing your part to expose just how complex sexuality is -- and for makin' us feel all the feels.
Here's lookin' at you, Stella.
Related