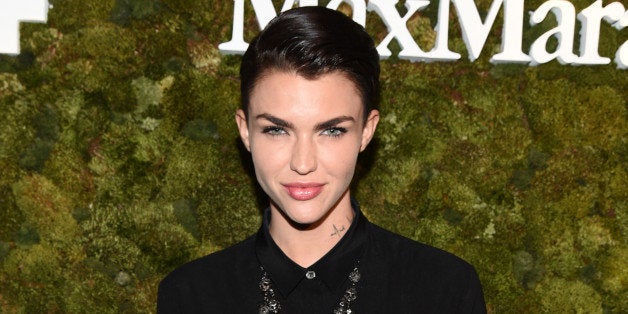 Everyone is in love with Ruby Rose. Yes, pretty much everyone. The Australian model, musician and "Orange Is the New Black" breakout star has not only grasped the sexual attention of gay women, but people across the spectrum of sexuality, including self-identified straight women and gay men. Within days, the actress has become a viral sensation as memes and tweets have spread across the corners of the Internet with people of all identities exclaiming how gorgeous they think Rose is -- which is hard for anyone to dispute.
"I was not expecting it, to say the least," Rose told The Huffington Post in an interview. "My manager was like, 'You're like a viral sensation.' And I'm like, 'That sounds like an STD,'" she said with a laugh. While a lot of Rose's friends have congratulated her on being everyone's latest obsession, some told her the response is offensive to them. "I have a couple of friends who don't feel very warm towards it," Rose told HuffPost, "They're like, 'Are you offended?' They personally are offended by it saying like, 'You can't just choose to be gay. You should say something about all these women that are saying [they're] turning gay or realizing [they're] gay.'"
But Rose has more of an unbiased approach to the fanfare and believes that it's opening doors for those who do identify as LGBT or as non-binary genders. "My sense is definitely more lighthearted and neutral on it," Rose told us. "I feel like we have gone so far in the direction of being more all-encompassing and being more supportive of one another. I really believe as a minority, and as a community -- the gay, lesbian, trans community -- [...] I think we need to be sort of supportive of one another." The model-actress also doesn't think the memes about "going gay" for her should be taken so literally.
"I think people are just saying that to be complimentary. I don't think anyone's doing it to be derogatory or to take away from what it really means to come out and identify as a different sexuality than what people will think you are," Rose said. The actress also told us that the fact that people can express their sexual attractions on the Internet, playfully or genuinely, is proof of progress and growing acceptance. "Maybe 10 years ago, people would watch someone onscreen that they would be attracted to, but they wouldn't be able to make a funny meme and say, 'Oh my God, I'm gay!' because that would be so frowned upon."
One of the main criticisms against the Rose crushes are that straight-identified women are simply trying to be "edgy," as Madeleine Davies wrote for Jezebel. Rose, however, thinks that the so-called "trendy" nature of girl crushes are making society more accepting of LGBT people who are actually coming out. "I think it's kind of brilliant because a lot of people can say it now who actually mean it and it not kind of be a big deal on them [to come out]."
At the end of the day, no matter what people identify as, Rose wants everyone to feel free to express themselves regardless. "I, personally, think that the moments we try to nitpick who can and can't say that they are genderqueer or gender-neutral or trans, or who's gay or who's bi -- who are we to tell other people how they can live their lives and what they can tweet and what they can say? It's really none of our business. I think we should let people go and say what they want to."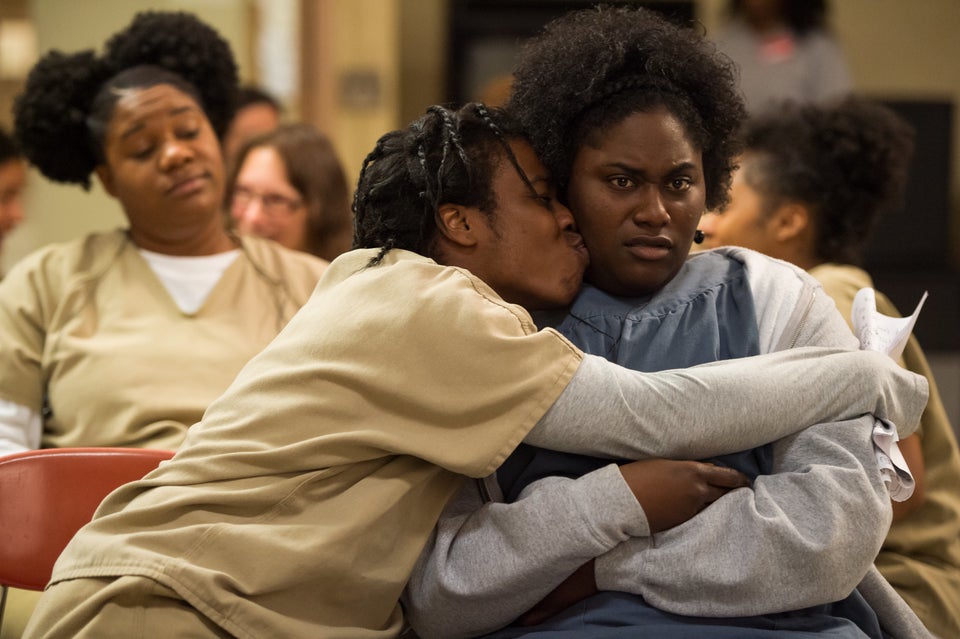 "Orange Is The New Black"
Popular in the Community