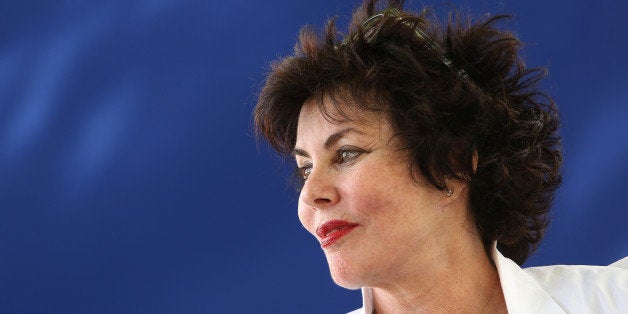 For as long as Ruby Wax has struggled with depression, she has spent an equal amount of time fascinated by how the brain works. She has enjoyed a prosperous career as a comedian and entertainer in the United Kingdom -- recognized for her BBC television show spanning 25 years and script work on "Absolutely Fabulous" -- but recently, she has refocused her attention on her "crazy mind," the part of her that has led to both incredible stress and success over the years.
Receiving the opportunity to study mindfulness-based cognitive therapy from Oxford University, she used her master's dissertation in 2013 to create her latest book, Sane New World, which debuted in the United States last week. Combining neuroscience, comedy and personal anecdotes about her own experience with depression, Wax explores how the brain works and how mindfulness techniques can help us physiologically rewire our debilitating ways of thinking.
"I have an intrinsic interest in how the mind works," Wax told The Huffington Post. "When I was 19, I went to [the University of California] Berkeley, but the only way to study a brain was when it was a corpse, so I had to wait until they could actually look into a live, thinking one -- and that's when I got into it. I thought, 'I gotta see this.'"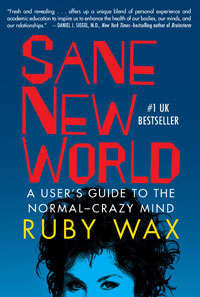 In Sane New World, Wax dedicates an entire section to this information, explaining how the different components in one's brain interact to create the positive physical response one notices after practicing mindfulness, as well as the crippling negative self-talk that often transpires without it.
While many experts on the topic tout the emotional and spiritual benefits of taking time out each day to settle the mind and get to know oneself inside and out, Wax is far more focused on the scientific changes.
"Mindfulness isn't just good for depression," she said. "It's good for other things: OCD, obesity, infertility, heart disease. Everything comes from the brain. If you have it on high-alert the whole time, it releases something called cortisol -- that's the enemy. If it's on too long, it'll burn you out. The first thing that'll go is your memory, the second thing that goes is your whole immune system, so that's the point -- not any spiritual 'a-ha' moment."
The mindfulness movement has only taken hold in recent years as scientists, psychologists and health professionals have begun to explore why our lack of personal awareness is having such a serious impact on our quality of life. Wax believes that as society grew more and more sophisticated throughout history, mankind developed tools to help simplify life; however, they seemed to only exacerbate the issue.
"It didn't give us more spare time -- we wouldn't even know what the word 'spare' means," she said. "Like the idea of having spare oxygen. We had to keep up, so we accelerated."
As we become more and more addicted to the hormonal responses we experience throughout our lives -- cortisol, dopamine and adrenaline alike -- we tend to blame the world around us for our struggle when it's really the inner workings of our mind that are out of control. That is where Wax aims to step in with this guidebook, helping us put an end to our cycles of stress.
"There will always be war in here until we can declare a truce in our own minds," she said. "We have to understand it and give it sympathy. There are people in the world being bombarded by war and disease and we, who have everything, are killing ourselves with our own thoughts. So if we don't do something now, forget global warming. We're going to cause more havoc."
However, Wax also acknowledges that some people are no more interested in practicing mindfulness techniques than she is in twisting her body into a yoga pose. She fills the end of Sane New World with alternate practices to mindfulness that can help a person calm their mind, quiet negative self-talk and achieve a sense of self-acceptance. She has no interest in proselytizing a new way of being for society, she said; instead, she believes everyone operates within a social system akin to "neural wifi."
"I know that if I'm calm, the next guy's calm and the next guy, and it ripples into organizations and communities and ultimately into the world," said Wax. It's far more important to focus on the individual mind than tell everyone else what they should and shouldn't do, she said.
While jokes, neuroscience and anecdotes about depression seem like an unlikely combination, Wax weaves each element through her book because that's simply how she communicates. In the end, she recognized that effectively addressing any problem requires learning about the true roots of the issue, and those who read her book will, in turn, benefit from her addiction to research about the brain.
Calling all HuffPost superfans!
Sign up for membership to become a founding member and help shape HuffPost's next chapter
BEFORE YOU GO
PHOTO GALLERY
19 Reasons To Love Meditation