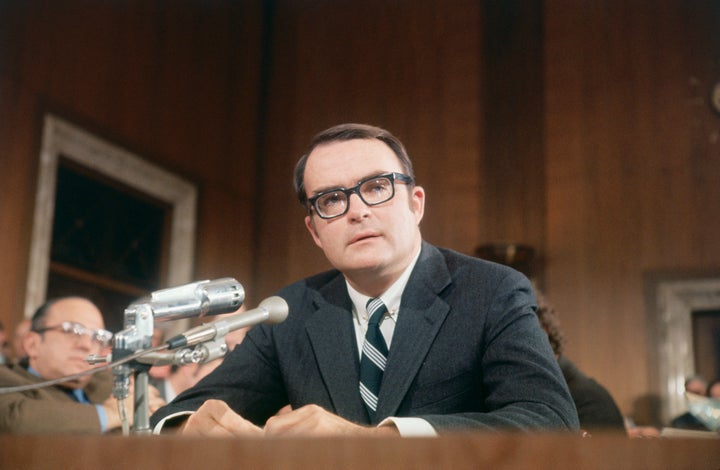 The nation's first Environmental Protection Agency chief, who returned as administrator in 1983 under President Ronald Reagan, excoriated his own party on Friday, warning that Republicans' ideological opposition to widely-accepted climate science would prove lethal.
"It's a threat to the country," William Ruckelshaus, whom President Richard Nixon appointed in 1970 to lead the newly-created EPA, told HuffPost in a wide-ranging interview by phone from his home in Seattle. "If you don't step up and take care of real problems, and don't do anything about it, lives will be sacrificed."
"They certainly are killing everything," he added, noting that President Donald Trump's assault on climate change policies would be a cornerstone of his legacy.
Ruckelshaus, 85, has emerged over the past year as a fierce critic of current EPA Administrator Scott Pruitt.
In March, less than a month after Pruitt was sworn into office, Ruckelshaus cautioned the former Oklahoma attorney general against gutting regulations and coddling polluting industries. He compared Pruitt's zeal for deregulation to Anne Gorsuch, Reagan's first EPA administrator, whom Ruckelshaus replaced after she resigned and was held in contempt of Congress. On Friday, he again drew parallels between the two.
"They don't believe in the mission of the agency," he said, adding that Pruitt is the only EPA administrator he has never met. "Neither one of them did. Anne Gorsuch did not, and I don't think Pruitt does either. They think we're over-regulating."
But he said now, even more than in the early 1980s, Pruitt's radical view of the agency he leads represents the partisan dogma of the moment. The Republican Party inched toward serious action on climate change in the mid-2000s. John McCain, the GOP presidential nominee in 2008, called for renewable energy investments, caps on greenhouse gas emissions and subsidies for electric cars, though he supported aggressive oil drilling and remained skeptical of joining international agreements like the Kyoto Protocol. During the Obama years, the billionaire brothers behind fossil fuel giant Koch Industries became political kingmakers in the Republican Party, and engineered an ideological shift toward climate change denial.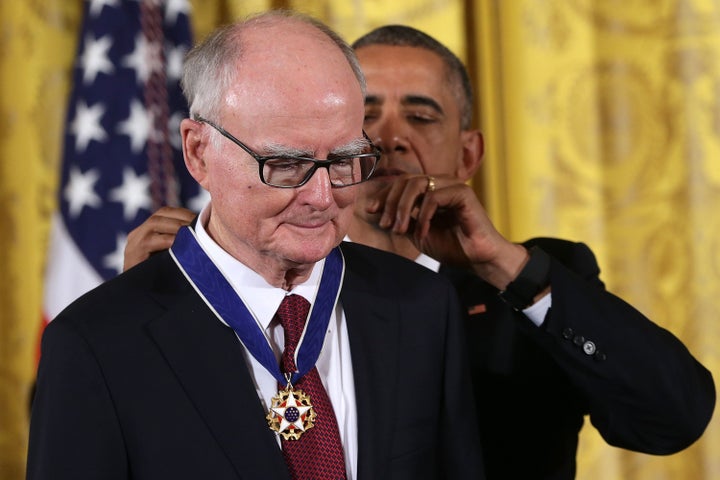 Even now, Republicans who acknowledge the basic realities of climate science are few and far between, and radical new megadonors, such as Robert and Rebekah Mercer, are funding some of the most fringe climate-denial proponents.
"To a certain extent, the Republican position for years now, really starting with Gorsuch, has been ideologically antagonistic to these kinds of controls over industry," Ruckelshaus said. "Republicans tend to spend more time on economic impacts of what they're doing than Democrats, but they were all serious about it, and they didn't think it was nonsense."
"Pruitt has already had success ― ideological success ― because he seems to be complying with the wishes of the Republican Party," he added.
Last week, three former EPA administrators told HuffPost it could take decades for the next agency chief to restore the staffing, reputation and regulatory muscle lost under Pruitt. Carol Browner, who served as administrator under President Bill Clinton from 1993 to 2001, said it would take up to 20 or 30 years.
"Pruitt has already had success ― ideological success ― because he seems to be complying with the wishes of the Republican Party."
When Ruckelshaus returned to the EPA in 1983, employees greeted him with a banner proclaiming: "How do you spell relief? Ruckelshaus," according to a New York Times report from 1984. He increased the eviscerated budget and revitalized morale, earning him the nickname "Mr. Clean." Doing the same after Pruitt, and reversing some of his regulatory decisions, could take a matter of years. He said reconsidering rejected pesticide bans, installing advisers who take air pollution science seriously, and reviving climate change regulations akin to the Clean Power Plan that Pruitt proposed repealing would be critical first steps.
Restoring trust in the agency could prove a greater challenge, he said.
"The agency would have to open up completely," Ruckelshaus said. "Not just surreptitiously reinstating what the Trump administration took away."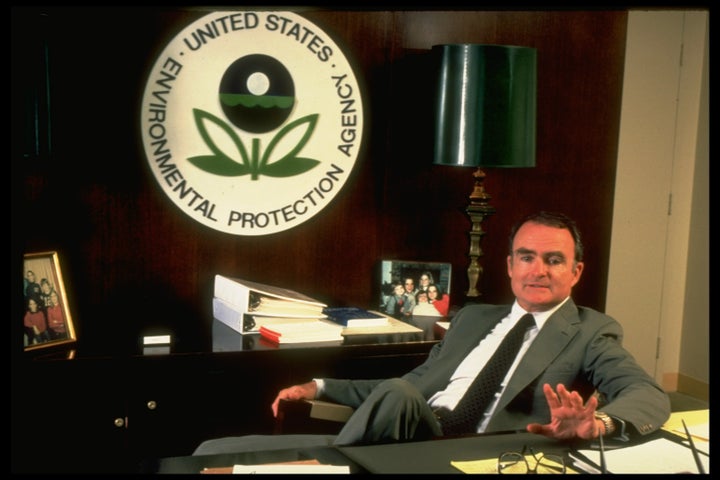 As an example, he pointed to Gina McCarthy, the Obama-era administrator who, in 2014, toured oil-rich states like North Dakota as a "listener and a saleswoman," saying she had to be "everywhere" because "people have to have a relationship with me." From his own experience, Ruckelshaus recalled the well-known case of a copper smelter outside Seattle, which blamed its closure on EPA regulations, despite being slated to shut down before new arsenic rules were passed. Ruckelshaus said he countered the company's claims by going public.
"We had very public hearings, TV cameras were there, and everyone was hearing what was going on," he said.
To be sure, the toxic legacy of that smelter lives on three decades later, as residents of Tacoma, Washington, still struggle with lead and arsenic exposure. And Ruckelshaus' calls for more debate on the merits of regulating sulfur dioxide, the cause of acid rain, delayed clean-up efforts until the next administration.
"I did all that I could," he said. "I don't tend to think back on those kinds of assignments and think of the things I didn't do. But I was not successful in grasping acid rain."
Yet he warned that climate change poses a much more complex challenge than acid rain ― and one that will become more difficult to deal with as key agencies like the EPA lose scientists researching the problem.
"If your position is, 'I don't believe the science, therefore I'm going to get rid of all the scientists studying this, and let's not mention it in any public announcement,' that's just crazy," Ruckelshaus said. " What you want to do is more science."
That, however, may have to wait for the next administration.
"I don't think Pruitt cares about this stuff at all," Ruckelshaus said. "He's just like Trump, he's got an ideological approach to it, an approach that affects the large contributors in his party in Oklahoma."
Before You Go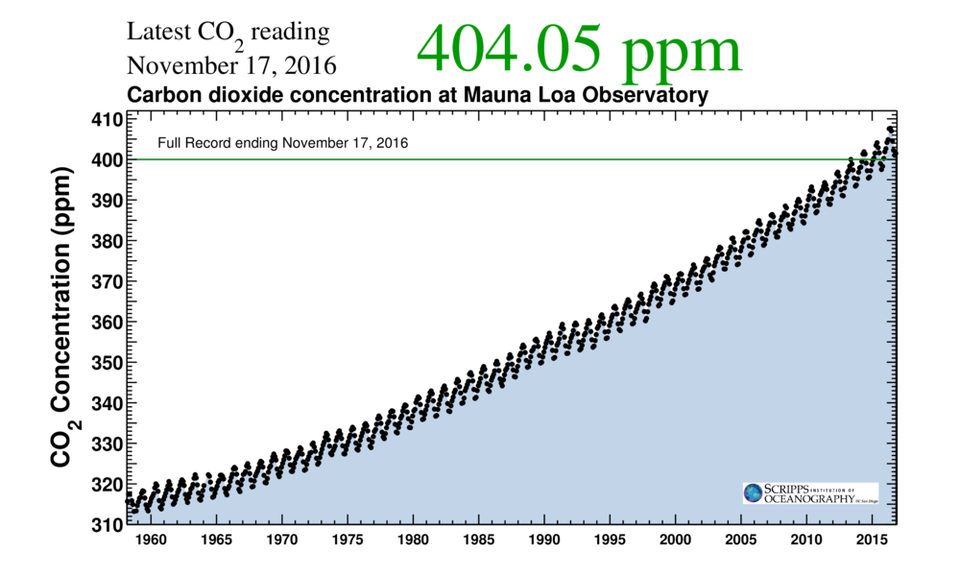 Climate Visuals For The Climate Change Denier In Your Life
Popular in the Community