An Applebee's receipt posted to Reddit on Monday appears to show a rather rude barb directed toward the waitress -- in place of any tip whatsoever.
User yipskip claims that a friend, a waitress at an Applebee's in Edison, NJ, was slipped this receipt with the words "Stop eating bitch!" scrawled across it.
HuffPost reached out to the Applebee's in question, but calls to the restaurant's manager were not returned. We're not 100 percent convinced of this note's authenticity -- seriously, who chows down at Applebee's and then wags a finger at the waitress' appetite? -- but if real, it would be in keeping with the unfortunate recent trend of people leaving ridiculous messages on their receipts.
Remember the supposedly single mother who wrote "sorry" after she nixed the tip on a $138.35 bill? What about the gross pickup line from a customer who wrote "Oh and by the way... i'd fit perfectly on your face" on a T.G.I. Friday's receipt?
Unfortunate as these messages are, we suppose that they'd be infinitely more awkward if they were spoken out loud. Better write your rude comment on a receipt (which can be photographed and uploaded to the internet) than say it to a person's face, we suppose.
Scroll down to see the receipt in full: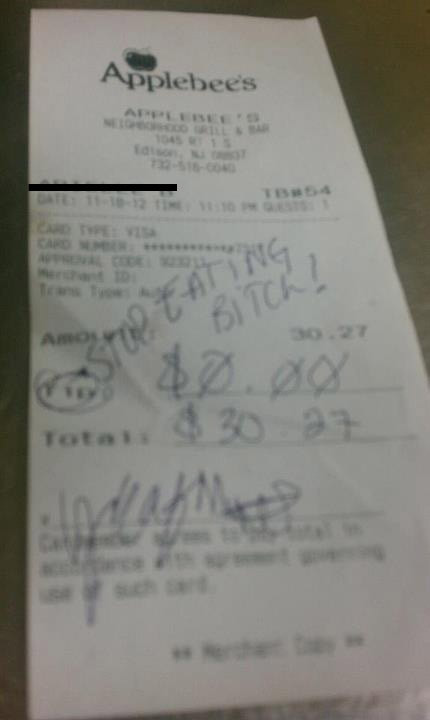 REAL LIFE. REAL NEWS. REAL VOICES.
Help us tell more of the stories that matter from voices that too often remain unheard.
BEFORE YOU GO
PHOTO GALLERY
America's Biggest Restaurant Chains