Baby showers offer a fun way to celebrate expectant parents and help them prepare for the new addition to their family.
Although these events often involve lots of laughs and excitement, it's still important to keep manners in mind. Whether you're a guest or a host, there are certain faux pas you won't want to commit.
HuffPost asked etiquette experts to share some common rude behaviors at baby showers ― and advice for avoiding them.
Embarrassing The Honoree
"Do not touch and squeeze the abdomen and tell the mom she's as big as a house," said etiquette expert Juliet Mitchell, also known as Ms. J.
Remember it's a baby shower, not a roast, so keep the expectant parents' comfort and enjoyment in mind.
"Don't embarrass the mom-to-be," said Diane Gottsman, the author of "Modern Etiquette for a Better Life" and founder of The Protocol School of Texas. "Playing games, such as measure mom's belly or guess the baby's gender may be uncomfortable for the new mom. It's always best to have the games approved in advance."
Serving Food The Guest Of Honor Prefers Not To Eat
Along the same theme of keeping the expectant parents' enjoyment in mind, don't plan a menu of sushi and soft cheeses.
"Ask mom her preference on food items and any non-negotiable foods she either dislikes or needs to stay away from," Gottsman said. "Don't forget to ask guests about their food allergies as well."
Getting Drunk
Although pregnant people are advised to avoid alcohol, they're often fine with their guests enjoying some libations. But that doesn't mean you should get wasted.
"Guests should refrain from over-indulging in the cocktails," Gottsman said. "Mom-to-be will be skipping the signature cocktails, and her guests should enjoy the conversation more than the free-flowing mimosas."
Sharing Childbirth Nightmare Stories
A baby shower isn't the venue to share your horrific birthing story or the traumatic experiences of your friends.
"Avoid stories about difficult deliveries and hard labor issues," Gottsman said. "Everyone has a personal story, and many of them should be kept to themselves at a baby shower."
Commenting On Other Guests' Fertility
Avoid asking other guests questions like, "When are you going to have a baby?" or trying to persuade them to become parents.
"Don't make comments about other guests' fertility," said Jodi R.R. Smith, president of Massachusetts-based Mannersmith Etiquette Consulting. "There could be a friend there who has been trying to conceive for years or who has recently experienced a miscarriage."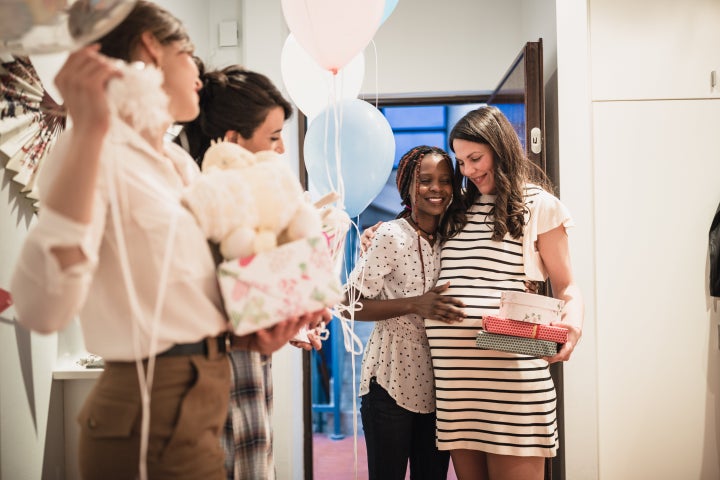 Pressuring The Couple To Reveal The Sex
The decision to find out and share the sex of your unborn child is personal and should be respected.
"If the baby shower is before birth and the couple has not done a reveal, do not pressure the couple to disclose the gender," Mitchell said. "Allow them that privacy and special moment if that is their desire."
Going Off-Registry
"Stick to the registry," Gottsman said. "The new mom has requested specifics that she will need to prepare for the baby."
Be particularly mindful of the needs of adoptive parents who have a shower as well.
"When attending a shower in advance of a child's adoption, make sure your gift and card are appropriate," Smith said. "While newborn clothing is always suitable for a birth, some adopted children are a bit older, so check with the shower host for the age and gender of the child."
You may also wonder what to do about gifts if you aren't able to attend the shower.
"If this situation applies to you and you are extremely close to the honoree, you should send a small gift to be opened at the event," Smith said. "Other friends and family who are not able to attend have the option of waiting until after the baby is born to send a gift."
Bringing Uninvited Guests
It's rude to bring uninvited guests to most occasions, including a baby shower.
"No surprise family members or friends," Gottsman advised. "If the invitation does not have anyone else's name on it, you are the only one they are expecting. If you RSVP'd for one, show up by yourself."
Showing Up Late And Overstaying Your Welcome
"Do not overstay your welcome," Mitchell said. "Whether the shower is before or after birth, the expectant or new parent is likely to be tired. New parents may need to nurse. Babies become tired and irritable."
Respect the start time as well, as showers often have scheduled activities.
"Arrive on time and don't be the last to leave," Gottsman said. "You can loosely follow the parameters of the invitation. Sometimes people are having so much fun they don't want to leave, but when it starts getting too late, give mom-to-be time to relax and go home."
Throwing A Shower Without Consulting The Expectant Parent
"Not all cultures and religions welcome pre-birth festivities, nor do all individuals," Smith said. "Some view any celebrations before the baby's healthy birth to be premature at best and to be tempting fate at worst. Before hosting any festivities, make sure that the event will be welcomed."
A surprise shower might seem like a fun idea, but consider how it will be received by the guest of honor, who likely would've preferred to prepare for such an event. Consider their personality and preferences as you figure out the vibe of the shower, too.
"Games and a theme are not required, and the style and tone of the event should keep the guest of honor in mind," added Nick Leighton, an etiquette expert and co-host of the "Were You Raised by Wolves?" podcast.
Failing To Honor Social Media Requests
Sometimes people don't want photos from their private events shared on social media, so if they express this desire, respect it.
"If the parents request no social media post or a wait up to 24 hours after the shower, please honor their request," Mitchell said. "Speaking of posting on social media, please do not post any unflattering pictures. If in doubt, don't post it."