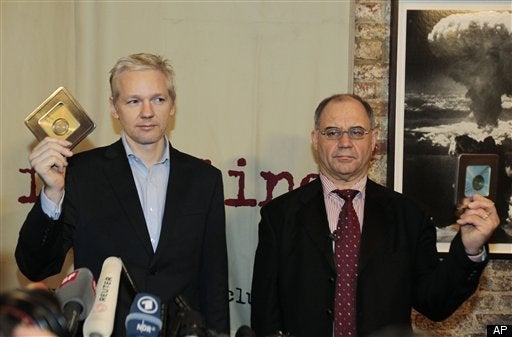 LONDON, Jan 17: A former Swiss private banker handed over data on hundreds of offshore bank account holders to WikiLeaks founder Julian Assange at a news conference on Monday.
Rudolf Elmer once headed the office of Julius Baer in the Cayman Islands until he was fired by the bank in 2002. He is scheduled to go on trial in Switzerland on Wednesday for breaching bank secrecy.
Elmer handed Assange the data at a news conference at a media club in London. The two yellow and blue discs contain information on 2,000 banking clients who have parked money
offshore.

"He (Elmer) is clearly a bona fide whistleblower... We have some kind of duty to support him in that matter," said Assange, who is on bail in Britain and fighting extradition to Sweden where he faces questioning over alleged sex crimes.
Assange angered the U.S. authorities after WikiLeaks published hundreds of secret diplomatic cables it had obtained.
Elmer, who worked in the Cayman Islands for eight years, said: "I know how the system works... It's damaging... (I want) to educate our society."

WikiLeaks will vet the data before publishing it. Vetting will be done by themselves, media organisations and other partners to protect sources amongst other concerns. The process will take at least two weeks, Assange said.
On Sunday, Elmer told Reuters that he hoped his appearance at the news conference would both call attention to offshore financial abuses and promote WikiLeaks as a mechanism for other whistleblowers to air their stories.
Julius Baer said Elmer, who the company fired in 2002, had other motives.
"After his demands (including financial compensation) in connection with the dismissal could not be satisfied, Mr Elmer embarked in 2004 on a personal intimidation campaign and vendetta against Julius Baer," the bank said in a statement.
"The aim of his activities was and is to discredit Julius Baer as well as clients in the eyes of the public."
On Sunday, Elmer told Reuters he hoped Monday's news conference would call attention to offshore financial abuses and that WikiLeaks was his last hope to get his message out.
(Additional reporting by Chris Vellacott in London, Emma Thomasson in Zurich; Editing by Jon Boyle)
Related
Popular in the Community