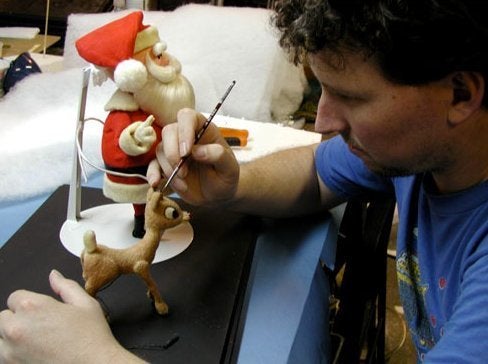 You remember the end of Rudolph the Red-Nosed Reindeer, right? As this stop-motion holiday special draws to a close, Santa Claus first turns to the camera and wishes the audience watching at home a Merry Christmas. Then Santa and his sleigh -- pulled by Rudolph and a team of six other reindeer -- flies off into a moonlight sky.
That seems like a pretty happy ending, don't you think? Well, in real life, the 9-inch tall Claus and 5-inch tall reindeer puppet that were used in the making of this 1964 Rankin/Bass production wound up spending the next 40 years under less than ideal conditions.
First NBC (which initially aired this holiday special on December 6, 1964 on its "General Electric Fantasy Hour" program) had these puppets shipped from Japan to New York City so that they could then be used as part of the publicity campaign for this program. Once that work was done, Santa and Rudolph were returned to Arthur Rankin, Jr. and Jules Bass (i.e. the two executives who ran Videocraft International, Ltd., the production company that actually made Rudolph the Red-Nosed Reindeer). And eventually Arthur and Jules gifted these two puppets to one of Rankin/Bass's longtime secretaries.
"And she then made Santa and Rudolph part of her family's holiday decorations," explained Seamus Walsh, one of the modern stop-motion masters who now works at Screen Novelties, a Los Angeles-based animation studio which later played a key role in these puppets' restoration. "And that secretary's children and grandchildren then spent the next 40 years or so playing really roughly with Rudolph and Santa. Throwing that little reindeer puppet through the air pretending that he could fly and force-feeding Santa candy and chocolate."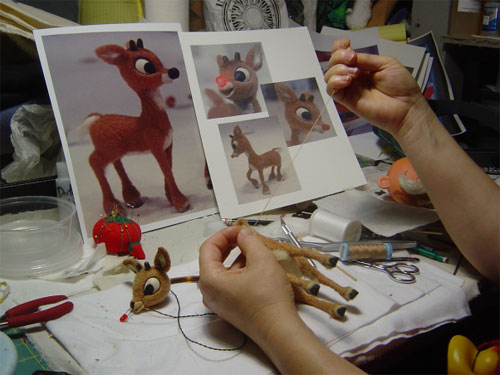 In the end, the Rudolph puppet wound up with a snapped neck. Not to mention a missing glowing red nose. And poor Santa lost his fluffy white eyebrows as well as half his mustache. And since that they no longer looked like the characters who had appeared in that now-classic holiday special, Santa and Rudolph were now retired to the attic.
And they probably would have stayed there -- alone and forgotten like those forlorn playthings on the Island of Misfit Toys -- if it hadn't been for the secretary's nephew. Who -- when he came upon Rudolph and Santa up in the family's attic in 2005 -- decided to bring this stop-motion puppets on PBS's Antiques Roadshow and find out what they might now possibly be worth.
At that time, Santa and Rudolph were appraised for $8,000 - $10,000 for the pair. The secretary's nephew then decided to sell these holiday icons to Kevin A. Kriess, a lifelong fan of the Rankin/Bass TV specials. And Kriess' first goal was to restore these stop-motion puppets to pristine condition.
"Which is why Kevin then reached out to us. Or -- rather -- my wife Robin, who handles restoration for the Center of Puppetry Arts in Atlanta," Walsh continued. "And she was the one who then handled all of the restoration work that needed to be done on the Santa and Rudolph puppets."
Robin took an almost Hippocratic approach to this restoration project. Gently peeling back Rudolph's tattered fur to reveal the wood & lead wire armature that the talented Japanese artists who was originally built this stop-motion puppet back in the early 1960s had created.
"While my wife was working on Rudolph, I got the opportunity to look at this puppet up-close several times. I mean, how could I not? This was the character that actually inspired me to get into stop-motion animation," Seamus said. "But to be able to hold a huge piece of your childhood in your hand like that and then get a close enough look at Rudolph's hooves to see the tiny little holes where they'd used entomology pins to secure this puppet's feet to the set. Or to realize that Rudolph's eyes were just these tiny pieces of leather that the Japanese animators had to then move around by hand in each shot, that was just mind-blowing."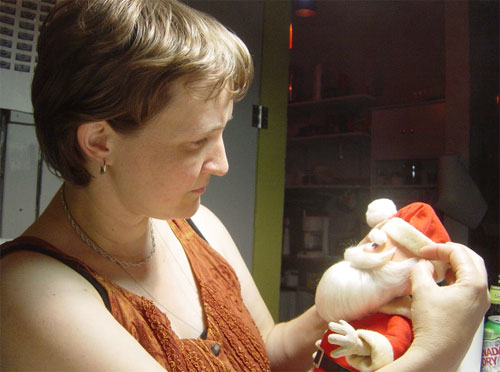 After repairing Rudolph's snapped neck and then cleaning off his fur (not to mention replacing that reindeer's missing glowing nose with a new energy-efficient red LED), it was now time for Ms. Walsh to turn her attention to the Santa puppet.
"Robin had to first do a lot of research to determine what kind of kid mohair had been used to create Santa's beard," Walsh stated. "She also had to figure out which kind of conservators wax and soap needed to be used to clean the candy stains off of Santa's suit."
In the end, Ms. Walsh returned Rudolph and Santa to Mr. Kriess looking just as good as they originally appeared in that 1964 Christmas special. And Kevin was so grateful that -- for a time -- he actually allowed this holiday icons to be displayed at the Center of Puppetry. Which -- ironically enough -- has been presenting an officially licensed puppet version of this Rankin/Bass special every holiday season since 2010.
Mind you, there has been an unexpected twist to this Christmas tale. You see, Kriess eventually sold Santa and Rudolph to noted pop culture collector Peter Lutrario. And the last time these stop-motion puppets were seen publicly was during a December 2010 broadcast of Syfy's Hollywood Treasures show. And at that time, Lutrario told Joe Maddalena -- the owner of Profiles in History auction house -- that he just wasn't ready to part with these holiday icons.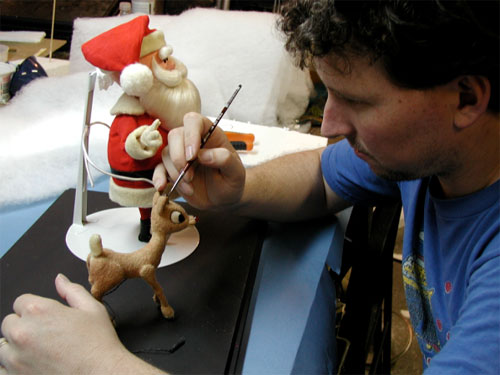 "Which is unfortunate. I mean, I'm glad that Santa and Rudolph are now in good hands and aren't being left to rot in some attic," Seamus explained. "But that said, I'd still love to see those stop-motion puppets to someday wind up in a place like the Smithsonian. So that thousands of people -- rather than just one man -- would then get to regularly see Santa and Rudolph and appreciate these puppets for the pieces of pop culture history that they are."
Now what's kind of cool is that -- while Walsh and his wife got to hold the Santa and Rudolph puppets in their hands back in 2005 -- Seamus recently got to help another beloved set of characters make their stop-motion debut in the It's a SpongeBob Christmas holiday special.
"And I gotta tell you that everything I learned from handling those Santa and Rudolph stop-motion puppets got applied to what we did here at Screen Novelties with the SpongeBob holiday special," Walsh said. "We used the exact same techniques that those Japanese artists did when they were constructing all of their Rudolph the Red-Nosed Reindeer puppets. If you peeled back all of the fabric & foam that cover SpongeBob, Patrick and Sandy, you'd find the same sorts of lead wire & wooden armatures that they used back in the 1960s."
Which perhaps explains this stop-motion holiday special (which airs again this evening on Nickelodeon beginning at 6:30 p.m. ET/PT. As well as three other times on Christmas Day -- 10 a.m., 1:30 and 7:30 p.m. ET/PT) has the exact same sort of handmade charm that Rudolph the Red-Nosed Reindeer does.
Here's hoping that SpongeBob, Patrick and Sandy can eventually avoid Santa and Rudolph's fate. And that -- 40 years from now -- the stop-motion versions of these Bikini Bottom residents aren't then discovered moldering in someone's basement or attic.
"I'd like to avoid that as well," Seamus stated. "Ideally, I'm hoping that the characters which Screen Novelties created for the It's a SpongeBob Christmas special will eventually go on display so that they could then inspire the next generation of stop-motion animators."
Here's hoping that Walsh someday gets his holiday wish. More importantly, that Peter Lutrario eventually decides to take Santa Claus and Rudolph out of the vault and then allows these classic characters to once again be seen by stop-motion and Christmas special fans.
Jim Hill is an award-winning entertainment writer who lives in New Boston, NH. Over the past 30 years, he has interviewed hundreds of veterans of the animation & themed entertainment industry and written extensively about The Walt Disney Company.
Jim is currently working on a behind-the-scene history of the development & construction of Disneyland. For his more immediate musings on movies, TV shows, books and theme parks, please check out his blog, jimhillmedia.com.
Popular in the Community