"I feel very bad about that," Giuliani said on ABC's "This Week," addressing the protests. "But if those were Donald Trump people doing that after a Hillary Clinton election, I think a lot of people be ― a lot of that ― there would be a lot more anger in the media at the fact that they're protesting a legitimately decided election."
Giuliani suggested that the protesters' fears are unfounded ― even though Trump has pledged to ban all Muslims from entering the U.S. and deport all undocumented immigrants, as well as put forth rhetoric espousing hate and division.
"I think we understand their frustration. We certainly don't want to make it worse. I think they're exaggerating the fears of a Donald Trump presidency because they're coming off a campaign where they're very disappointed," Giuliani said. "I'm sure our supporters would have been very disappointed had Donald Trump not won. And I just hope it calms down."
Instead, he posted several tweets over the weekend criticizing the media and the "professional protesters," calling the situation "very unfair!"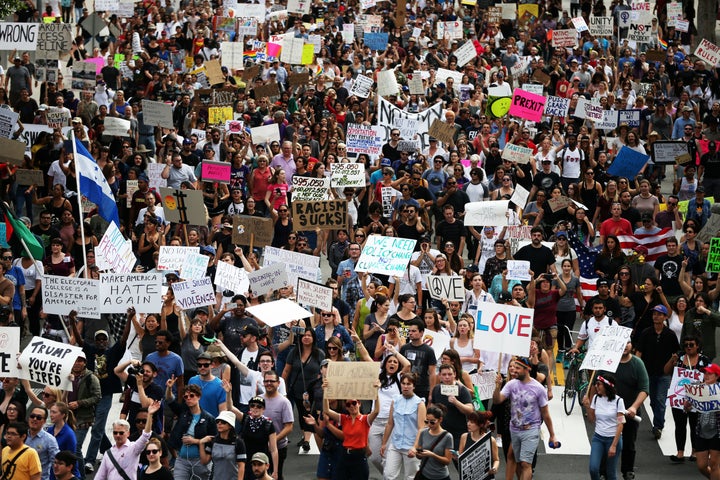 The Southern Poverty Law Center and the Council on American Islamic Relations, two organizations that track hate crimes, have both reported an increase in such incidents and suggested that the level of hate crimes may have surpassed that of the period immediately following the Sept. 11, 2001 attacks.
But when ABC's George Stephanopoulos asked Giuliani on Sunday if Trump would denounce the hate crimes, the former New York mayor wouldn't answer and continued to discuss the protests, claiming, like Trump, that they were led by "professional protesters."
Giuliani, whose name has been mentioned as a possible candidate for attorney general under Trump, noted his history of cracking down on crime and said he has "zero tolerance for riots." He also suggested that President Barack Obama and Democratic presidential nominee Hillary Clinton should denounce the protests.
"I know both Secretary Clinton and President Obama were very gracious and I respect that a lot in the way they handled it the day after, two days after. But I wish they would say something about it too," he said. "Because after all, these are supporters of President Obama and Hillary Clinton and maybe they could say something about this. Really, not the right thing in the democracy."
Before You Go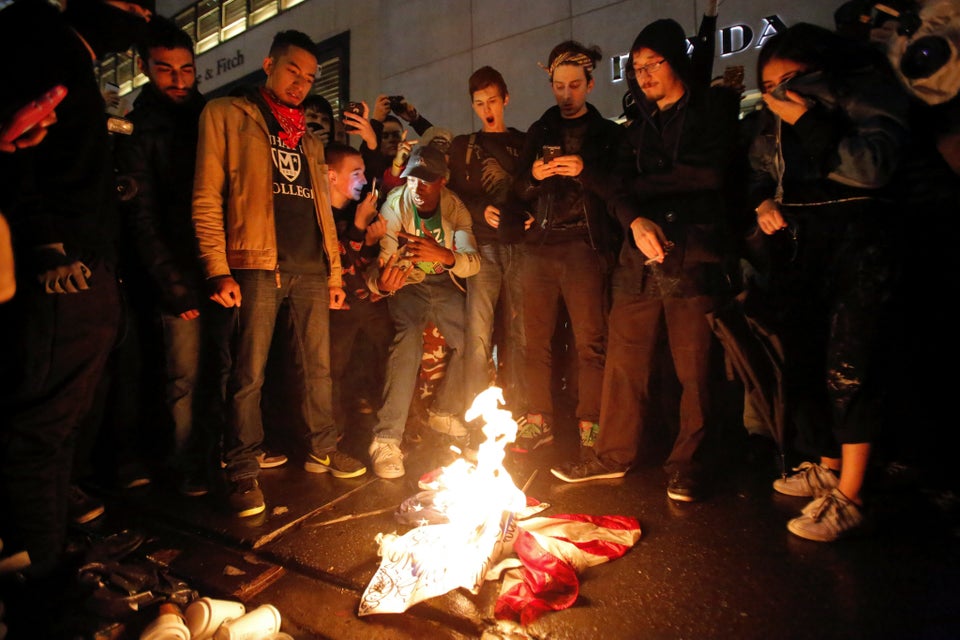 Donald Trump Win Sparks Protests Nationwide
Popular in the Community