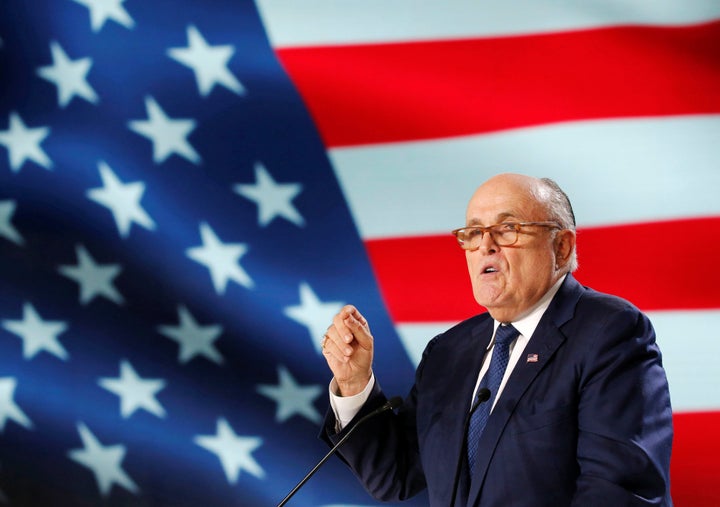 Rudy Giuliani is calling out the "unhinged, radical Left" after an attack by the far-right Proud Boys on the streets of New York City this month.
"This most recent example of leftist violence and aggression cannot go unanswered!" Giuliani said. "Stand strong with us right now so we can show the angry, radical left that we will not be intimidated by their violence, threats, or hateful speech."
The screed echoes local GOP leadership in blaming the left for spray-paint vandalism at the Metropolitan Republican Club on Oct. 12. Andrea Catsimatidis, who heads the Manhattan Republican Party, said on Twitter that she was "appalled" by the "violent acts of vandalism." 
What none of them saw fit to mention was that it was GOP members of that very club — with which Giuliani has deep connections — who invited Gavin McInnes, the leader of the Proud Boys, a violent neo-fascist gang, to speak on the night after the vandalism occurred. Immediately after the event, Proud Boys marched down the street and pummeled counterprotesters while they were on the ground. The NYPD has arrested two Proud Boys in connection to the melee and told HuffPost that it's looking to charge seven more with assault.
In 2018, under President Donald Trump, a person like McInnes is invited to speak at a popular Republican institution not despite his extremism but because of it. His invitation to the Metropolitan Republican Club, scholars of fascism said, shows Republicans' increasing ease with what is essentially the militant, fascist wing of their party — an especially unnerving development, given Proud Boys' penchant for violence.
"Antifa protestors ambushed attendees of the event at the [Metropolitan Republican Club] by throwing bottles of urine at them. Ewww!!!" she tweeted. "First [Mayor Bill de Blasio] makes it legal to pee on the street now this. What is this weird pee obsession that the left has?"
Giuliani, meanwhile, blames Hillary Clinton for the vandalism in his mailer, then called for Republicans to "chip in so we can continue to fight for freedom of speech."
"With just days to go until Election Day, the unhinged, radical Left is resorting to angry mob violence and destruction," he writes. "Hillary Clinton called on her party to cast civility aside and the criminals who defaced our headquarters left a note threatening that the attack was 'merely a beginning.'"
This isn't the first time Giuliani has sparked controversy with his ties to the fringe right. In late September he posed for a picture with white nationalist YouTuber and Toronto mayoral candidate Faith Goldy.
"Just like Giuliani cleaned up the streets of NYC, our tough on crime playbook is going to run illegal guns & gangs right out of Toronto!" she wrote on Instagram, according to Vice News.
Giuliani didn't respond to calls for comment on this story.
Calling all HuffPost superfans!
Sign up for membership to become a founding member and help shape HuffPost's next chapter